Big 12 Recruiting
Ahead of Final Decision, Texas Tech Makes Short List for OT Cole Thomas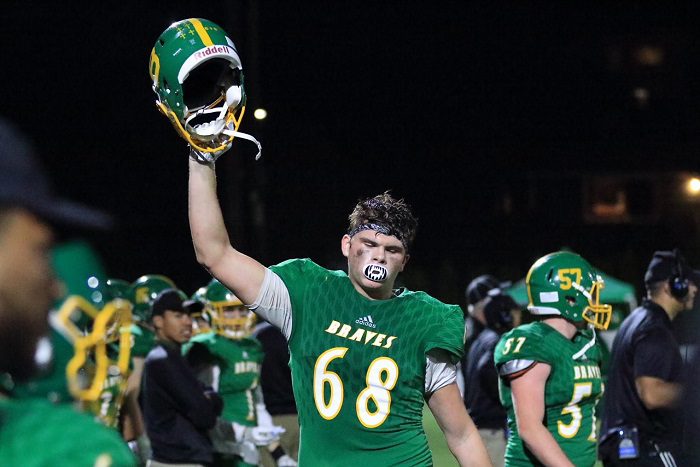 On Tuesday night, I got the chance to speak with Cole Thomas who is an offensive tackle prospect from Seattle, Washington (Bishop Blanchet HS). Cole has a few offers such as Utah State, Virginia, Air Force and a few Ivy League schools as well. He also has preferred walk on spots at Washington and Texas Tech which are two schools he has named in his top three. Cole will announce his decision today at 4:45 pm CT.
HCS: You have named your final three of Washington, Utah State and Texas Tech. What about Texas Tech sticks out to you?
Cole: "The relationship I have with the staff. They were my first offer at Utah State and wanted to bring me over with them to Tech and that was huge for me. A lot of coaches throughout this process have said things like "You're my guy" or "You're my number one guy" but a lot of them go back on their word and leave you out to dry. The coaches at Texas Tech were never like that. They said I was their guy at Utah State and wanting me to come with them to Texas Tech proves that they are men of character and hold true to their word, which is huge for me."
HCS: Even with Matt Wells moving to Texas Tech (From Utah State), you still have Utah State in your top three. What are your thoughts about Utah State even with him (Matt Wells) gone?
Cole: "It's a great program. Like I said, they were my first offer and that is huge. Logan is a really fun, unique town and Coach Anderson is a player's coach who knows how to run a successful program. I believe they are going to continue to be contenders in the Mountain West and have a bright future. Coach Stacy Collins is also still there and he was one of the main guys recruiting me to Utah State so my relationship with him is great and he is a fantastic coach."
HCS: Two out of your three top schools are power five programs. Does playing at a power five school interest you more than playing at a group of five school?
Cole: "I am interested in playing for the program that best suits me and where I will be most successful not only during my college career but after college and where I can accomplish my goals. It'll be a forty year decision for me not a four year decision."
HCS: You recently took a visit to Texas Tech. What was your impression of Lubbock and the Texas Tech campus?
Cole: "Lubbock was a really cool city. It is a college town and the support for the university is tremendous. The city shuts down for Tech football games on Saturday because it's the only show in town so they love the Red Raiders and the athletic department. The campus was also really cool. I got a really good vibe from campus. I want to go into sports management and the program they have at Tech is great in that department for bachelor degrees and a post graduate degree."
**Sign up here for our HCS weekly e-mails for a chance to win FREE Heartland College Sports and Big 12 team gear!!**