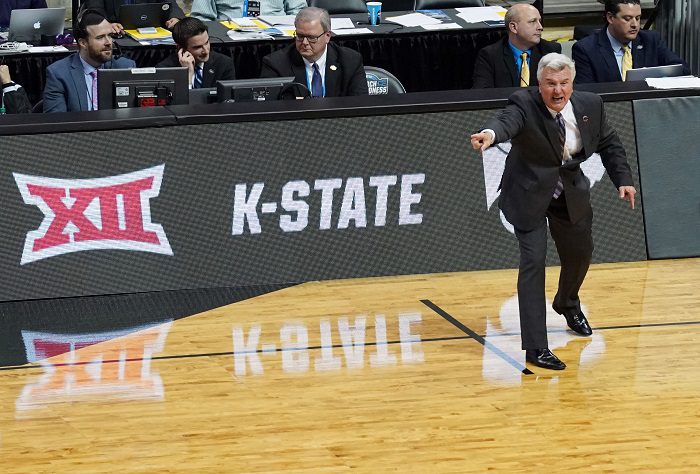 Each week Heartland College Sports will rank the men's basketball team's in the Big 12 Conference, based on play from Feb. 4-9.  
1. Kansas State (18-5) (Last Week: 1)
Let's not make this difficult on ourselves. The Wildcats have won eight straight and have a two-game conference lead on the field. Sometimes deciding No. 1 is as easy as looking at the top of the standings.
2. Iowa State (18-6) (Last Week: 3)
Despite the split this past week, I believe the Cyclones are now the league's second-best team. No team has the offensive punch Iowa State has right now. Even in their loss to TCU the Cyclones scored 83 points. Now that defense needs some work. But there will be nights when the Cyclones' sheer offensive will should win out.
3. Texas Tech (19-5) (Last Week: 4)
The Red Raiders took advantage of the bottom of the Big 12 to lock in a 2-0 week and stay in the race. But overall this team looks like it's playing better and has achieved an offensive balance that it had lost just two weeks ago. The defense is as steady as it always has been. You just wish they were a little more explosive on offense.
4. Kansas (18-6) (Last Week: 4)
Kansas stays at No. 4, but we all know the challenges ahead. The Jayhawks will be without their best 3-point shooter and are digging deep into the barrel for depth. Thank goodness for Dedric Lawson, who continues to show why he's on the short list for Big 12 Player of the Year.
5. Baylor (15-8) (Last Week: 2)
The Bears lost two straight. The Bears lost guards Makai Mason and King McClure. If neither come back immediately the Bears could fall farther in these rankings. But their bench played well against Kansas State. We'll see where this goes before we decide if they should drop further. But in this configuration, the Bears are not better than any of the teams above them.
6. Texas (14-10) (Last Week: 6)
Texas Fight indeed. The Longhorns go 2-0, ending Baylor's six-game winning streak and winning on the road at West Virginia. Now, can the Longhorns keep it up against the Kansas State defense Tuesday night? Consistency has been their bugaboo all season.
7. TCU (17-6) (Last Week: 8)
TCU bounced back with wins over Oklahoma State and, more notably, Iowa State. When the Horned Frogs can score in bunches, they can compete with anyone. That's what they did last week. Desmond Bane and Kendric Davis had huge scoring games, while Alex Robinson was his usual pass-happy self.
8. Oklahoma (15-9) (Last Week: 7)
The only thing keeping me from dropping OU behind the last two teams here is that the Sooners are clearly more talented than either Oklahoma State or West Virginia. That isn't the problem. The chemistry seems to have gone away and the Sooners are trying to nurse the credentials they've built up to get into the NCAA Tournament. But it won't work if they keep losing.
9. Oklahoma State (9-14) (Last Week: 10)
Oklahoma State gets an upgrade for the fight they showed in two losses this week — a 2-point loss to TCU and a 12-point loss to Kansas. The development of forward Yor Anei is progressing.
10. West Virginia (10-14) (Last Week: 9)
The Mountaineers lost games by 31-point and 22-point margins. Enough said.
**Sign up here for our HCS weekly e-mails for a chance to win FREE Heartland College Sports and Big 12 team gear!!**