Big 12 News
Top 25 Returning Big 12 Baseball Players, No. 16: Carson McCusker, Oklahoma State OF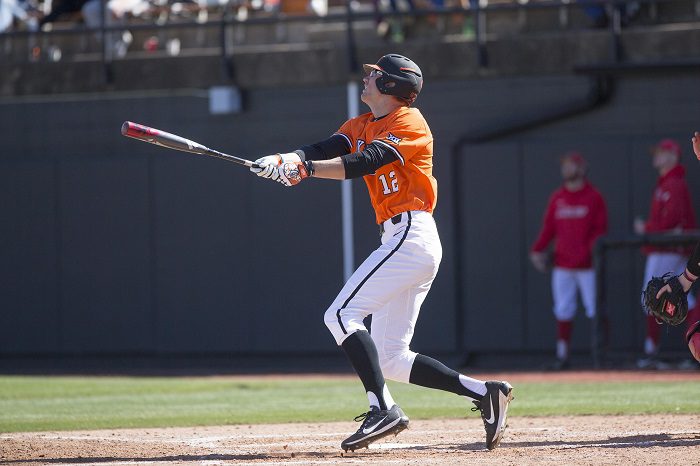 The Cowboys came on strong during conference play in 2018. Oklahoma State swept four of its eight Big 12 opponents. They were one victory away from sharing the regular season title with Texas. In fact, they entered the final weekend ahead of the Longhorns, A sweep at the hands of Texas Tech allowed Texas to swoop and steal the crown from the Pokes.
A big reason why Oklahoma State was in position to score the Big 12 Regular Season Championship was outfielder Carson McCusker. Standing at a whopping 6-foot-8, 221 pounds, McCusker walloped six baseball over the fence in the 22 games that he appeared. He started 20 times and amounted 70 at-bats. Only two players on the Cowboys, a home run-centric team, produced more bombs than McCusker and they started every game. Both are on our Top 25 Returning Players list.
One of every seven at-bats produced an extra base hit. This is a man whose .271 overall average became .314 against Big 12 competition. He's a beast and he can drive the baseball to parts unknown. Additionally, he scored 14 runs and brought in 11 more. His conference slugging percentage is .643.
The problem with McCusker is he also strikes out at a phenomenally high rate. In his 70 at-bats, 24 ended with a walk of shame to the dugout. He's a pure power hitter. In those same 20 starts, he also committed three errors. Only one Cowboy committed more errors, and Matt Kroon played first base where the ball is almost always coming towards him. McCusker plays right field. There's no reason for him to have as many errors as a corner infielder.
McCusker's already been drafted in the 26th round after junior college. He'll be drafted again, but simply for his power unless he makes some changes.
For the rest of our Top 25:
No. 25: Baylor 1B/C Shea Langeliers
No. 24: WVU Utility Tyler Doanes
No. 23: WVU IF Marques Inman
No. 22: Oklahoma State OF Trevor Boone
No. 21: Baylor OF Richard Cunningham
No. 20: Kansas State OF Will Brennan
No. 19: West Virginia OF Darius Hill
No. 18: TCU LHP Nick Lodolo
No. 17: OU RPH Nathan Wiles
**Sign up here for our HCS weekly e-mails for a chance to win FREE Heartland College Sports and Big 12 team gear!!**