Big 12 News
Top 25 Returning Big 12 Baseball Players, No. 15: Josh Watson, TCU OF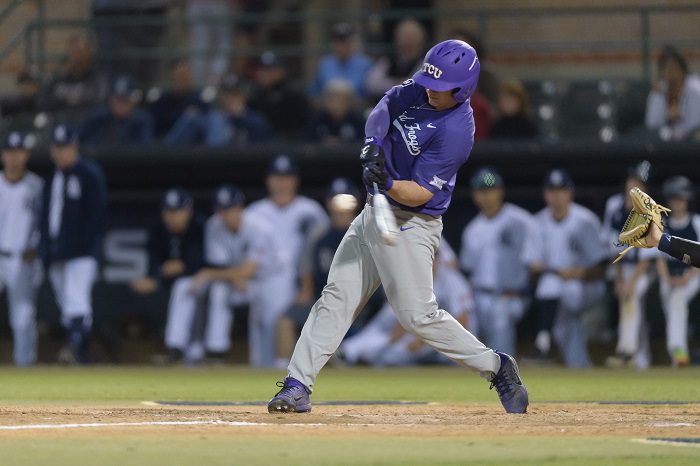 Josh Watson is an elite talent.
He was selected as a Freshman All-American in multiple publications in 2016 and rightfully so. Watson led TCU with 11 home runs that season. He totaled 28 extra-base hits on the year and stole 12 bases.
His numbers took a nosedive in 2017 though. Despite starting all 68 games, he hit .239 and produced just one homer. His strikeout totals remained similar. Watson lost a lot of luster with a sophomore slump, and it seems to have effected his draft stock. Despite a solid season in 2018, he was forced to wait until the 35th round when the Milwaukee Brewers called his name.
As a junior, Watson had his best average at .305. His extra-base hit totals went back up to 21 from 12. He finished the season with eight home runs, eight stolen bases, and three triples. He probably would've had similar numbers to his freshman year, except TCU failed to make the regionals.
The 5-foot-11, 215 pound Arlington native has only committed six errors in his entire career. The number has gone down by one every single year. His defense is not an issue.

Watson has serious talent. He's instrumental to TCU's success. This is not a 35th round draft pitck. Watson should be in the top 15 rounds at worst. Look for Watson to have numbers similar, if not better, than his freshman season. If he does, the Horned Frogs will be back in the postseason. God only knows how far TCU will go if they are selected to a regional. Remember, 2018 ended a streak of four consecutive College World Series appearances. They didn't even make it to a regional. You know that's in the minds of this Horned Frogs team, and that's dangerous to the rest of the league.
For the rest of our Top 25:
No. 25: Baylor 1B/C Shea Langeliers
No. 24: WVU Utility Tyler Doanes
No. 23: WVU IF Marques Inman
No. 22: Oklahoma State OF Trevor Boone
No. 21: Baylor OF Richard Cunningham
No. 20: Kansas State OF Will Brennan
No. 19: West Virginia OF Darius Hill
No. 18: TCU LHP Nick Lodolo
No. 17: OU RPH Nathan Wiles
No. 16: Oklahoma State OF Carson McCusker
**Sign up here for our HCS weekly e-mails for a chance to win FREE Heartland College Sports and Big 12 team gear!!**