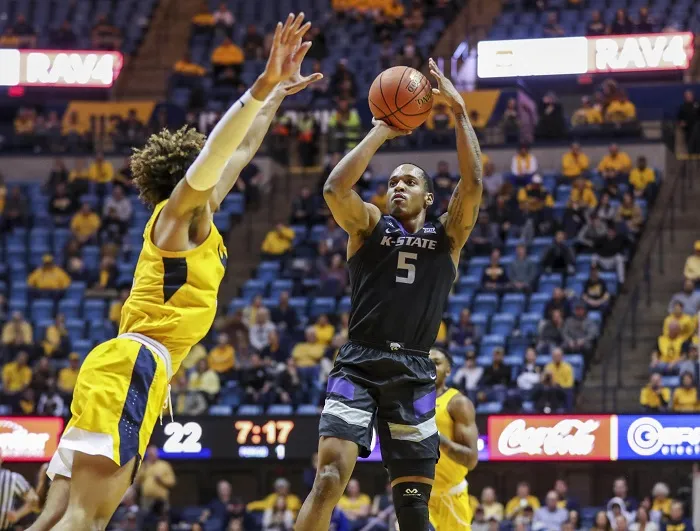 Going into Monday night I felt the TCU-Oklahoma State game was more interesting. Yes, front-running Kansas State was facing West Virginia. But we know Kansas State is going to the NCAA Tournament. We know West Virginia is not. And, after a sluggish first half, the Wildcats pulled away from the Mountaineers, 65-51.
And, yes, TCU and Oklahoma State was definitely the more interesting game, with the Cowboys winning, 68-61.
The Horned Frogs (17-8, 5-8 in Big 12) needed this win. Right now they're considered a likely NCAA Tournament team. But the last thing you want to do is fade down the stretch and TCU is having some issues sustaining the momentum it had earlier this season. So every opportunity to win a game is precious at this stage and when you play a team like Oklahoma State — one with a worse overall record and an eight-game losing streak going into the game — you have to cash in.
TCU didn't. The loss was the Horned Frogs' third straight and it makes their NCAA Tournament hopes a little more perilous. I'll be interested to see Joe Lunardi's updated Bracketology on Tuesday morning and see where the Horned Frogs stand.
And perhaps Oklahoma State went into the game with a little more hunger than expected. Remember — just two weeks ago TCU needed a buzzer-beating fadeaway from JD Miller to claim the win in Fort Worth. So the Cowboys played the Horned Frogs tough on the road.
And, in the end, it was effort plays like this one by Isaac Likekele that made the difference for Oklahoma State (10-16, 3-10).
This Isaac Likekele tip-in gives #OKState a 6-point lead with 29 seconds left. That might do it. #GoPokes #TCUvsOKST @Heartland_CS pic.twitter.com/bXYe8AmRoN

— Matthew Postins (@PostinsPostcard) February 19, 2019

The rematch was nearly as tight. But it didn't start out that way. The Cowboys came out of the gate as hot as they've been in any game this season, and that's saying something when you consider how Lindy Waters III and Thomas Dziagwa have been shooting the 3-pointer lately.
Waters entered the game shooting 57 percent from the arc in his last nine games. That's as good a stretch as you're likely to find in the country. By the end of the night he shot 3-of-6 from the arc and ended up with 14 points. But that was nothing compared to Dziagwa.
Dziagwa was coming off a career-high 23 points against Texas on Saturday. Well Dziagwa tied his career-high on Monday with 23 points, including a blazing 6-of-11 from the arc. He had four of those in the first half.
It's 3's in Stillwater. Dziagwa with 6, Waters with 3, Likekele and Jones with 1 each and #OKState with an 11-point lead. #TCUvsOKST @Heartland_CS pic.twitter.com/3JD5ZhKlsZ

— Matthew Postins (@PostinsPostcard) February 19, 2019

Thanks to this pair, plus Likekele — he of the late tip-in above — the Cowboys maintained a solid lead for most of the game. It's interesting they managed to build that lead without a significant contribution from Cameron McGriff, who only had 4 points and failed to make a field goal. I mean serious. He didn't hit a single shot from the floor in seven attempts.
If you had bet me that #OKState would beat #GoFrogs without a single field goal from Cameron McGriff I would have taken that bet. And I would have lost money. #TCUvsOKST

— Matthew Postins (@PostinsPostcard) February 19, 2019

Likekele ended up with 13 points and, in addition to the tip-in, he hit some big free throws down the stretch to help the Cowboys maintain their lead.
TCU played with desperation, but not enough. The Horned Frogs managed to crawl back into this one with a 10-1 run to the 6:30 mark, a run that cut the Cowboys' lead to 57-55.
Plays like this Alex Robinson feed to Kevin Samuel is keeping #GoFrogs in a game they really need to win. #TCUvsOKST @Heartland_CS #TCU pic.twitter.com/sspJ48XS7H

— Matthew Postins (@PostinsPostcard) February 19, 2019

TCU had the lead down to 2 points a few more times after that, but the Horned Frogs were never able to close the deal. Like OSU, TCU is down to a smattering of scholarship players and the Horned Frogs didn't have forward Kouat Noi, either. In fact, midway through the second half the Horned Frogs lost their top guard, Alex Robinson, to what appeared to be a lower leg injury. He returned a couple of minutes later, and thank goodness because he ended up with 19 points and 5 assists.
Desmond Bane also had 19 points and Miller added 11 points, but there was no chance for last-second heroics this time around.
So how critical was this loss to TCU? Before Monday the Horned Frogs' "worst loss" was a loss to Lipscomb during non-conference. That loss isn't really that bad when you consider that Lipscomb's Basketball Power Index has it ranked No. 43. TCU was ranked No. 39 going into the game. Oklahoma State was No. 126 in the BPI going into the game. So the Cowboys now represent the Horned Frogs' worst loss this season.
Then, look at TCU's remaining schedule. Games remain with Iowa State, West Virginia, Texas Tech, Kansas State and Texas. The West Virginia game is the only one on that slate that looks like a win. And it's in Morgantown. So TCU's road just got a whole lot tougher.  
Speaking of Morgantown, Kansas State (20-6, 10-3) bounced back from its loss to Iowa State with that win over West Virginia (10-16, 2-11), though the first half wasn't pretty. Kansas State was up by just two points, 30-28, at the break. The good news for the Wildcats was that Dean Wade was able to play. He injured his foot on Saturday against Iowa State, but obviously the injury wasn't that serious. Wade ended up with 10 points.
But, of course, Barry Brown Jr. led the way with 21 points, 3 rebounds, 4 assists and 4 steals. That's the kind of stat line coaches love. Xavier Sneed added 19 points, including five 3-pointers. With the win Kansas State remains in the lead in the Big 12 for at least another few days before it meets Oklahoma State on Saturday. You can bet K-State head coach Bruce Weber is going to pop in that Oklahoma State-TCU when the boys get back to Manhattan. They're going to take Saturday seriously.
West Virginia is just trying to figure out what next year will look like for this team. For the second time in as many games the Mountaineers started four freshmen with forward Lamont West. West led the way with 16 points, while Brandon Knapper had 10 points and forward Derek Culver had a double-double — 11 points and 13 rebounds. If you're looking for someone to build around for next season, it's Culver. Monday was his sixth double-double of the season, and he's only played 16 games this season.
There will be just one game in the Big 12 Tuesday night as Iowa State hosts Baylor. After that, it's a long wait until the weekend.
**Sign up here for our HCS weekly e-mails for a chance to win FREE Heartland College Sports and Big 12 team gear!!**