Big 12 News
Top 25 Returning Big 12 Baseball Players, No. 13: Brian Klein, Texas Tech Utility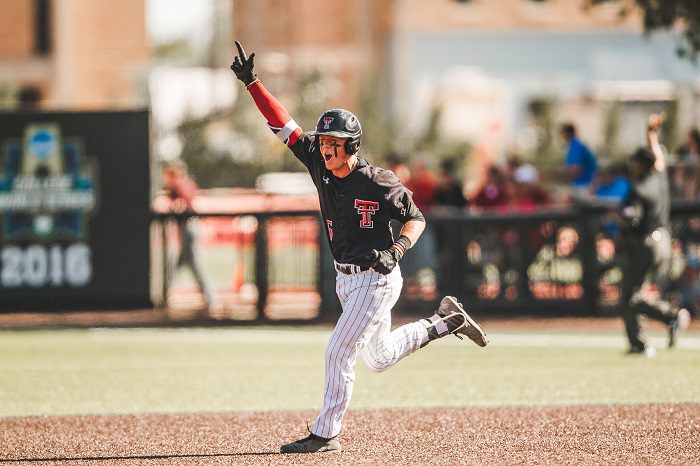 When a player has more walks than strikeouts, it's a solid indicator of a patient hitter. The 14:9 bb/k ratio isn't the only impressive stat on Klein's sophomore resume. He also crossed the plate more times than anyone else on his team. A total of 27 runs scored a No.3 ranking in the Big 12 for Klein. The Keller, Texas native also hit .346 in 78 at-bats.
His plate approach isn't the only impressive thing Klein is known for though. Some of the guys lower than him on the list struggle in the fielding category. Klein does not. Yes, he has been in the designated hitter spot for several games. A lot of great hitters play outfield because ground balls are slower by the time it reaches them. Klein played 15 games at second base his sophomore season while splitting the rest between outfield and designated hitter. He played 19 games at second base his freshman season. Klein committed just two errors in his two seasons with the Red Raiders. He's the guy who doesn't care where he plays, he just does his job.
Klein isn't a flashy player. He doesn't hit a ton of home runs, but he has some power. For this reason, he's not going to be drafted in the first five rounds. He is likely more of a 10-15 round guy whose chances of making it to the majors are high. Klein is draft-eligible this year.
For the rest of our Top 25:
No. 25: Baylor 1B/C Shea Langeliers
No. 24: WVU Utility Tyler Doanes
No. 23: WVU IF Marques Inman
No. 22: Oklahoma State OF Trevor Boone
No. 21: Baylor OF Richard Cunningham
No. 20: Kansas State OF Will Brennan
No. 19: West Virginia OF Darius Hill
No. 18: TCU LHP Nick Lodolo
No. 17: OU RPH Nathan Wiles
No. 16: Oklahoma State OF Carson McCusker
No. 15: TCU OF Josh Watson
No. 14: Baylor IF Nick Loftin
**Sign up here for our HCS weekly e-mails for a chance to win FREE Heartland College Sports and Big 12 team gear!!**