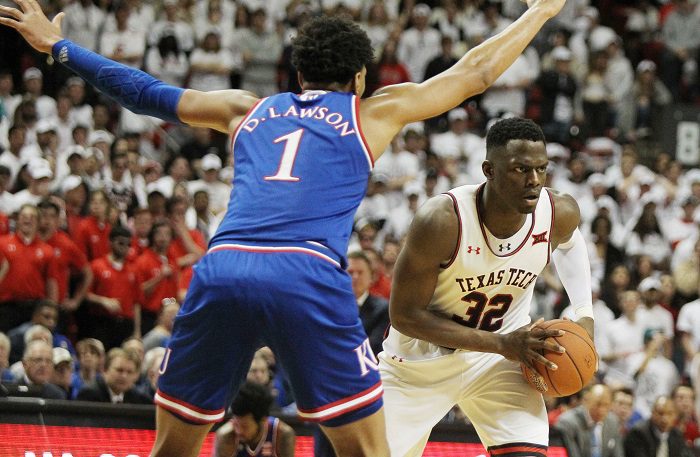 There were only eight games in the Big 12 this past week, but there was still plenty of drama. We explore that and more in this week's Big 12 Basketball Good, Bad and Ugly.
THE GOOD
SEPARATION SATURDAY?
Saturday may have played a decisive role in the Big 12 race, in terms of the regular season. Oklahoma bolstered its NCAA hopes with a win over Texas. TCU upset Iowa State at home, likely ending the Cyclones' hopes of a Big 12 title. West Virginia pushed Baylor to the brink before the Bears pulled away. And while K-State blew out Oklahoma State, as expected, Texas Tech did the unthinkable to Kansas.
Final total: Texas Tech scored 1.48 points per possession. It's the worst game recorded by the KU defense in the KenPom era.

Red Raiders break previous record for offense by a KU opponent set by Villanova in the 2018 Final Four.

— John Gasaway (@JohnGasaway) February 24, 2019

To be clear I thought Texas Tech could win that game. I did not think the Red Raiders could win it by 29 points. Look at the shooting percentage in the Red Raiders' box score. Better than 60 percent from the floor and from 3? Are you kidding?
#WreckEm dismantles #RockChalk and remains a game back of #EMAW in #Big12MBB while the #Jayhawks drop 2 games back going into their #BigMonday game with #KState. The "streak" is indeed in peril. #KUvsTTU @Heartland_CS pic.twitter.com/H7TQKIeBab

— Matthew Postins (@PostinsPostcard) February 24, 2019

So now we have some separation. With four games left and three games back, Iowa State is basically out of it. With four games left and two games back, both Kansas and Baylor are in dire need of some help (and Kansas can help themselves with a win over Kansas State on Monday). Texas Tech is one game back with four games left, but they're still at a disadvantage. The Red Raiders are done with their season series with K-State.
So the Wildcats remain in the driver's seat, and the league's two hottest teams at the moment — the Wildcats and the Red Raiders — are 1-2 in the standings.
As for everyone else? Well, they're chasing. And they're running out of time. But this is the Big 12, so I could be writing something completely different here next Sunday. That's the joy of this conference from week to week.
TCU AND OU BOLSTER NCAA CASES
I was watching both ESPN and CBSSports for their Bracketology updates all week. And it was clear that no two Big 12 teams were closer to the bubble than TCU and Oklahoma. Neither was exactly ON the bubble, as neither was a "last four in" or "first four out" team. But they were both 10 seeds, and that gets you into bubble territory.
Both did a world of good for their NCAA hopes this week, and for the league's hopes of getting eight teams in the Big Dance.
Oklahoma had the week off after their win last Saturday against TCU. The win ended OU's five-game losing streak but didn't necessarily stabilize their NCAA hopes. But it gave them a valuable tiebreaker in the eyes of the committee. Saturday's win over Texas was helpful as well. It allowed the Sooners to split their season series with the Longhorns and put the Sooners on a two-game winning streak going into their final four games. Unfortunately, three of those games are against ranked teams and two are on the road (at Iowa State, Kansas, at Kansas State). OU has to find a way to steal one of those, and oddly the best chance is at home against Kansas, for reasons that I'll outline in the "Bad" section. The Sooners' work isn't done. But if they could steal one of those three, that would bolster their case. Winning against West Virginia in Norman on March 2 is an absolute must.
As for TCU, its week looked awful after the loss to Oklahoma State. The Horned Frogs were in the midst of a poorly-timed three-game swoon and it came without forward Kouat Noi, one of their top scorers. Well, on Saturday, with Iowa State in town, Noi returned, scored 20 points and the Horned Frogs upset the No. 19 Cyclones, 75-72. Not just that, but it gave the Horned Frogs a season sweep over the Cyclones, a team some consider to be a Top 16 seed in the NCAA Tournament.
That's a feather in a cap win for the Horned Frogs, who are closing in on 20 wins but face a brutal stretch to end the season (at West Virginia, vs. Texas Tech, vs. Kansas State, at Texas). Two wins there would be quite helpful, but with two wins over the ranked Cyclones, that might be enough to get the Horned Frogs in unless they lose every game from here on out.
Either way, both the Sooners and Horned Frogs look much more solid when it comes to the NCAA Tournament in a month.
BAYLOR GOES BOARDING
Baylor is No. 1 in the Big 12 in rebounding margin (+6.3). That's the difference between the Bears' per-game rebounding average and the per-game average of their opponents. What is incredible about this to me is that the Bears don't have a true center, and haven't had one all season. At times this year they've started a lineup with five guards, with the tallest player being 6-foot-7 Mario Kegler (yes, the Bears consider him a guard). And yet, the Bears lead this category. How? Well, it's about effort like this.
#SicEm with 33 rebounds at the under 12 and here's part of the reason why. It's all about effort. #BAYvsISU #Big12Hoops @Heartland_CS pic.twitter.com/TzVxO0krD4

— Matthew Postins (@PostinsPostcard) February 20, 2019
The Bears destroyed the Cyclones on the glass earlier this week, outrebounding them 44-28. On Saturday against West Virginia the Bears outrebounded the Mountaineers by four. In both games this week the Bears has players with double-doubles. Freddie Gillespie did it against Iowa State and both Kegler and Mark Vital did it against West Virginia.
The Bears' leading rebounder this season is Vital, a 6-foot-5 sophomore guard who plays like he is 6-foot-10. He was averaging 7.1 rebounds per game going into the West Virginia game. What's incredible about Vital is that unlike the three players in front of him in the Big 12 rebounding rankings — Kansas' Dedric Lawson, Texas' Dylan Osetkowski and Oklahoma State's Cameron McGriff — Vital had more offensive rebounds (96) that defensive rebounds (95). In fact, that balance between offensive and defensive rebounds is completely absurd. I'm not sure I've ever seen it by a player with nearly 200 rebounds.
This is just another reason why I think the Bears' head coach, Scott Drew, is going to be the Big 12 coach of the year. What he has squeezed out of these Bears, amid all the injuries and the undersized lineups, is pretty incredible.
DEAN WADE IS PLAYING
So it turns out Wade's foot injury, suffered last Saturday against Iowa State, was so minor he played both games this week. Wade scored 10 points and played 32 minutes against West Virginia and just 11 minutes and scored 6 points against Oklahoma State (but the Wildcats won that game by 39 points). That's about as good as it gets when you're trying to rest the big guy for Monday's showdown with Kansas. The Wildcats look like they're full strength as they try to end Kansas' undefeated season at Allen Fieldhouse.
THE BAD
THE STREAK IS ON LIFE SUPPORT
For the past 14 seasons Kansas has either won or shared the Big 12 regular-season title. The streak basically spans the life of the Bill Self era. The only year the Jayhawks didn't win or share the league title was Self's first season in 2003-04, when they tied for second in the regular season (they still went to the Elite Eight). Well the loss to Texas Tech may have iced the streak completely. It also underscores the biggest problem Kansas has had this season — playing on the road.
The Jayhawks have been an abysmal 2-7 in true road games this season, with their only wins away from Allen Fieldhouse coming  against Baylor and TCU (and KU needed OT to beat the Horned Frogs). I mean, this crew lost at West Virginia. With four games left, the Jayhawks only get to play in the comforts of Allen Fieldhouse twice — against Kansas State on Monday night and against Baylor to end the season. In between Kansas has to go to Oklahoma State and Oklahoma. That could end up being a split, or, worse, based on their season to this point.
That's why a win on Monday night is the red line to having any shot at No. 15. Being two games back, the most likely path to a co-championship is clear — Kansas has to win out, Kansas State has to lose twice and Texas Tech has to lose once. At least in that scenario it's a tri-championship and Kansas has split with both teams.
Lose Monday night and, well, sorry Jayhawks fans. But the streak is toast. By the way, you will have at least ONE Big 12 team rooting for you.
Now that #WreckEm has beaten #RockChalk the folks in Lubbock would like a solid, #Jayhawks. Could you beat #EMAW Monday and help tie the #BIG12MBB up? Pretty please? pic.twitter.com/xXwLvnAL57

— Matthew Postins (@PostinsPostcard) February 24, 2019
A BAD DAY IN MANHATTAN

We know that Oklahoma State isn't making the NCAA Tournament or the NIT. We also know that the Cowboys have recruited well for next season. But head coach Mike Boynton Jr. wants better effort than what he saw on Saturday, an 85-46 loss to Kansas State.
The Cowboys shot 31.4 percent from the floor. They also shot 16.7 percent from the 3-point line, and right now that's what they do best. The "Big Three" — Cameron McGriff, Lindy Waters III and Thomas Dziagwa — combined for 12 points. OSU was outrebounded by 13.
OSU got slammed. It's that simple. It was just hard to watch after the Cowboys took care of business at home against TCU just five days earlier.
THE UGLY
KERWIN ROACH'S SUSPENSION
Texas had the week off leading up to their Saturday game with Oklahoma. On Friday news broke via 247Sports.com that Longhorns guard Kerwin Roach II had been suspended for the second time this season for a violation of team rules. Smart wasn't talking about why the suspension took place, but he was clear about two things. First, the suspension was indefinite. Second, it was a university-based suspension. In other words, the suspension was out of Smart's hands. He's hopeful Roach can return this season. Brian Davis of the Austin American-Statesman did some solid follow-up work on Saturday.
This was a huge blow for Texas on Saturday. Roach is the Longhorns' leading scorer, averaging 15 points per game and the Longhorns lost by two to the Sooners, as they rallied from a 14-point deficit. You can draw a pretty clear line here as to what the suspension did to Texas' performance on Saturday. Texas dropped guard Jase Febres into the starting lineup and he was one of five Longhorns in double figures. It just wasn't enough. Roach could have made a difference.
Without a clear indication of when Roach might return, the schedule ahead is absolutely murderous. The Longhorns go to Baylor, host Iowa State, go to Texas Tech and host TCU. ISU and TTU have been ranked since January. This could clearly make the Longhorns an NCAA bubble team.  
THE CYCLONES SLOW DOWN
This was not a good week for Iowa State. At the start of the week they're were right there in the Big 12 race. The Cyclones needed some help, but they were poised. But after losses to Baylor and TCU back-to-back, as I mentioned, they're out of the race. The good news is that I felt Iowa State played well in both losses, and as I said on the radio all week I think Iowa State is the team that can get hot in the NCAA Tournament a go a few rounds. I still believe that, but head coach Steve Prohm needs to spend the next few weeks improving the rebounding and improving the focus on getting to the basket instead of settling for 3's.
TALK ABOUT BOB HUGGINS' JOB
Let's put a stop to that right now. We all know this is a lost season for the Mountaineers, and Huggins and his staff bear some blame for that (I mean not having a point guard recruited when you know that Jevon Carter is leaving is a big miss). But much of this is due to injuries and horrible luck. And, yet, the Mountaineers went into Waco and pushed the Bears to the brink. I think Huggins has finally found his high-effort players, the ones that will listen to him and execute. And because most of them are freshmen, that bodes well for next year.
If Huggins wants to retire on his own, so be it. But I don't believe WVU brass will force him out (and that's just my gut talking. I was asked the question earlier this week during radio appearances). He's only 65 and I feel like he still wants to coach. Plus, he's helped WVU bounce back before. The Mountaineers went 13-19 in their first season in the Big 12 in 2012-13 and steadily rose back to being a 20-win team. So Huggins has work to do. He's done it before. And he's doing it now. The Mountaineers might only have the No. 54 recruiting class right now, per 247Sports.com. But one is center Oscar Tshiebwe, who is a McDonald's All-American and the nation's No. 24 recruit. Also coming in is a point guard, Miles McBride, from Cincinnati's Archbishop Moeller High School. Plus, I think some scholarships are going to be freed up after this season as well (think Sagaba Konate going to the NBA).
Better times are coming Mountaineers fans. And Huggins is going to preside over it.
BIG 12 STANDINGS
Your updated #Big12MBB standings @Heartland_CS pic.twitter.com/wgyTR4CZoM

— Matthew Postins (@PostinsPostcard) February 24, 2019
RESULTS
Monday, Feb. 18
Kansas State 65, West Virginia 61
Oklahoma State 68, TCU 61
Tuesday, Feb. 12
Baylor 73, Iowa State 69
Saturday, Feb. 16
Texas Tech 91, Kansas 62
TCU 75, Iowa State 72
Kansas State 85, Oklahoma State 46
Oklahoma 69, Texas 67
Baylor 82, West Virginia 75
NEXT GAMES (all times CST unless noted)
Monday, Feb. 25
Oklahoma at Iowa State, 7 p.m., ESPN2
Kansas State at Kansas, 8 p.m., ESPN
Tuesday, Feb. 26
TCU at West Virginia, 7 p.m. EST, ESPNU
Wednesday, Feb. 27
Oklahoma State at Texas Tech, 6 p.m., ESPNU
Texas at Baylor, 8 p.m., ESPN2
Saturday, March 2
Kansas at Oklahoma State, 11 a.m., CBS
Iowa State at Texas, 1 p.m., ESPN/ESPN2/ESPNU
West Virginia at Oklahoma, 1 p.m., ESPN/ESPN2/ESPNU
Texas Tech at TCU, 3 p.m., ESPN/ESPN2/ESPNU
Baylor at Kansas State, 7 p.m., ESPN/ESPN2/ESPNU
SUPERLATIVES
20-point games: Devonte Bandoo, Baylor, 22 (vs. West Virginia, Feb. 23); Barry Brown Jr., Kansas State, 21 (vs. West Virginia, Feb. 18); Jarrett Culver, Texas Tech, 26 (vs. Kansas, Feb. 23); Thomas Dziagwa, Oklahoma State, 23 (vs. TCU, Feb. 18); Mario Kegler, Baylor, 23 (vs. West Virginia, Feb. 23); Kouat Noi, TCU, 20 (vs. Iowa State, Feb. 23); Marial Shayok, Iowa State, 20 (vs. Baylor, Feb. 19).
10-rebound games: Derek Culver, West Virginia, 13 (vs. Kansas State, Feb. 18); Freddie Gillespie, Baylor, 10 (vs. Iowa State, Feb. 19); Mario Kegler, Baylor, 10 (vs. West Virginia, Feb. 23); Kouat Noi, TCU, 13 (vs. Iowa State, Feb. 23); Norense Odiase, Texas Tech, 13 (vs. Kansas, Feb. 23); Mark Vital, Baylor, 14 (vs. West Virginia, Feb. 23).
5-assist games: Jamal Bieniemy, Oklahoma, 8 (vs. Texas, Feb. 23); Jared Butler, Baylor, 5 (vs. Iowa State, Feb. 19); Matt Coleman III, Texas, 5 (vs. Oklahoma, Feb. 23); Jermaine Haley, West Virginia, 5 (vs. Baylor, Feb. 23); Tyrese Halliburton, Iowa State, 7 (vs. TCU, Feb. 23); Mario Kegler, Baylor, 5 (vs. Iowa State, Feb. 19); Matt Mooney, Texas Tech, 6 (vs. Kansas, Feb. 23); Davide Moretti, Texas Tech, 5 (vs. Kansas, Feb. 23); Shaun Neal-Williams, Kansas State, 6 (vs. Oklahoma State, Feb. 23); Alex Robinson, TCU, 5 (vs. Oklahoma State, Feb. 18) 10 (vs. Iowa State, Feb. 23); Nick Weiler-Babb, Iowa State, 6 (vs. Baylor, Feb. 19), 6, vs. TCU (Feb. 23).
4-block games: Yor Anei, Oklahoma State, 5 (vs. TCU, Feb. 18); Jaxson Hayes, Texas, 6 (vs. Oklahoma, Feb. 23); Kevin Samuel, TCU, 5 (vs. Oklahoma State, Feb. 18).
4-steal games: Barry Brown Jr., Kansas State, 4 (vs. West Virginia, Feb. 18); Talen Horton-Tucker, Iowa State, 5 (vs. TCU, Feb. 23).
Double-doubles: Derek Culver, West Virginia, 11 points, 13 rebounds (vs. Kansas State, Feb. 18); Freddie Gillespie, Baylor, 14 points, 10 rebounds (vs. Iowa State, Feb. 19); Mario Kegler, Baylor, 23 points, 10 rebounds (vs. West Virginia, Feb. 23); Kouat Noi, TCU, 20 points, 13 rebounds (vs. Iowa State, Feb. 23); Mark Vital, Baylor, 15 points, 14 rebounds (vs. West Virginia, Feb. 23).
**Sign up here for our HCS weekly e-mails for a chance to win FREE Heartland College Sports and Big 12 team gear!!**