Big 12 News
Top 25 Returning Big 12 Baseball Players, No. 11: James Cosentino, Kansas IF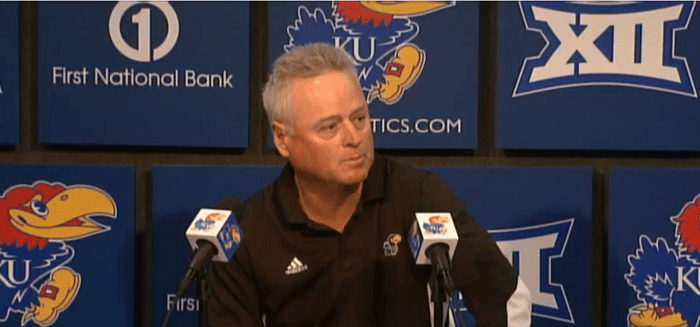 Each of the past two seasons, Kansas has been on the cusp of making an NCAA Regional. In 2017, it was their failure to win in the pre-conference games that kept them out. They were mainly freshman adjusting from high school to the college game. When conference play hit, they raised a lot of eyebrows. In 2018, five losses to Cincinnati and Kansas State were likely the difference. At least win those two series, and the Jayhawks are probably in.
This is an experienced ball club now. In the previous two seasons, Ritch Price was relying on youth. It nearly cost him his job. He's survived, and now the Jayhawks are in a season where it's regional or bust.
There is one Jayhawk on our Top 25 Returning Players list and he is junior second baseman James Cosentino. The Leawood, Kans. product is a big reason why Kansas produced a winning record in 2017. He was named a Freshman All-American that year after producing 15 extra-base hits, including four home runs while batting .271. He averaged one hit per game that season and racked up 31 rbis.
During Big 12 play in 2018, he blasted four long balls and three triples. Cosentino crossed home plate 16 times and brought in 12 more runs from his bat. His two main problems are strikeouts and errors. Youth has led this team. Now they're experienced. It's a talented club. There are 11 juniors on the team. Many of these juniors were playing as freshman and sophomores: Jaxx Groshans, Ryan Cyr, Ryan Zeferjahn, Brett Vosik, Benjamin Sems. These are recognizable names in the Big 12 now. They should have the most chemistry in the Big 12 Conference. It should produce at least 35 wins. Cosentino has been the most consistent. The pressure's on, but the experience is there. If Ritch Price is going to keep his job, it starts with this junior class.
All of these juniors are draft eligible this season.
For the rest of our Top 25:
No. 25: Baylor 1B/C Shea Langeliers
No. 24: WVU Utility Tyler Doanes
No. 23: WVU IF Marques Inman
No. 22: Oklahoma State OF Trevor Boone
No. 21: Baylor OF Richard Cunningham
No. 20: Kansas State OF Will Brennan
No. 19: West Virginia OF Darius Hill
No. 18: TCU LHP Nick Lodolo
No. 17: OU RPH Nathan Wiles
No. 16: Oklahoma State OF Carson McCusker
No. 15: TCU OF Josh Watson
No. 14: Baylor IF Nick Loftin
No. 13: Texas Tech utility Brian Klein
No. 12: Oklahoma State C/OF Colin Simpson
**Sign up here for our HCS weekly e-mails for a chance to win FREE Heartland College Sports and Big 12 team gear!!**