Big 12 News
Report: Former Big 12 President Proposed 'Strategic Alliance' With Pac-12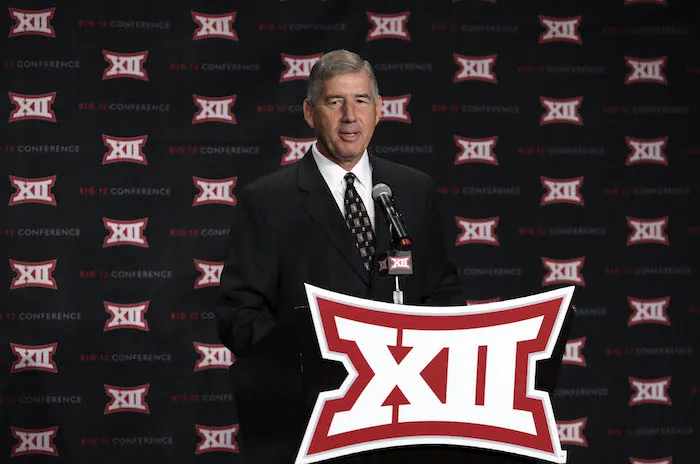 Despite TV contracts generally been set in place for at least the next five years, there are always rumblings about conference realignment in the college sports world. That is even more likely to be a discussion in the sleepy offseason, like right now towards the end of February.
On Tuesday, The Mercury News reported that former Kansas State President Jon Wefald came up with a new strategic alliance at the request of current West Virginia president Gordon Gee. In 2017, Gee reportedly requested Wefald to send him a proposal to consider ways to "strengthen" the Big 12.
Wefald took months to come up with his document, titled, "A Proposal to Create A Strategic Alliance Between The Big 12 And The Pac-12."
Per The Mercury News, Wefald said, "My first idea was to figure out a strategy to convince Arizona and Arizona State to become the 11th and 12th members of the Big 12," but then, "I rather quickly dismissed that idea."
In the proposal, Wefald says, "This alliance of 22 universities from the Great Plains to the West Coast would provide the vital content of big-time football games that dovetail nicely with the new developing platforms of information."
The proposal says all 30 Big 12 non-conference opponents should be Pac-12 teams and 30 of the 36 Pac-12 non-conference opponents should be from the Big 12.
The match ups would not all take place in September, instead being spread out across the season with 10 in September, 10 in October and 10 in November, and the winners would meet in a conference championship game that would rotate between the Rose Bowl and AT&T Stadium.
Gee said he thought the proposal was "brilliant", but has declined to publicly comment.
The Big 12 made it clear that Wefald is not working on behalf of the conference and that it was more of an exploratory idea to take the Big 12 into the next decade.
Would you be a fan of this or do you see too many hurdles? Let us know in the comments!
**Sign up here for our HCS weekly e-mails for a chance to win FREE Heartland College Sports and Big 12 team gear!!**