Baylor Bears
Former Baylor DE Shawn Oakman Found Not Guilty in Sexual Assault Trial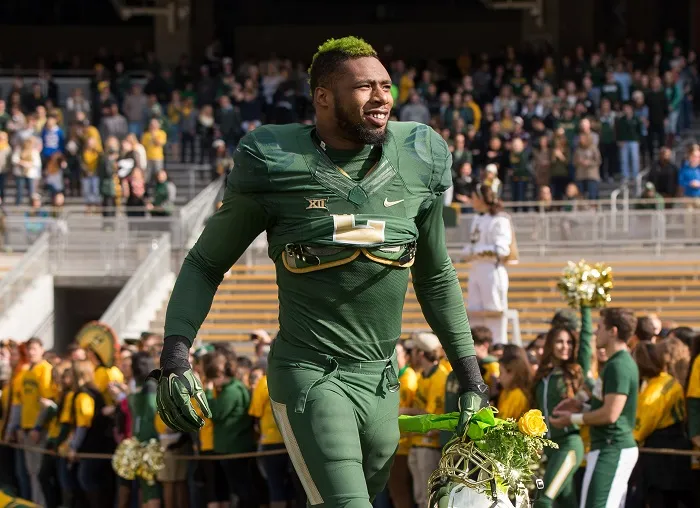 Former Baylor defensive end Shawn Oakman was found not guilty of rape Thursday after a two-day trial.
Oakman was accused of sexually assaulting a former girlfriend at his residence off campus back on April 3, 2016. Oakman and the woman were friendly at the time and she had invited him back after a night out at a bar.
The verdict came after roughly two hours of deliberation by the jury Thursday afternoon. Per a Waco Tribune reporter at the courthouse, the jury had disagreements about the woman's testimony.
The woman, who was 22 at the time of the encounter, testified at the trial Wednesday that Oakman raped her after they went back to his place after the bar.
Her testimony, per the Waco Tribune, noted the following:
She said Oakman had to hold her up while he was trying to open the door because she was so drunk. She said it is possible that is how she might have received a bruise on her arm that prosecutors showed the jury a photo of.
She said she wanted to leave, but Oakman would not allow it. She said the next thing she remembers is being face-down on Oakman's bed while he removed her clothes and raped her. She said Oakman later turned her over and raped her again.
A nurse who examined the woman testified at the trial that her findings were consistent with sexual assaults, however Oakman's attorney contended at the trial that the sex was consensual.
Oakman had 128 tackles and 17.5 sacks at Baylor, and was once considered a potential second- or third-round pick in the 2017 NFL draft. He went undrafted following his arrest.
**Sign up here for our HCS weekly e-mails for a chance to win FREE Heartland College Sports and Big 12 team gear!!**