Big 12 News
Top 25 Returning Big 12 Baseball Players, No. 8: Caleb Kilian, Texas Tech RHP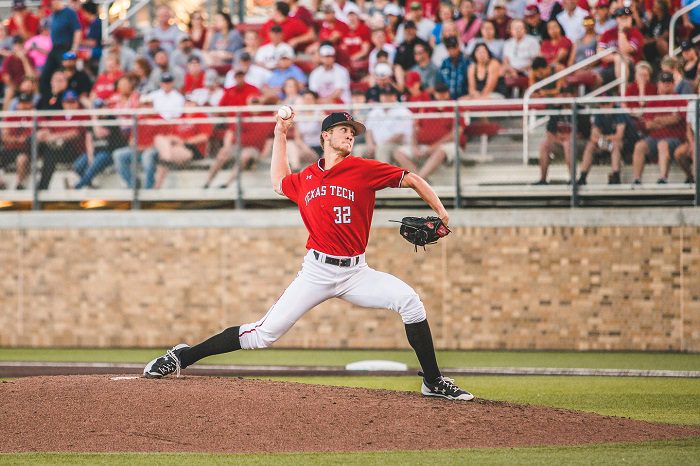 Texas Tech is a monster. Tim Tadlock has taken this program to heights so far, no one really talks about the legendary Larry Hays anymore. This program has appeared in Omaha three times since Tadlock took over, something Tech had never accomplished prior to his arrival.
The Red Raiders were forced to reload after 11 players were drafted. Ten of those 11 signed. Who was the lone Red Raider to return to the Lubbock campus? Righty Caleb Kilian, a 20th round draft pick by the Baltimore Orioles.
Kilian isn't your typical ace. He doesn't eat up a ton of innings. He's not going to strike a lot of batters out. What he does do is produce outs. In 2018, Kilian produced a 2.82 ERA against Big 12 competition. He struck out 35 while surrendering 14 walks in eight appearances. When Kilian pitches, the Red Raiders typically win. He finished conference play with a 6-1 record. He's 15-3 in his career with a 3.34 career ERA. He's racked up 98 strikeouts in 110.1 innings. The 6-foot-4, 180 pound junior earned All-Big 12 First Team accolades in 2018.
If Kilian is on his game, the offense is going to guarantee Tech a victory. This is a high-octane team that scores a lot. All it needs is a little bit of pitching.
No. 25: Baylor 1B/C Shea Langeliers
No. 24: WVU Utility Tyler Doanes
No. 23: WVU IF Marques Inman
No. 22: Oklahoma State OF Trevor Boone
No. 21: Baylor OF Richard Cunningham
No. 20: Kansas State OF Will Brennan
No. 19: West Virginia OF Darius Hill
No. 18: TCU LHP Nick Lodolo
No. 17: OU RPH Nathan Wiles
No. 16: Oklahoma State OF Carson McCusker
No. 15: TCU OF Josh Watson
No. 14: Baylor IF Nick Loftin
No. 13: Texas Tech utility Brian Klein
No. 12: Oklahoma State C/OF Colin Simpson
No. 11: Kansas IF James Cosentino
No. 10: Oklahoma IF Brylie Ware
No. 9: Baylor IF Davis Wendzel
**Sign up here for our HCS weekly e-mails for a chance to win FREE Heartland College Sports and Big 12 team gear!!**