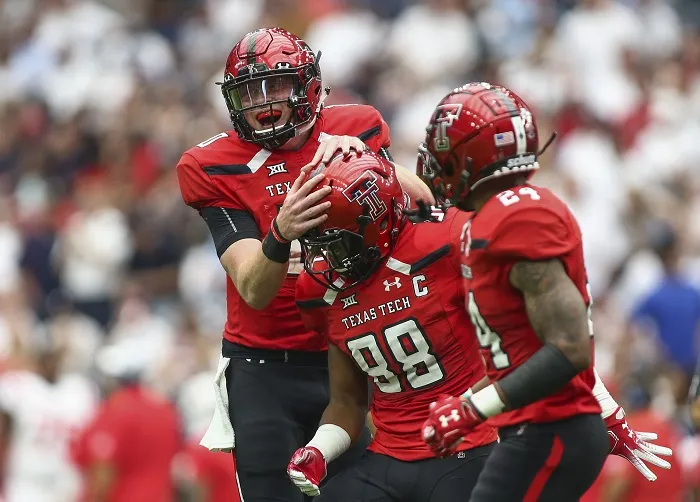 College basketball is heading down the home stretch, college baseball has started, but let's not forget (I know many of you aren't) that spring practice is already getting underway across the country. We will handle spring previews for every Big 12 football team and roll them out based on when their respective spring practices begin. Next up is the Texas Tech Red Raiders who will start up spring practice on Monday, March 4th.
Most Exciting Returnee: QB Alan Bowman
After injuries and issues for McLane Carter and Jett Duffey to start the 2018 season, true freshman quarterback Alan Bowman took the program by storm. However his season was marred by a collapsed lung that was then reinjured later in the season, which brought his freshman campaign to an end. In an interview we had with new head coach Matt Wells last week, he said Bowman is healthy and he's excited to see what his new quarterback is all about. But getting a first look at how Bowman, who threw for 2,638 yards, 17 touchdowns and seven interceptions last season, plays this spring and meshes with his new coaching staff will also give us some insight into whether his success was all his own, Kliff Kingbury's, or maybe a combination of the two? 
Most Exciting Newcomer: TE Simon Gonzalez
While Texas Tech will still keep its uptempo style under Wells and new offensive coordinator David Yost, one difference is that Yost uses 11 personnel (one tight end, one running back, three wide receivers). Texas Tech rarely used the tight end under Kliff Kingsbury. Gonzalez is just one of two early enrollees for the Red Raiders and plays a position of importance that is unusual and foreign to most Tech fans. In fact, despite having the worst recruiting class in the Big 12 in the 2018 cycle, the tight end position fared pretty well with Gonzalez and Travis Koontz, who is not yet enrolled, but was the No. 2 ranked JUCO tight end in the country, picking Tech over a handful of other Power 5 offers. But Koontz is not yet on campus, so it's up to Gonzalez, the only tight end on the roster, to give us our first glimpse of how the position will be utilized under Yost's guidance.
Offensive Storyline to Watch
Offensive line
Fine, it's not that sexy, but it's as key a position group as there is in football, and it's one Texas Tech has had its issues with in recent years. Utah State was as explosive as any offense in the country last season and it was incredibly balanced, with 440 rushes to 465 passing attempts. And when using the ground game, Utah State averaged 5.6 yards per carry, which was much better than Texas Tech's average of 3.6 per carry last season. Kingsbury tried to be more balanced in recent years, but the results just weren't always there.
Steve Farmer is the new Texas Tech offensive line coach who comes over with Wells after three seasons at Utah State. Last season, Utah State tied for fourth in the FBS, allowing just 10 sacks, despite piling up over 450 passing attempts. Adding to that, the Aggies were one of only three teams in the country to rank in the top 10 for fewest sacks allowed and the top 30 for pass attempts.
So when it comes to Texas Tech's offensive line, all the starters return. Jack Anderson was a second-team All-Big 12 player last season as a sophomore and could blossom into one of the best offensive lineman in the Big 12 this season. Travis Bruffy will be a senior after an honorable mention All-Big 12 mention last season. Terrence Steele, Bailey Smith and Madison Akamnonu are also back in the mix. Plus, the other early enrollee is Trevor Roberson, who is 6'11", and was the 51st ranked OT in the country.
If this group can take the next step under a new staff, Tech can surprise this fall. But the work needs to be put in this spring.
Defensive Storyline to Watch
Finding Pass Rushers
The only Texas Tech pass rusher who ranked in the Top 15 in the Big 12 in sacks was Kolin Hill, who is gone to graduation. The only other player who ranked in the Top 25 in the Big 12 in sacks was Tony Jones, the JUCO transfer, who is out of eligibility after two years in the program. As a team, Tech finished seventh in the Big 12 Conference in sacks in 2018.
Eli Howard, Broderick Washington and Jordyn Brooks should lead the way in this department, but getting others in the mix will be vital. If LB Riko Jeffers can develop into a top-tier pass rusher as he becomes an upperclassman, that would be a nice boost for this unit. Other rising juniors who are looking to take the next step in their development are Joe Wallace and Nick McCann. How those three look in spring from an on-field and leadership perspective will be an important storyline for Texas Tech.
**Sign up here for our HCS weekly e-mails for a chance to win FREE Heartland College Sports and Big 12 team gear!!**