Big 12 News
Report: NFL Sources 'Convinced' Kyler Murray Will Go No. 1 to Kliff Kingsbury, Arizona Cardinals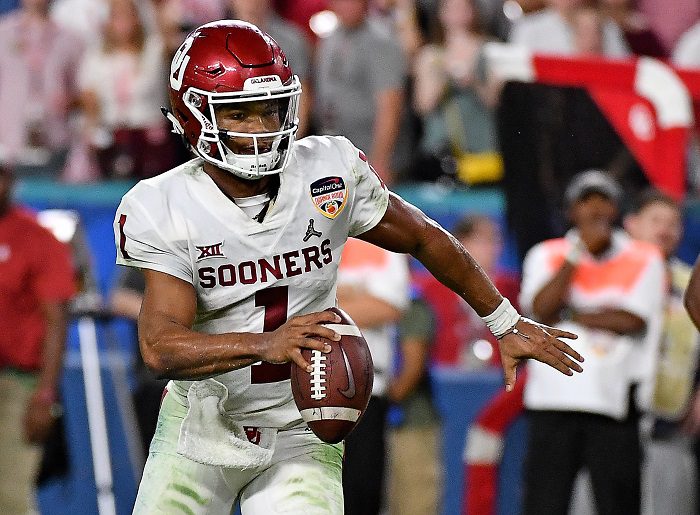 Suddenly, Kyler Murray being a Top 10 pick in the MLB Draft may not be all that impressive. With Murray's official height coming in above 5'10" at this week's NFL Combine, reports continue to surface that the Arizona Cardinals, along with new head coach Kliff Kingsbury, are seriously considering taking Murray with the No. 1 overall pick in next month's NFL Draft.
"In fact, many NFL sources, from scouts to agents to team executives, told SNY at the NFL Scouting Combine this week that they believe the Cardinals really are targeting Murray with the No. 1 overall pick. None of them knew for sure, obviously, and the Cards braintrust wasn't ready to tip its hand."
Cardinals GM Steve Keim didn't do much to squash those rumors when he was asked about Josh Rosen being the starting quarterback and responded, "Yeah. He is right now, for sure."
That isn't going to do much to improve Rosen's confidence that his future is in the desert of Arizona.
And the original lynch pin of this rumor stems back to when Kliff Kingsbury was the head coach of Texas Tech and once opined about Murray, "I'd take him with the first pick in the draft, if I could."
Who would've thought he'd be weeks away from actually having the opportunity to do exactly that? Life is funny sometimes. OK, most of the time.
Murray officially picked the NFL over MLB nearly a month ago, shocking most people who assumed he would take the guaranteed millions he had received nearly one year earlier from the Oakland A's.
If Murray were to go No. 1 to the Cardinals, that would mean Lincoln Riley will have produced two-straight Heisman Trophy winners and two-straight No. 1 NFL Draft picks at the same position. Unheard of. Can you say, Quarterback U?
**Sign up here for our HCS weekly e-mails for a chance to win FREE Heartland College Sports and Big 12 team gear!!**