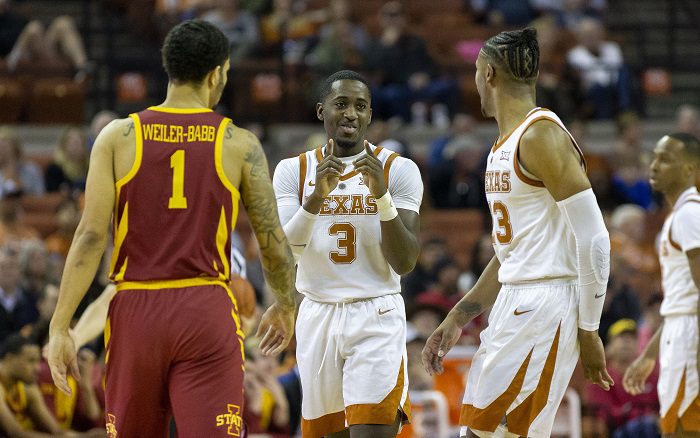 It's time for the final week of the Big 12 season and we're down to three teams to win or share the Big 12 regular-season title. We break that down and more in this week's Big 12 Basketball Good, Bad and Ugly.
THE GOOD
THE FINAL WEEK OF THE BIG 12 RACE
Legitimately, we are down to three teams in the race for the Big 12 Conference regular-season title.
Kansas took care of business, winning both games this past week vs. Kansas State and at Oklahoma State.
Texas Tech took care of business, beating Oklahoma State (in overtime) and TCU)
Kansas State did lose to Kansas, but the Wildcats beat Baylor and the Wildcats had a little wiggle room going into the week. Now, with the loss to Kansas, there is no wiggle room.
Baylor, which lost to Kansas State on Saturday, would need Kansas to lose a game (which Baylor can take of next Saturday in Lawrence, so good luck with that) and for both Texas Tech and Kansas State to lose the final two games. So good luck with all of that Baylor.
Here is the final schedule for the three legit contenders:
Texas Tech: vs. Texas, at Iowa State
Kansas State: at TCU, vs. Oklahoma
Kansas: at Oklahoma, vs. Baylor
Kansas State probably has the smoothest road, but that's not saying much in the Big 12.
The scenarios are pretty simple now.
If either Texas Tech or Kansas State win out they will win the Big 12. If both do it, the Red Raiders and Wildcats will share the title. If only one does it, they'll win the title outright.
If Kansas wins out, the Jayhawks have a chance to win a share of the Big 12 title, but ONLY if both Texas Tech and Kansas State lose at least one game.
Pretty simple stuff. Kansas, for once, doesn't control its own destiny. Geez, what's that like?
DO YOU LOVE OT?
Well, if you do then this past Tuesday and Wednesday night was the week for you.
First, West Virginia needed three overtimes to defeat TCU, 104-96, on Tuesday night.
Then, on Wednesday night, four other Big 12 teams didn't want to be left out.
First, Oklahoma State forced overtime with Texas Tech thanks to an incredible final minute of shooting by forward Lindy Waters III, who connected on four 3-pointers to send the game to extra time, a game the Red Raiders ultimately won.
Lindy Waters did all he could to keep #OKState in it. A 3 made it a 2-point game with 20 seconds left. And then he hit ANOTHER one to cut it to 1 w/ 8.5. And then after the controversy he did THIS. OT. #OKsTvsTTU @Heartland_CS pic.twitter.com/CAVou2dvDh

— Matthew Postins (@PostinsPostcard) February 28, 2019

Then, on the heels of that, Baylor came back from 19 points down to force overtime against Texas and ended up defeated the Longhorns at home.
#SicEm comes back from 19 down forces OT and this Mario Kegler free throw gave them the one-point win. Amazing. #TEXvsBAY @Heartland_CS pic.twitter.com/plR4aHIJR8

— Matthew Postins (@PostinsPostcard) February 28, 2019

So the Big 12 played five overtime periods of basketball in the span of 26 hours. Terrific stuff.
TCU DIDN'T WIN IN MORGANTOWN, BUT …
For the first time I can remember this season a Big 12 team saw every player on the floor notch at least one steal. The Horned Frogs had 17 in the game, with Desmond Bane leading the way with four steals. Kouat Noi, Kevin Samuel and R.J. Nembhard each had three. Kendric Davis had two. J.D. Miller and Alex Robinson each had one.
And if you want to pour through every Big 12 box score to prove me wrong, go for it. I have games to watch on Monday.
THE JOY OF FREE THROWS
Texas Tech's Davide Moretti will probably end up on an All-Big 12 team somehow, either as a third-team or honorable mention. He's had a solid season for the Red Raiders. But his performance down the stretch against Oklahoma State that sealed the game. He went 12-for-12 for the game, and 8-for-8 in the final six minutes of regulation and overtime.
There's a lot to unpack in this #WreckEm OT win over #OKState but let's not leave Davide Moretti out. 12-for-12 at the line and hit just about every big FT for the #RedRaiders including the game-winner. #OKSTvsTTU @Heartland_CS pic.twitter.com/ZzPdDImiMA

— Matthew Postins (@PostinsPostcard) February 28, 2019

Moretti ended up with 15 points and 5 assists against TCU on Saturday, also a win for the Red Raiders.
WEST VIRGINIA FINALLY HAS SOME POSITIVITY
Yes, West Virginia only won one game this week. But you can't ignore that the youngsters in Morgantown are finally turning a corner. Derek Culver had a huge double-double against TCU (22 points, 21 rebounds). So did Jordan McCabe (25 points, 11 assists). Jermaine Haley had a big game against Oklahoma (23 points, 6 assists). Brandon Lowe and I talked about that during my appearance on WBES Radio on Friday. As I wrote last week, Bob Huggins isn't going anywhere people — unless he wants to. And the way these young players are gelling, why would he bail?
We discussed the Big 12 title picture and tourney potential with . @Heartland_CS . @PostinsPostcard
Listen here: https://t.co/eDk6lKsaO4

— Brandon Lowe Show (@WBESBrandonLowe) February 28, 2019

My apologies for any pain the really big photo of me in the tweet might have caused you.
THE BAD
FIGURING OUT TEXAS IS IMPOSSIBLE
I'm breaking out the shoulder [shrug emoji] for this team.
Wish I could put some burnt orange hair on it.
I can't possibly explain Texas' week that was, except that it's pretty much what we've seen all season. The Longhorns had the Baylor Bears beat on the road, and resoundingly so. At one point Texas was up 19 points in this game, but the Bears rallied with a torrent of 3-point shooting to send the game to overtime. Then, in overtime, Texas actually had a six-point lead with about two minutes left and the Longhorns lost that lead, too. When I talked with Brandon Lowe of WBES Radio in Charleston, West Virginia, on Friday, I declared Texas a bubble team.
I now wonder if head coach Shaka Smart was listening, because Texas beat Iowa State resoundingly at home on Saturday.
I really LIKE the pieces on this Texas team. Jase Febres had a huge week for the Longhorns. So did Courtney Ramey. Both have picked up the slack with Kerwin Roach II suspended. I made the point in my other radio appearance in Des Moines that if the Longhorns can keep forward Jaxson Hayes on campus, those three, coupled with the No. 11 recruiting class coming in, gives the Longhorns a chance to make a real jump next season.
But the inconsistency of this Longhorn team is bedeviling. Texas has won no more than two games in a row in Big 12 action, and lost three games in a row once. Texas is the definition of average, I guess. But this week, at least they were a fun average.
FALLING OUT OF THE BIG 12 RACE
Iowa State is clearly out of the race for a share of the Big 12 title now, after losing to Texas on the road on Saturday. It was going to be a hard get for the Cyclones to begin with, as they went into Saturday two games back of Texas Tech and Kansas State. But the math was still there. Well, with the loss, coupled with Texas Tech's win, the Cyclones are mathematically out of it. Right now Iowa State is fighting to stay among the Top 5 teams in the league going into the Big 12 Tournament. The loss to Texas hurts because the Longhorns are now a game behind the Cyclones. But Texas has been so inconsistent I could see the Longhorns remaining at No. 6 going into Kansas City.
Iowa State is a tournament lock, but you can't ignore the fact that ISU has lost four of its last six games. They're not going into the Big 12 Tournament on a roll and the Cyclones don't feel like a team that will end up with a Top 4 regional seed anymore.
THE UGLY
TCU'S HEADED FOR THE BUBBLE
I referenced my appearance on the Brandon Lowe Show on Friday on WBES Radio in Charleston, West Virginia (the link is above). We also talked about TCU and how I think the Horned Frogs should be on the bubble next week when the new Bracketology comes out, assuming they lost to Texas Tech (which they did). I realize TCU has great BPI numbers and has a solid overall record, but they are stumbling to the end of the season. Two losses this past week means the Horned Frogs have lost five of their last six and now have double-digit losses on the season. It also means that the Horned Frogs can't finish the regular season at .500 or better in Big 12 action. Plus, the Horned Frogs are basically guaranteed a first-day game at the Big 12 Tournament, which when you consider this slump could be helpful to them (if TCU wins their final two and Texas loses their final two, the Horned Frogs might get the No. 6 seed). But I don't expect them to advance far in Kansas City. With games against Kansas State and Texas remaining, there's a good chance the Horned Frogs go into KC with 13 losses. Lose another in Kansas City, regardless of winning a game, and the Horned Frogs could send a 14-loss resume to the committee.
So expect a lot of bubble talk the next two weeks in Fort Worth. One thing they could have going for them is the Pac-12, the worst of the Power 5 conferences. As of Saturday night ESPN.com's Joe Lunardi had two Pac-12 teams in the tournament, which is awful for a Power 5 league. That means some teams that might not ordinarily get into the tournament will get in. That could help TCU.
By the way, before TCU's loss to Texas Tech Lunardi had TCU as a "last four byes" team, which is the pathway to the bubble.
BIG 12 STANDINGS
Updated #Big12MBB standings @Heartland_CS pic.twitter.com/hTX1lDjYYJ

— Matthew Postins (@PostinsPostcard) March 3, 2019
RESULTS
Monday, Feb. 25
Kansas 64, Kansas State 49
Iowa State 78, Oklahoma 61
Tuesday, Feb. 26
West Virginia 104, TCU 96 (3OT)
Wednesday, Feb. 27
Texas Tech 84, Oklahoma State 80
Baylor 84, Texas 83
Saturday, March 2
Texas Tech 81, TCU 66
Kansas 72, Oklahoma State 67
Texas 86, Iowa State 69
Oklahoma 92, West Virginia 80
Kansas State 66, Baylor 60
NEXT GAMES (all times CST unless noted)
Monday, March 4
Texas at Texas Tech, 8 p.m., ESPN
Kansas State at TCU, 8 p.m., ESPN2
Tuesday, March 5
Kansas at Oklahoma, 8 p.m., ESPN2
Wednesday, March 6
Iowa State at West Virginia, 7 p.m. EST, ESPNU
Oklahoma State at Baylor, 8 p.m., ESPN2
Saturday, March 9
TCU at Texas, 11 a.m., ESPN/ESPN2/ESPNU
Texas Tech at Iowa State, 1 p.m.
Baylor at Kansas, 1 p.m.
West Virginia at Oklahoma State, 3 p.m.
Oklahoma at Kansas State, 5 p.m.
SUPERLATIVES
20-point games: Jamal Bieniemy, Oklahoma, 22 (vs. West Virginia, March 2); Aaron Calixte, Oklahoma, 22 (vs. West Virginia, March 2); Derek Culver, West Virginia, 22 (vs. TCU, Feb. 26); Thomas Dziagwa, Oklahoma State, 20 (vs. Texas Tech, Feb. 27); Jase Febres, Texas, 23 (vs. Baylor, Feb. 27), 26 (vs. Iowa State, March 2); Jermaine Haley, West Virginia, 23 (vs. Oklahoma, March 2); Mario Kegler, Baylor, 24 (vs. Texas, Feb. 27); Dedric Lawson, Kansas, 20 (vs. Oklahoma State, March 2); Jordan McCabe, West Virginia, 25 (vs. TCU, Feb. 26); J.D. Miller, TCU, 24 (vs. West Virginia, Feb. 26); Davide Moretti, Texas Tech, 20 (vs. Oklahoma State, Feb. 27); Marial Shayok, Iowa State, 21 (vs. Oklahoma, Feb. 25), 22 (vs. Texas, March 2); Dean Wade, Kansas State, 20 (vs. Baylor, March 2); Lindy Waters III, Oklahoma State, 26 (vs. Texas Tech, Feb. 27)
10-rebound games: Derek Culver, West Virginia, 21 (vs. TCU, Feb. 26); Jarrett Culver, Texas Tech, 10 (vs. Oklahoma State, Feb. 27); Kristian Doolittle, Oklahoma, 11 (vs. Iowa State, Feb. 25); Freddie Gillespie, Baylor, 11 (vs. Texas, Feb. 27); Dedric Lawson, Kansas, 14 (vs. Kansas State, Feb. 25), 15 (vs. Oklahoma State, March 2); Emmitt Matthews Jr., West Virginia, 10 (vs. Oklahoma, March 2); Cameron McGriff, Oklahoma State, 11 (vs. Texas Tech, Feb. 27); Tariq Owens, Texas Tech, 13 (vs. TCU, March 2); Kouat Noi, TCU, 10 (vs. West Virginia, Feb. 26)
5-assist games: Jamal Bieniemy, Oklahoma, 6 (vs. West Virginia, March 2); Matt Coleman III, Texas, 10 (vs. Iowa State, March 2); Jarrett Culver, Texas Tech, 7 (vs. TCU, March 2); Jermaine Haley, West Virginia, 6 (vs. TCU, Feb. 26). 5 (vs. Oklahoma, March 2); Talen Horton-Tucker, Iowa State, 5 (vs. Oklahoma, Feb. 25); Dedric Lawson, Kansas, 5 (vs. Kansas State, Feb. 25); Isaac Likekele, Oklahoma State, 6 (vs. Kansas, March 2); Jordan McCabe, West Virginia, 11 (vs. TCU, Feb. 26); Matt Mooney, Texas Tech, 6 (vs. Oklahoma State, Feb. 27), 6 (vs. TCU, March 2); Davide Moretti, Texas Tech, 5 (vs. TCU, March 2); Courtney Ramey, Texas, 10 (vs. Baylor, Feb. 27); Alex Robinson, TCU, 5 (vs. West Virginia, Feb. 26), 6 (vs. Texas Tech, March 2); Marial Shayok, Iowa State, 5 (vs. Oklahoma, Feb. 25); Kamau Stokes, Kansas State, 5 (vs. Baylor, March 2)
4-block games: Yor Anei, Oklahoma State, 4 (vs. Kansas, March 2); Freddie Gillespie, Baylor, 4 (vs. Texas, Feb. 27)
4-steal games: Desmond Bane, TCU, 4 (vs. West Virginia, Feb. 26); Jarrett Culver, Texas Tech, 5 (vs. TCU, March 2); Kouat Noi, TCU, 4 (vs. Texas Tech, March 2)
Double-doubles: Derek Culver, West Virginia, 22 points, 21 rebounds (vs. TCU, Feb. 26); Jarrett Culver, Texas Tech, 19 points, 10 rebounds (vs. Oklahoma State, Feb. 27); Kristian Doolittle, Oklahoma, 15 points, 11 rebounds (vs. Iowa State, Feb. 25); Dedric Lawson, Kansas, 18 points, 14 rebounds (vs. Kansas State, Feb. 25), 20 points, 15 rebounds (vs. Oklahoma State, March 2); Jordan McCabe, West Virginia, 25 points, 11 assists (vs. TCU, Feb. 26); Kouat Noi, TCU, 17 points, 10 rebounds (vs. West Virginia, Feb. 26); Tariq Owens, Texas Tech, 12 points, 13 rebounds (vs. TCU, March 2); Courtney Ramey, Texas, 17 points, 10 assists (vs. Baylor, Feb. 27)
**Sign up here for our HCS weekly e-mails for a chance to win FREE Heartland College Sports and Big 12 team gear!!**