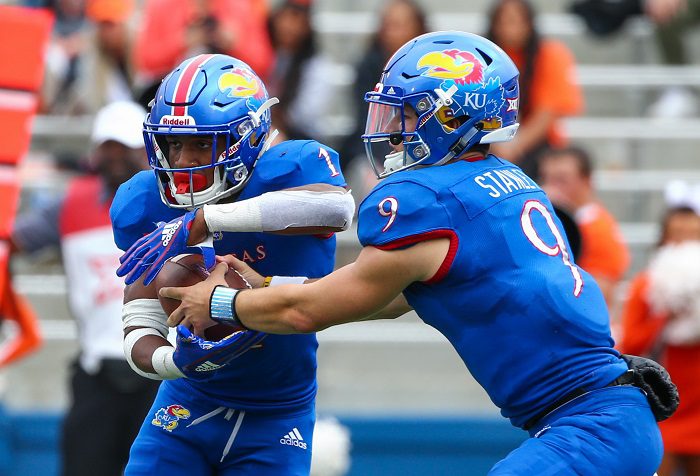 College basketball is heading down the home stretch, college baseball has started, but let's not forget (I know many of you aren't) that spring practice is already getting underway across the country. We will handle spring previews for every Big 12 football team and roll them out based on when their respective spring practices begin. Next up is the Kansas Jayhawks who will start up spring practice on Wednesday March 6th.
Most Exciting Returnee: CB Corione Harris
This would have easily been star running back Pooka Williams Jr. here but after a domestic violence arrest back in December, his future with Kansas is still unclear. But Kansas does bring back star cornerback Corione Harris who was a true freshman last season. Kansas brings back some talented guys in the secondary but having a lockdown corner is crucial in this conference. Corione isn't perfect by any means but he is the best corner on the Jayhawk roster. He was the highest signed prospect in Kansas football history and so far, I would say he has lived up to those expectations. I can't wait to see him after a full season of experience under his belt.
Most Exciting Newcomer: QB Thomas MacVittie
In six games at Mesa Community College, Thomas threw for over 1,000 yards and 16 touchdowns this past season. Even though he is listed as a pocket passer, on film Thomas shows that he can run the football very well at his size. He isn't going to burn someone for an eighty-yard score with his legs, but he is more than capable of getting chunks of yardage on the ground. His throwing motion looks effortless and if there is anything, I can question it is his arm strength and maybe his accuracy a tad but from what I saw on film looked better than what Kansas currently has at quarterback. With Thomas being already on campus, that is a HUGE plus for him to be right in the mix for the starting quarterback job.
Offensive Storyline to Watch
The Quarterback Battle
Before I start, I want to say that there are still plenty of holes on this roster. From depth to experience, Kansas has a TON of needs still to fill. They need to replace their top two receivers from last season, possibly their best running back (Depending on what happens) and some offensive lineman. While some of the skill positions remain unproven at this point, some solid quarterback play could help mask some of their current deficiencies on offense. The problem is Kansas hasn't really had a good quarterback since Todd Reesing was on campus from 2006-2009.
With last year's starter Peyton Bender gone, senior Carter Stanley has the most experience although he has been wildly inconsistent throughout his time in Lawrence and has more interceptions (14) than touchdowns (13) in his first three seasons. Next is Thomas MacVittie who I mentioned above. If I were a betting man (Which I am), my guess would be that Carter Stanley and Thomas MacVittie will be the top two quarterbacks battling it out for the starting job. Lastly, is Miles Kendrick who still is a bit of an unknown at this point. We all know he is athletic and is the best runner out of any quarterback on the Kansas roster, but I have no idea if this guy can throw the football accurately or not. I wouldn't be surprised if he moved to receiver at all if he isn't in contention for the starting spot.
Defensive Storyline to Watch
The Defensive Front Seven
Not only will Kansas lose All-Big 12 linebacker Joe Dineen, they also lose All-Big 12 defensive tackle Daniel Wise. Overall, the Jayhawks will have to replace their entire starting defensive line from a season ago as well as two linebacker spots. That's no easy task to do in just one offseason. Kansas will run a 3-4 scheme under new defensive coordinator D.J. Eliot and some names to watch on the defensive line are Codey Cole III, Azur Kamara, Najee Stevens-McKenzie, Willie McCaleb, Darrius Moragne and Jelani Brown. At linebacker, Kyron Johnson and Denzel Feaster have the most experience but look for Dru Prox and Kenny Bastida to be in the mix as well. Besides the quarterback battle, the defensive position battles in this front seven is something all Kansas fans need to be keeping up with during spring. Good luck Les Miles, you will need it.
**Sign up here for our HCS weekly e-mails for a chance to win FREE Heartland College Sports and Big 12 team gear!!**