Big 12 News
Top 25 Returning Big 12 Baseball Players, No. 6: Gabe Holt, Texas Tech IF/OF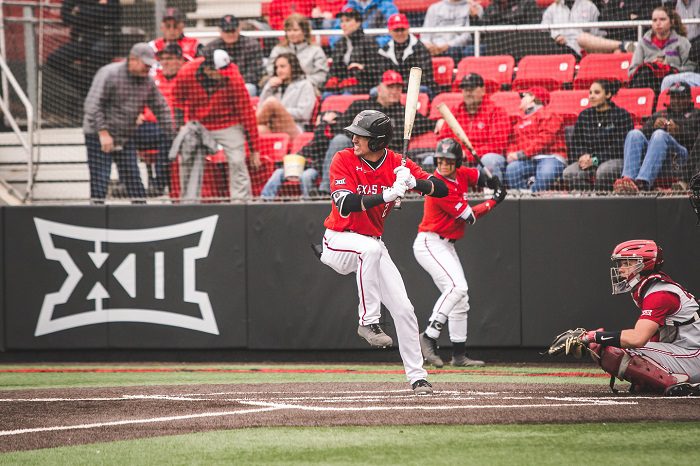 Texas Tech's freshman class played as well as any one in 2018. One of the main players in that class was the lead off hitter for the Red Raiders. A starter from day one, Holt earned Unanimous Freshman All-America honors. He scored Big 12 Freshman of the Year and was an honorable mention on the Perfect Game All-American team.
Holt is an all-around amazing player. He led the team with 29 stolen bases and hit six home runs. As a freshman, he walked four more times than he struck out. The 5-foot-11, 175 pounder hit .348 overall and scored 70 runs. 26 of his 70 runs came during Big 12 play. As a freshman, he averaged more than one run per game. His first season, he produced 22 extra-base hits. Three of those 22 hits were triples. Some of his final stats in Big 12 play included a .293 average and 10 stolen bases.
His only downfall as a freshman was the seven errors he committed. Really, that's not bad for a freshman infielder. Gabe Holt is a five-tool player. If he remains healthy, he will play in Major League Baseball. If you want to be impressed, watch Gabe Holt.
Here is the rest of the Top 25.  
No. 25: Baylor 1B/C Shea Langeliers
No. 24: WVU Utility Tyler Doanes
No. 23: WVU IF Marques Inman
No. 22: Oklahoma State OF Trevor Boone
No. 21: Baylor OF Richard Cunningham
No. 20: Kansas State OF Will Brennan
No. 19: West Virginia OF Darius Hill
No. 18: TCU LHP Nick Lodolo
No. 17: OU RPH Nathan Wiles
No. 16: Oklahoma State OF Carson McCusker
No. 15: TCU OF Josh Watson
No. 14: Baylor IF Nick Loftin
No. 13: Texas Tech utility Brian Klein
No. 12: Oklahoma State C/OF Colin Simpson
No. 11: Kansas IF James Cosentino
No. 10: Oklahoma IF Brylie Ware
No. 9: Baylor IF Davis Wendzel
No. 8: Texas Tech RHP Caleb Kilian
No. 7: Texas RHP Donny Diaz
**Sign up here for our HCS weekly e-mails for a chance to win FREE Heartland College Sports and Big 12 team gear!!**