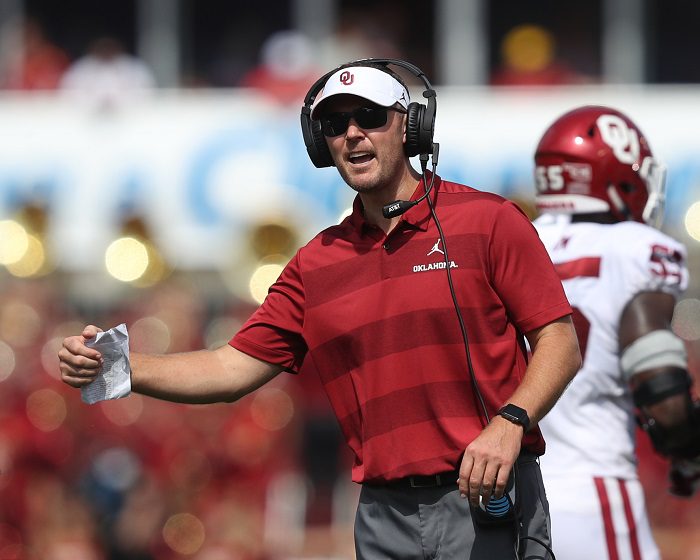 Offensive Storyline to Watch
The Offensive Line
Normally I would put the quarterback position ahead of the offensive line but with Jalen Hurts at the helm and Lincoln Riley coaching him up, I don't worry nearly as much about it compared to if Jalen was playing elsewhere. Now about the line. The Sooners will lose four starters up front besides center Creed Humphrey who Lincoln Riley said will be out for the entire spring due to injury. When Humphrey is healthy, it's his job by a mile so that leaves both guard and tackle spots to try and fill. As of now, it appears that Marquis Hayes and Tyrese Robinson will likely end up as the starting guards while Brey Walker (Left tackle) and Adrian Ealy (Right tackle) will be the favorites to win the jobs on the edge. Offensive Line coach Bill Bedenbaugh has done wonders in Norman and after having a few seasons with his starters set, this will be a fun project for him, maybe.
Defensive Storyline to Watch
What will the Defense Look Like Under New DC Alex Grinch?
I think just about every Sooner fan got their wish to come true when Oklahoma let go of former defensive coordinator Mike Stoops. While you can argue the timing of the firing, one thing is for sure. That move HAD to happen. Well, it did happen and in comes in Alex Grinch who has had previous stops at Ohio State and Washington State prior to that. Earlier this year, I did a little piece about Grinch to give a little sneak peek to see what he has done at previous schools. We can talk about players, schemes and PLENTY of other things until I am blue in the face (Or in this case, when my fingers cramp up from typing) but there are some things I want to see during spring. I want to see guys in the right spots on defense and the effort level increase. There needs to be a sense of urgency on defense and some fight. Ok, a lot of fight. Every level on this side of the ball needs to be improved and the time to turn things around is now. The only thing that has held this program back from possibly winning two national championships is poor defensive play. Alex Grinch was brought in to fix that and I want to know if he is the right man to do the job.
**Sign up here for our HCS weekly e-mails for a chance to win FREE Heartland College Sports and Big 12 team gear!!**