Big 12 News
Top 25 Returning Big 12 Baseball Players, No. 5: Jared Janczak, TCU RHP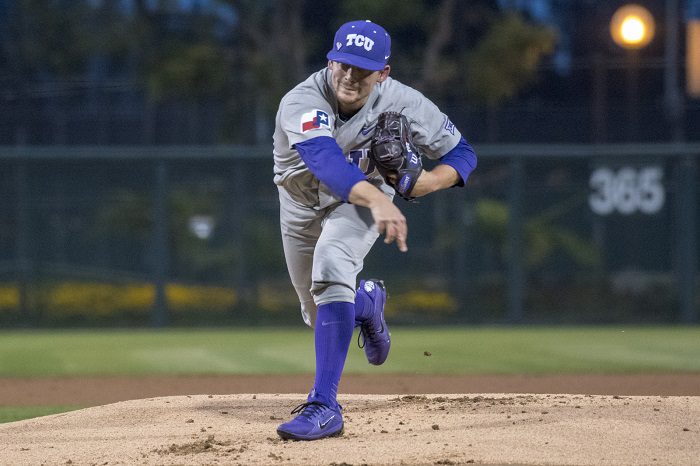 There is one reason why Janczak is still in a TCU uniform.
It's not because he opted to come back when he was drafted in the 32nd round by the Los Angeles Angels. The reason he was still on the board in the 32nd round is because he's been hampered by injuries. Janczak was the best pitcher in the Big 12 two seasons ago. He was arguably the best pitcher in the NCAA.
Jared Janczak, on his best day, is a top-10 MLB draft pick. TCU was the nation's best team in 2017. They started the season as the unanimous No.1 team in the nation, picked by five publications. The Horned Frogs made it to Omaha that season, for the fourth consecutive year. However, the two best players on the team were hampered by injury. Luken Baker, now at spring training with the St. Louis Cardinals, saw his season come to a close when an Oklahoma player ran into his arm while trying to catch an errant throw at first base. Janczak strained his shoulder and missed a month of action. He came back that season, but exactly how healthy was he remains a question. TCU should have won the College World Series that year, and they didn't.
2018 proved to be an even worse year. The season ended early for both Janczak and Baker once again. TCU's streak of four consecutive trips to Omaha came to a close as the team failed to even make a regional. D1baseball.com's Kendall Rogers called it "The season from Hell".
TCU may never have a team as talented as the 2017 squad. However, some of the greatest teams in baseball fall from grace, only to see that team rise up out of the ashes two to three years down the road and win the championship. It is said that baseball is 90 percent mental. TCU has mental toughness. Head coach Jim Schlossnagle wouln't allow it to be any different. TCU could win the College World Series this year, by coming out of nowhere.
Janczak is still on the team thanks to two years of injuries. Despite his 2017 injury, he still racked up over 100 strikeouts in 93 1/3 innings pitched. He finished the season 12-3 with two of those losses coming in Omaha. He pitched a complete game shutout against Kansas State that year. Against Kansas, he retired the first 22 batters in order while taking a no-hitter into the eighth inning. In just his second appearance back from the shoulder strain, he struck out eight Sooners in five shutout innings.
When Janczak is healthy, he's among the best. Look for him and TCU to be back with a vengeance this season. Don't be surprised if the Horned Frogs, known as an "underdog" this season win the Big 12 Championship. TCU is in the midst of a resurrection.
Here is the rest of the Top 25.  
No. 25: Baylor 1B/C Shea Langeliers
No. 24: WVU Utility Tyler Doanes
No. 23: WVU IF Marques Inman
No. 22: Oklahoma State OF Trevor Boone
No. 21: Baylor OF Richard Cunningham
No. 20: Kansas State OF Will Brennan
No. 19: West Virginia OF Darius Hill
No. 18: TCU LHP Nick Lodolo
No. 17: OU RPH Nathan Wiles
No. 16: Oklahoma State OF Carson McCusker
No. 15: TCU OF Josh Watson
No. 14: Baylor IF Nick Loftin
No. 13: Texas Tech utility Brian Klein
No. 12: Oklahoma State C/OF Colin Simpson
No. 11: Kansas IF James Cosentino
No. 10: Oklahoma IF Brylie Ware
No. 9: Baylor IF Davis Wendzel
No. 8: Texas Tech RHP Caleb Kilian
No. 7: Texas RHP Donny Diaz
No. 6: Texas Tech IF/OF Gabe Holt
**Sign up here for our HCS weekly e-mails for a chance to win FREE Heartland College Sports and Big 12 team gear!!**