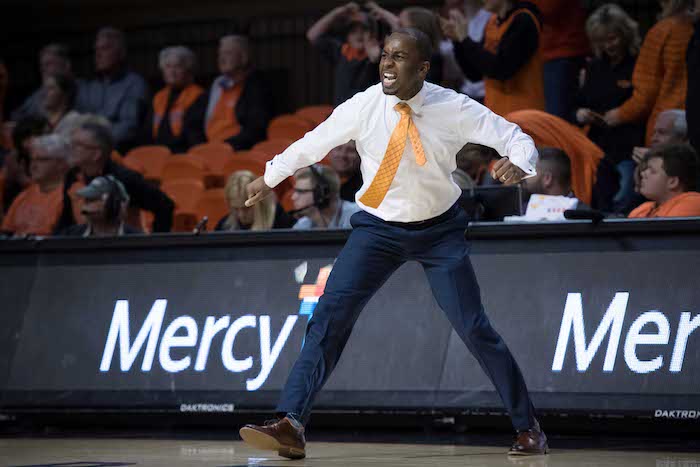 The Big 12 Men's Basketball Tournament begins on Wednesday at the Sprint Center in Kansas City. HeartlandCollegeSports.com will be there for the entire event. Today we preview the first game of the tournament — TCU vs. Oklahoma State.
No. 8 TCU (19-12, 7-11) vs. No. 9 Oklahoma State (12-19, 5-13), 7:03 p.m. ET, ESPNU
Season series (1-1): TCU def. Oklahoma State, 70-68, in Fort Worth, Texas, on Feb. 6; Oklahoma State def. TCU, 68-61, in Stillwater, Okla., on Feb. 18.
Winner gets: a Thursday game with No. 1 seed Kansas State
Projected starting lineups
TCU: G Desmond Bane, G Alex Robinson, F Kouat Noi, F JD Miller, C Kevin Samuel.
Oklahoma State: G Isaac Likekele, G Thomas Dziagwa, G Lindy Waters III, F Cameron McGriff, C Yor Anei.
Player to watch
TCU: Bane. He's coming off a huge game against Texas, scoring 34 points and playing all 40 minutes against the Longhorns. He's the player on this team that is capable of getting red-hot offensively. It was his season-high in scoring. But he can be defended. He was held to 14 total points in the two games before Saturday's explosion.
Oklahoma State: Anei. The Cowboys know they're going to get their points from Waters, Dziagwa and McGriff. But Anei's defense lately has been a revelation. He was the Big 12 Defensive Player of the Week after blocking 14 shots in two games last week. But he also averaged 15 points and 7.5 rebounds, too. His offense is beginning to catch up to his defense.
Heading into the Tournament
TCU: The Horned Frogs did not finish Big 12 play in an ideal way. After finishing January at .500 in league action the Horned Frogs went 4-7 in their final 11 games, including a 1-6 stretch. You can blame depth and injuries. TCU lost Jaylen Fisher (who has now submitted his name for the transfer portal) and Lat Mayen to injury. Plus three other Horned Frogs, including the highly-touted Kaden Archie, have submitted their names to the transfer portal. The Horned Frogs are playing basically with seven players and while their starting lineup is potent, those players don't get much of a break.
Oklahoma State: The Cowboys can relate to the Horned Frogs. Head coach Mike Boynton Jr. dismissed several players in January for their involvement in a vandalism incident on campus. The Cowboys have also lost some players to injury and at this moment the Cowboys have seven scholarship players. But the effort level for the Cowboys has never waned and despite losing five straight to start February the Cowboys managed to cobble together a .500 record in their final six games. That includes a two-game winning streak to end the league slate. The Cowboys are undermanned. But they're ready to play.
Number to know
TCU: Four of the Horned Frogs' five projected starters average double figures in points —Bane (15.2 ppg), Noi (14.1 ppg), Robinson (12.7 ppg) and Miller (11.0 ppg).
Oklahoma State: Waters III (45.3 pct) and Dziagwa (42.8 percent) are two of the best 3-point shooters in the Big 12 this season. In league action Waters is one of two players to shoot 50 percent or better from the arc (Texas Tech's Davide Moretti is the other).
Who wins?: Oklahoma State plays with a fire in its belly and, despite a hard season, Boynton has never lost the locker room. If I were TCU I would extend its defense early to account for the 3-point shooting of Waters and Dziagwa. If the Cowboys can't get their strength going early, that's to the Horned Frogs' advantage. Meanwhile, TCU has to play under control. They're at their best when Robinson runs the point efficiently, drives and kicks to outside shooters and open up opportunities for the taller players underneath. TCU head coach Jamie Dixon won't want a lot of standing around on the offensive end. Defensively, neither of these teams are exceptionally consistent, but Anei's shot-blocking prowess gives the Cowboys a bit of an edge. Still, the Horned Frogs know they need this game to solidify their NCAA Tournament hopes. The Cowboys have nowhere to go after this. I think the Horned Frogs get win No. 20 in a close game that comes down to the final minute.  
BIG 12 TOURNAMENT SCHEDULE
(all times EST; start times are subject to change).
Wednesday: No. 8 TCU vs. No. 9 Oklahoma State, 7 p.m., ESPNU
Wednesday: No. 7 Oklahoma vs. No. 10 West Virginia, 9 p.m., ESPNU
Thursday: No. 4 Baylor vs. No. 5 Iowa State, 12:30 p.m., ESPN2
Thursday: No. 1 Kansas State vs. 8/9 Winner, 2:30 p.m., ESPN2
Thursday: No. 2 Texas Tech vs. 7/10 Winner, 7 p.m., ESPN2
Thursday: No. 3 Kansas vs. No. 6 Texas 9 p.m., ESPN2
Friday: 1-8/9 Winner vs. 4/5 Winner, 7 p.m., ESPN2
Friday: 2-7/10 Winner vs. 3/6 Winner, 9 p.m. ESPN2
Saturday: Winners of Semifinal Matchups, 6 p.m. ESPN
**Sign up here for our HCS weekly e-mails for a chance to win FREE Heartland College Sports and Big 12 team gear!!**