Big 12 News
Top 25 Returning Big 12 Baseball Players, No. 2: Zach Zubia, Texas IF/DH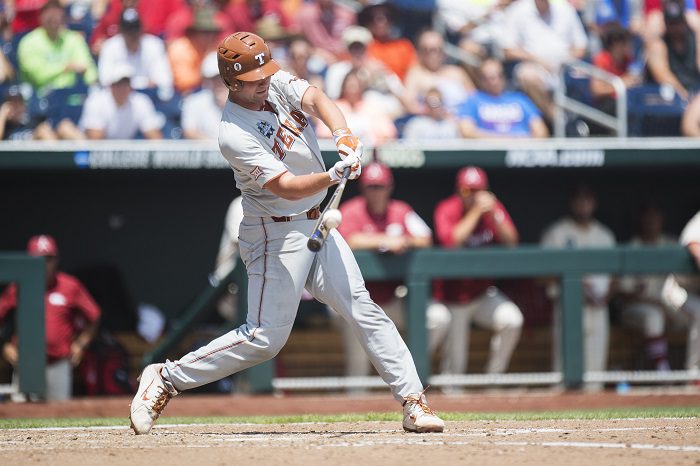 If you pinpointed one player on the 2018 Texas team who was going to draw more walks than anybody else the team, you wouldn't pick a redshirt freshman. You would likely pick slugger Kody Clemens, who is now in the minor leagues. Low and behold, redshirt freshman Zach Zubia drew 46 walks in 2018 while driving in 45 rbis and posting a 41-game streak of reaching base safely.
He's one of the most dangerous hitters in the entire nation, and he will be drafted this season. Zubia was forced to redshirt in 2016 because he signed with Tulane when current Texas coach David Pierce was with the Green Wave. Pierce scored the Texas job, Zubia followed and the NCAA came down on him.
In his first season of collegiate action, he produced 25 extra-base hits, including 11 home runs. This kid is clutch too. One of his 11 home runs scored a victory on the road against a Texas Tech team that advanced to the College World Series. Another home run tied up the game against Indiana in the NCAA Regionals. When the game is on the line, Texas fans want Zubia at the dish. Zubia is going to be a first round draft pick and will be playing in Major League Baseball in the years to come. Enjoy him while you can Longhorns fans.
Here is the rest of the Top 25.  
No. 25: Baylor 1B/C Shea Langeliers
No. 24: WVU Utility Tyler Doanes
No. 23: WVU IF Marques Inman
No. 22: Oklahoma State OF Trevor Boone
No. 21: Baylor OF Richard Cunningham
No. 20: Kansas State OF Will Brennan
No. 19: West Virginia OF Darius Hill
No. 18: TCU LHP Nick Lodolo
No. 17: OU RPH Nathan Wiles
No. 16: Oklahoma State OF Carson McCusker
No. 15: TCU OF Josh Watson
No. 14: Baylor IF Nick Loftin
No. 13: Texas Tech utility Brian Klein
No. 12: Oklahoma State C/OF Colin Simpson
No. 11: Kansas IF James Cosentino
No. 10: Oklahoma IF Brylie Ware
No. 9: Baylor IF Davis Wendzel
No. 8: Texas Tech RHP Caleb Kilian
No. 7: Texas RHP Donny Diaz
No. 6: Texas Tech IF/OF Gabe Holt
No. 5: TCU Pitcher Jared Janczak
No. 4: Texas IF Duke Ellis
No. 3: Baylor Pitcher Cody Bradford
**Sign up here for our HCS weekly e-mails for a chance to win FREE Heartland College Sports and Big 12 team gear!!**