Big 12 News
Kirk Herbstreit Retweets HCS, Giving Optimism to College GameDay Going to Ames in 2019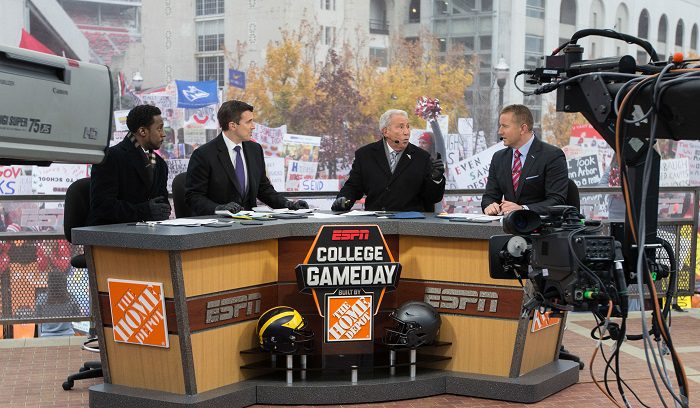 In the wake of Iowa State's painful first round loss to Ohio State in the NCAA Tournament, there was a silver lining for Cyclones fans, who are suddenly now in full-blown "Spring Football" mode. After the loss, ESPN's top college football analyst, Kirk Herbstreit, tweeted out how thrilled he was his alma mater pulled off the upset.
Wasn't pretty but HUGE win for @OhioStateHoops over talented @CycloneMBB team. Survive and advance baby!!!
And @B1GMBBall finishes 1st round 7-1.
Impressive top to bottom! #MarchMadness2019

— Kirk Herbstreit (@KirkHerbstreit) March 23, 2019
While I was disappointed Iowa State lost, I could not get on Herbstreit here, who is just rooting for a team he wore the (football) uniform for. Plus, it's not like he was doing this after an Ohio State football game, that is a little more dubious, based on his job.
So I decided to have some fun with Herbstreit and simply tweak him on Twitter, by simply saying I hope he ultimately ends up going to Ames this fall for College GameDay.
Just go to Ames this fall, please 😏🏈 @CollegeGameDay https://t.co/U4C2yP1jl3

— Heartland College Sports (@Heartland_CS) March 23, 2019
After an early night of sleep due to having a three-month old child, I woke up for a feeding in the middle of the night, and much to my surprise, Herbstreit retweeted our tweet, with a "thumbs up" emoji. Let's go!
— Kirk Herbstreit (@KirkHerbstreit) March 23, 2019
He also retweeted another Iowa State fan who tweeted at him, "See you in Ames this fall Kirk!"
Be great. Hope to make it! https://t.co/nOZT58OGzw

— Kirk Herbstreit (@KirkHerbstreit) March 23, 2019
Are the stars finally aligning for the College GameDay crew to take itself up to Ames to check out all that Cyclone Nation has to offer? I know this much, one of our HCS tailgates will absolutely be in Ames this season. As for which game? That's still being debated, but you can always reach out to me on Twitter, @PeteMundo or @Heartland_CS, with any suggestions.
In the words of Bart Scott, "Can't wait!"
**Sign up here for our HCS weekly e-mails for a chance to win FREE Heartland College Sports and Big 12 team gear!!**