Big 12 Sports Articles
Big 12 Football Mailbag: Top Tier of Big 12 Quarterbacks, Ranking Coaches by Hair and More!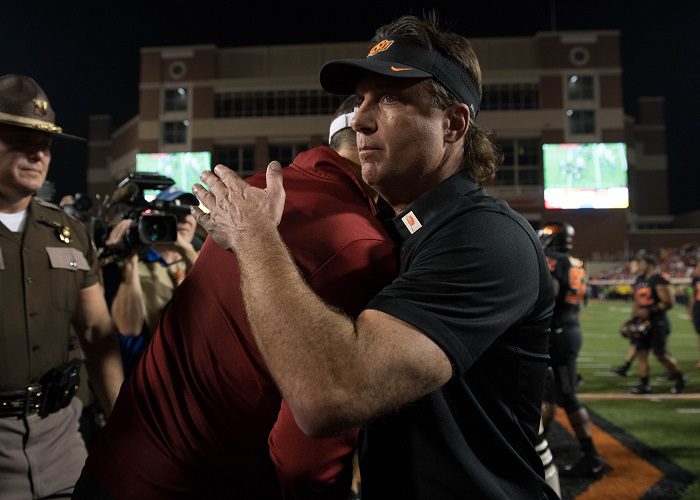 Welcome to the HCS Big 12 mailbag. This mailbag is for all you football junkies out there who root for a Big 12 school who not only have questions about your team, but other teams in the conference as well. So, join me, grab a cold brew or your favorite drink and relax as I answer all your Big 12 questions in my mailbag. For those interested, I will send out a tweet (@Derekduke25) every Monday at noon until last call (No, not 2 AM) at 8 PM CT for you to send in your questions to be answered every Tuesday right here at Heartland College Sports. Here is part two from this week's mailbag.
@jeffstraight76 asks: Of the new Big 12 hires, who has the best shot to win the conference in their first four years?
Duke: Les Miles at Kansas……. NOT. I would say either Matt Wells at Texas Tech or Neal Brown at WVU, but I will go with Brown at West Virginia. To be honest with you, I have a hard time seeing any of these new coaches (Brown, Wells, Miles or Klieman) win a conference title in this time span. I was high on Brown from his days at Troy (seriously, go look at what he did there) and from everything I have heard from spring practice, he is a very detailed-oriented coach, which is different than when Dana was running the show there. My answer here is based of which coach I like best, but if Matt Wells can the defense going in Lubbock, watch out because Texas Tech quarterback Alan Bowman is the real deal when healthy.
@maxdijion asks: How much does the loss of Hakeem Butler and David Montgomery hurt Iowa State?
Duke: Anytime you lose your two biggest weapons on offense, it's going to hurt. Hakeem was uncoverable at times and David Montgomery was the best running back in the Big 12 last season. But I do like what the Cyclones are bringing in with freshmen running backs Jirehl Brock and Breece Hall. Now receiver is the bigger question mark. Right now, Iowa State returns only four players who caught at least one pass last season. That concerns me a lot more than running back. I am sure some guys will step up, but I don't believe Iowa State will just replace Hakeem Butler this season. Without a doubt, that was a big loss. Now, like I mentioned in Tuesday's mailbag, I still have Iowa State finishing in the top four of the conference this upcoming season so in the end, the Cyclones are still good in my book.
@ted_rood asks: Who are your top tier Big 12 quarterbacks? Also, what is your outlook for Jalen Hurts at Oklahoma?
Duke: Before I get into the top tier quarterbacks, here are my thoughts on Jalen Hurts: There is no question he can run the football. Is he Kyler Murray fast? No but he can hurt defenses with his legs. Now his accuracy concerns me a bit. Going back to 2017 (when he was the starter at Alabama), he wasn't the most polished passer. They were a dink-and-dunk offense along with plenty of screens type of offense. Tua broke that mold there and Bama never looked backed. With that said, Lincoln Riley will be his coach and that will be CRUCIAL. Lincoln is probably the best offensive mind in the game right now and he will figure out how to get the best from Jalen. Bottom line, Jalen will be just fine at Oklahoma. As for my top tier quarterback list, here it is no order.
Brock Purdy

Alan Bowman

Sam Ehlinger

Charlie Brewer

Jalen Hurts
@StrawnBob asks: Can you rate the Big 12 coaching hires?
Duke: It's a little tricky for me to do since they haven't even coached a game yet but here would be my order. 1. Neal Brown 2. Chris Klieman 3. Matt Wells 4. Les Miles. Like I mentioned earlier, I have a hard time seeing any of these programs winning 10 plus games every year. The more I hear about Neal Brown at WVU, the more comfortable I feel about him there. Chris Klieman at Kansas State is a good fit, but we have yet to see anyone win there unless your name is Bill Snyder. Don't you remember the Ron Prince era or whatever the hell that disaster was called? Now with Wells, I am not sure what to think. He was a little too up and down for me at Utah State, but one thing is for sure, the offense should still be good at Tech. Lastly, Les Miles. I want to see just how "committed" he is to this program and if he has anything left in the tank.
@jonkev50 asks: Rank the best hair by head coaches in the Big 12.
Duke: This is well, different but anything goes in this mailbag. Again, another shot in the dark here, but this is what my top ten would look like.
Mike Gundy

Matt Campbell

Neil Brown

Lincoln Riley

Tom Herman

Matt Rhule

Gary Patterson

Matt Wells

Les Miles

Chris Klieman
Boy, there is some really bad hair styles on this list.
@Shroudedllama asks: Should Gundy keep the April Fool's golden miller and add some Joe Dirt sideburns to go with it?
Duke: Absolutely. There is nothing more I want to see than this on the sidelines coaching Oklahoma State.
@RobbieDNA asks: How are the new head coaches acclimating to their new schools?
Duke: I don't have the answer to that question truly. I have all heard good things about all of them but can all of it be true? I doubt it. We really won't know how these coaches will work out until we start playing some actual football.
**Sign up here for our HCS weekly e-mails for a chance to win FREE Heartland College Sports and Big 12 team gear!!**