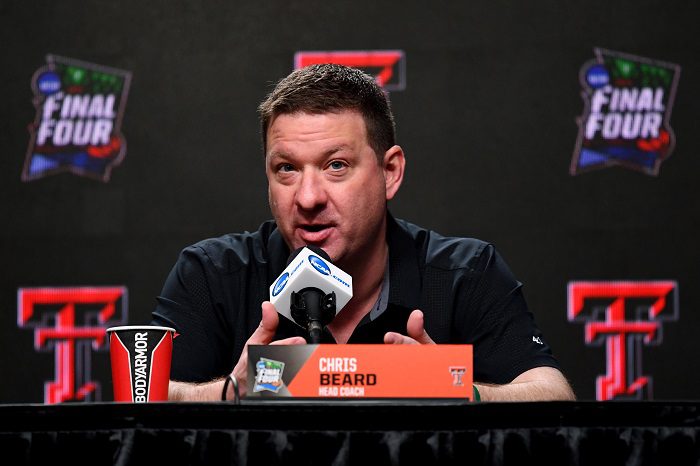 The NCAA Tournament's Final Four is on Saturday night at U.S. Bank Stadium in Minneapolis. Texas Tech will play in the Final Four for the first time, taking on Michigan State. Here is our preview.
No. 3 Texas Tech Red Raiders (30-6) vs. No. 2 Michigan State Spartans (32-6), 8:49 p.m., ET, CBS
All-Time Series: Texas Tech and Michigan State are meeting for the first time. The Spartans are making their 10th trip to the Final Four, with the most recent appearance coming in 2015. Tech has also not played Virginia in program history, but could meet up with Auburn for the fifth time. The all-time series against Auburn is tied 2-2 with the last meeting coming in 2016 in Cancun. Virginia and Auburn will play each other in the first Final Four matchup.
Head coaches: Chris Beard, Texas Tech (75-30 at Texas Tech, 171-60 as NCAA head coach); Tom Izzo, Michigan State (606-231 at Michigan State and as NCAA head coach).
Winner gets: a berth in the NCAA Championship game on Monday night.
Projected starting lineups
Texas Tech: F Norense Odiase, F Tariq Owens, G Matt Mooney, G Davide Moretti, G Jarrett Culver.
Michigan State: F Kenny Goins, F Xavier Tillman, F Aaron Henry, G Matt McQuaid, G Cassius Winston.
Player to watch
Texas Tech: Culver. The Red Raiders don't live and die by Culver as they did when they started Big 12 action, but they'll need a great game from him in order to advance. Culver earned Tech's first-ever Big 12 Conference Player of the Year award and has also earned AP, NABC, USBWA and Sporting News All-America honors this season. He is averaging 18.9 points, 6.5 rebounds and 3.8 assists per game this season. At the West Region, where Tech defeated Michigan and Gonzaga, he was named the Most Outstanding Player after averaging 21.5 points, 6.8 rebounds and 4.5 assist per game in the tournament leading into the Final Four.
Michigan State: Winston. Here's what the Spartans' game notes have to say about Winston. Big Ten Player of the Year. Big Ten Tourney Most Outstanding Player. NCAA East Regional Most Outstanding Player. No. 3 nationally in assists. Set a Big Ten single-season assist record with 289. Only player in country averaging 18.0 ppg, 7.0 apg, and 40 percent from 3. So, yeah, if you want to slow the Spartans down, you have to slow Winston down. Easier said than done. Just two opponents have held Winston to fewer than 10 points this season — Iowa and Nebraska. Oh, but guess what — Michigan State won both of those games. They did so, in part, because Winston had 10 or more assists in those games. So he can impact the game even if he doesn't score to his average.  
Heading into the Final Four
Texas Tech: The Red Raiders enter this game having won 15 of their last 17 games since defeating Arkansas in the Big 12-SEC Challenge on Jan. 26. Before that the Red Raiders had lost three straight Big 12 games to Iowa State, Baylor and Kansas State. Those two losses came against Kansas in Big 12 regular-season play and West Virginia in the Big 12 Tournament quarterfinals. While this is the Red Raiders' first trip to the NCAA Final Four, they've only lost one NCAA Tournament game since last season's Tournament, which was an Elite 8 loss to eventual national champion Villanova. The Red Raiders are one of the best defensive teams in the country, but their offense is underrated. In the last 17 games the Red Raiders have failed to score at least 70 points just  five times, and the Red Raiders are 3-2 in those games. When the Red Raiders score 70 or more points they're 14-0.
Michigan State: The Spartans are easily the most experienced program in the Final Four. Michigan State is making its eighth trip to the Final Four under head coach Tom Izzo, a 21-year span. That makes the Spartans the fourth program to make eight appearances in 21 years (North Carolina, UCLA and Duke are the others). Izzo, meanwhile, and Duke head coach Mike Krzyzewski are the only two coaches to lead their teams to eight Final Fours in a 21-year span since the tournament expansion in 1985. This is the Spartans' 10th Final Four appearance overall. But the Spartans, despite those opportunities, are just 5-9 in the Final Four and have only two titles, which came in 1979 under head coach Jud Heathcote and in 2000 under Izzo.
Numbers to know
Texas Tech: Texas Tech enters the Final Four second in the nation by limiting opponents to a 36.9 shooting percentage, is third in the country with teams scoring only 59.0 points per game, seventh with a 13.9 scoring margin and 179 total blocks through 36 games. The Red Raider defense ranks 10th by holding teams to 29.3 percent on 3-pointers and is 19th with a 3.4 turnover margin advantage. Offensively, Tech is shooting 47.1 percent which is 46th nationally and was the second best within the Big 12 Conference.
Michigan State: The Spartans have excelled defensively in this NCAA Tournament, holding their four tournament opponents to a 39.3 percent from the floor. That is 13th-best in the tournament, but ninth among teams that have played more than two games. The Spartans are even stingier around the arc, allowing opponents to shoot 28.2 percent from the 3-point line, 15th-best in the tournament, and sixth among teams with more than two games played. As a team, MSU ranks fifth among all schools with 17 blocked shots, led by Tillman's 1.8 blocks per game, ranking 17th and third among Final Four participants. MSU also ranks ninth in the tournament in scoring defense, allowing just 61.3 points per game.
Who wins?: This feels like a defensive-minded type of game. But I also believe that both of these teams are underrated offensively. Izzo's tournament experience is certainly going to help his team (no, drinking beers at 24 Final Fours does not count as "experience," coach Beard, as fun as that sounds). But I like what Texas Tech has done offensively in its last couple of tournament games. Beard has allowed his Red Raiders to be aggressive on the dribble and behind the arc. I think Tech's offense, oddly enough, makes the difference here. I'm taking Tech in a game that will require them to win it on the game's final possession.
**Sign up here for our HCS weekly e-mails for a chance to win FREE Heartland College Sports and Big 12 team gear!!**