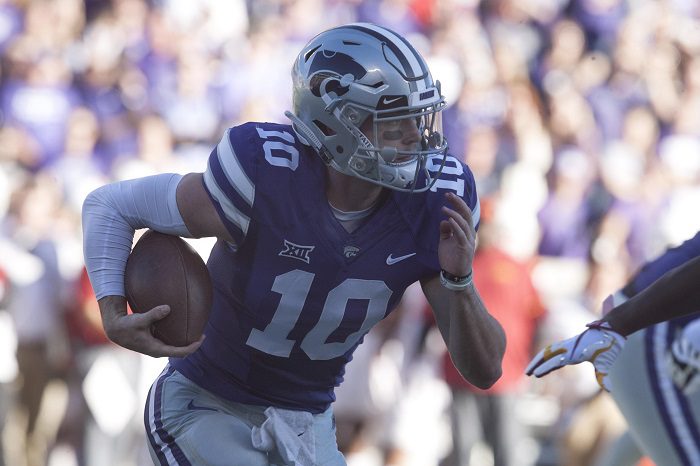 The Kansas State Wildcats held their first spring football event under new head coach Chris Kleiman on Saturday in Manhattan. It was certainly weird to have no sign of Bill Snyder in the stadium that bears his name on what is always an exciting day for Wildcats fans. But in many ways, it felt "right" and not all that different. Below are three takeaways from Saturday's game.
1. A unique twist to a spring game
This was certainly different. Ya know, I get it. Spring games are generally worthless, in the sense that coaches don't run any "real" plays and it's all about protecting players, notably the quarterback, so sometimes it's tough to get a feel for who is playing well, who isn't, and making sense of it all for summer camp and the fall. But it's still important to give the fans a showing in the spring. It's a chance to reunite the fan base, take the kids to the stadium and maybe most importantly, get back into the tailgating spirit. So Coach Klieman, in his first season, in Manhattan did it a bit differently.
The Wildcats spent the first 30-45 minutes running drills on both ends of the field while the play-by-play voice Wyatt Thompson spent time interviewing the entire coaching staff on the big screen and over the loudspeakers. Fans were slow to trickle in but eventually did. Most didn't take their seats until close to 2:00 (the spring practice officially started at 1:00). Shortly after 2:00 the Wildcats scrimmaged, but it was not like a game. The day was broken down into periods, of which there were at least 12-15, I admittedly lost track, with each being a few minutes long. A quarterback would lead the offense in different game scenarios and run plays, and then the field would flip. Following the scrimmage, the media was given access to Coach Klieman and quarterback Skylar Thompson, who each held a press gaggle in the end zone, while a handful of players, at the media's request, were also available for one-on-ones. I was skeptical going into the event, but Kansas State did an excellent job making it worth the media's and fans' time to come out and have an enjoyable afternoon.
2. Skylar Thompson's love for Chris Klieman
There's no doubt that Skylar Thompson was A-OK with the "retirement" of Bill Snyder. I don't think it's anything personal, but the guy was pulled all over the place the past two years in the program. Thompson seems like a player who's had the weight of the world lifted off his shoulders. After the scrimmage, Thompson told the media, "It's a lot different. Two different coaching staffs with two different perspectives on things… it's been so much fun getting to know Coach Klieman and this coaching staff. Practice doesn't even feel like practice… it's just fun."
Thompson looked sharp on the field as well. He hit players in stride, had good accuracy, used his mobility in the pocket and had a swagger and confidence that was lacking throughout the last 12 months. This is clearly Skylar Thompson's team and no one is denying that. From this standpoint, K-State is already well ahead of where it was this time last year.
3. Playmakers Galore in Manhattan?
OK, maybe not to the level of, say, the Oklahoma Sooners, but certainly there seem to be options here for Klieman and company to work with. First off, there's Hunter Rison, the son of former NFL pro Andre Rison, who transferred in from Michigan State under the previous coaching staff, but had to sit out last season per transfer rules. He was a big part of Saturday's action. Another wide out who got a lot of attention was Wykeen Gill, a junior from Atchinson, Kansas, who played in 10 games last season with seven catches. Gill was all over the field on Saturday with a few catches. Then there's Chabastin Taylor, who was the star of the spring game last year, but it only resulted in three catches in 2018. He's the one true, big target on this team (6'4"), which it desperately lacked last fall. Sam Wheeler is a converted quarterback who is playing tight end and had an incredible touchdown grab to end the spring game which you can check out on our Instagram page (@heartlandcollegesports). Wheeler is 6'4", 220 and could turn into a nice weapon for the Wildcats.
In the backfield, Ball State running back transfer James Gilbert looks comfortable as the No. 1 running back and is clearly leading the first-team reps. Gilbert totaled over 2,800 yards and 30 touchdowns at Ball State and now wants to see if his ability can transfer to the next level.
If this team can keep these players healthy, on top of some of the returning talent like Dalton Schoen and Isaiah Zuber, then Thompson might have a few more skill position pieces to work with this fall.
**We now have FREE Big 12 Forums here at Heartland College Sports. Go sign up here and join our conversation! **