Big 12 News
Big 12 Football Mailbag: Can Les Miles Actually Turn Around Kansas?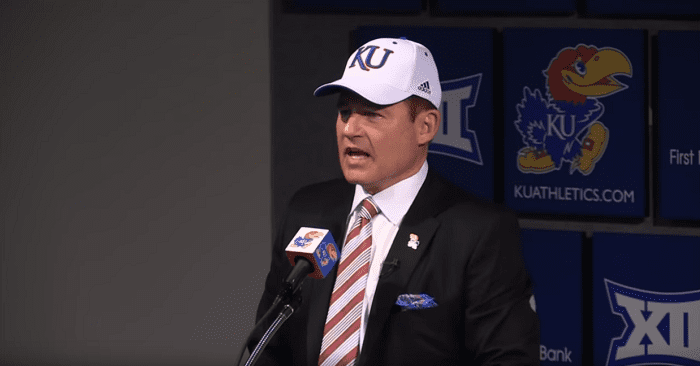 Here is part two of this week's Big 12 football mailbag. Enjoy!
@gzalesk ask; Have you heard anything of interest come out of Iowa State's spring practices since the don't have a public game/scrimmage? Love your stuff, keep it up!
Duke: First off, thank you for the kind words. I am just thankful for this website to let me cover college football and that people read some of my work. That means a lot to me, so I truly appreciate everyone who takes time out of their day to read this. Now to the question. I am not there for any of the practices so it would be tough for me to speculate anything on my own. However, everything that I have read/heard about true freshman running back Breece Hall has been outstanding. Some people (Including myself) think he can be the go-to ball carrier there and to be honest that doesn't surprise me one bit. I saw Breece play here in San Antonio for the All-American Bowl and the guy is legit. Here was my take on Breece from the All-American Bowl back in January.
"Breece is a big physical runner but has some sneaky cutting abilities to make his cuts quickly. Not to mention, he is a much better pass catcher than I would have initially thought. There was a play early in the game where he lost two yards, but it was it one of the best two-yard losses I have seen in a while. He was dead in the water for a huge loss and he made about three or four defenders miss before finally being brought down. I am serious when I say, I think Breece will be the next big-time player at Iowa State."
I have also heard some good things the development of quarterback Brock Purdy who has a chance to have a very special year for the Cyclones.
@Cyclonefan10 asks: Who is the team that breaks out and surprises everyone? Does Les Miles really pull that off?
Duke: I think TCU will have a good bounce back year and get back to 8 or 9 wins, but I am not sure if that would necessarily "surprise" anyone though. In that case I will say Texas Tech. I think Tech will finish around 7-5 which would be their best regular season finish since the 2015 season. In yesterday's mailbag I said that if Alan Bowman was healthy last season, Kliff Kingsbury would still be the coach and things would be different in Lubbock. However, if Bowman stays healthy Tech will be back in a bowl game. Another candidate here would be West Virginia if Austin Kendall can be a solid quarterback for them.
@HighMotorPod asks: More optimism: West Virginia or Oklahoma State offense in 2019?
Duke: This will depend on how the quarterbacks shake out, but I'll take Oklahoma State. I think the offensive line will be better and when you bring back Chuba Hubbard and LD Brown in the backfield and a Fred Biletnikoff Award finalist in Tylan Wallace, I like the pieces around the quarterback more at OSU than WVU right now. Of course, I can't forget about WR Dillon Stoner who has been solid as well. Now as for those quarterbacks. Both Spencer Sanders (OSU) and Austin Kendall (WVU) are unknown at this point and time but when I go back to their tapes Spencer Sanders was the Gatorade Player of the year in the state of Texas back in 2017. I am not basing my judgement on that alone but Spencer Sanders (I have said this last year) has a chance to be a very, very special player in Stillwater. I just don't get that vibe from Austin Kendall and I truly think that Sanders has a much higher ceiling at quarterback than Austin Kendall. I could be wrong on this, but Oklahoma State will have the better offense in 2019.
@TedFlintKansas asks: Here is the thing. ISU didn't have a spring game. So, Compare the Big 12 coaches to member of the Avengers.
Duke: So, here is the deal here. I have no idea how many Avengers movies have been made or who all the Avengers are without looking all of them up. To be honest, I have seen only one of those Avengers movies and I haven't seen the spin-offs that each character has had. I haven't seen the Iron Man movies, Hulk movies or the Black Panther movies or really any character for that matter. So, I am useless and clueless when it comes to that, so I am not even qualified to give the people a fair answer because I have NO IDEA WHAT THE HELL I AM TALKING ABOUT. To add to this misery, I also don't watch golf or game of thrones, so I am almost 100% sure that people hate me right now. I do watch the Batman movies though. The ones with Christian Bale not Ben Affleck.
**We now have FREE Big 12 Forums here at Heartland College Sports. Go sign up here and join our conversation! **