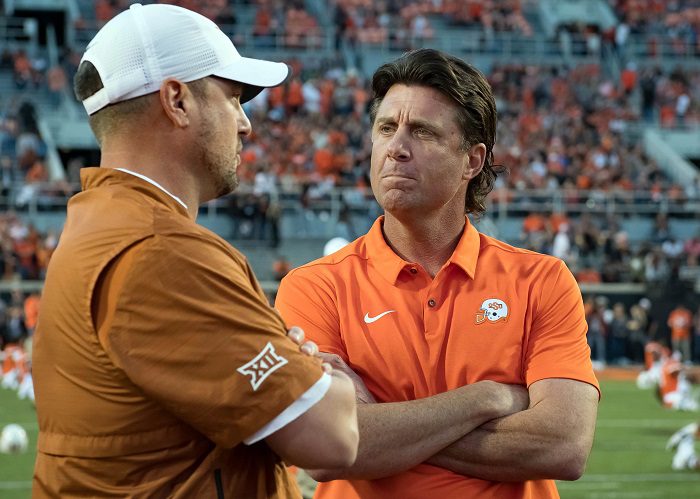 Welcome to the HCS Big 12 mailbag. This mailbag is for all you football junkies out there who root for a Big 12 school who not only have questions about your team, but other teams in the conference as well. So, join me, grab a cold brew or your favorite drink and relax as I answer all your Big 12 questions in my mailbag. For those interested, I will send out a tweet (@Derekduke25) every Monday at noon until last call (No, not 2 AM) at 8 PM CT for you to send in your questions to be answered every Tuesday right here at Heartland College Sports.
I will pick the best question for each mailbag and label it as my question of the week. The winner gets a free HCS Koozie to keep your beer cold (Unless you like it warm, but that's just plain wrong). It was busy question day which tells me that this mailbag is working harder than me at my day job. Unlike the "Big 12 blog" over at ESPN (I say that loosely because one story a month is a tragedy), we here at HCS are determined to give you the best Big 12 coverage on the planet. I want to thank each one of you who submitted a question this week and for those reading, I am glad you could join me. The mailbag was so full this week that I had to break it into two parts so if you don't see your question in this mailbag, you will see it in tomorrow's part two of the mailbag.
@jonkev50 asks: How would you rank each team in the Big 12 based on strength of schedule?
Duke: Without any explanation because next season would be over by the time I got through with one, here is from 1-10 the toughest schedule with one being the toughest to start with.
Kansas
K-State
WVU
Texas
TCU
ISU
OSU
Texas Tech
Oklahoma
Baylor
@RPTexan asks: Derek, in your opinion, what makes a great in-game coach? Take away the recruiting and everything outside the lines on gameday. What makes Saban great and David Beaty looking for work?
Duke: Saban is well, Satan I mean Saban. To me, there are so many things that make coaches great in games. Clock management and being comfortable in high pressure situations are two big things that come to mind. Also, making in game adjustments is crucial as well. Forget about half time adjustments, great coaches can make changes during timeouts or during a change of possession. To add on my being comfortable take, I think sometimes sticking with things that got you that job in the first place is big as well. For example if you are a great offensive coordinator, do what go you your job in the first place. Don't get too cute and fancy and just be yourself and let your guys execute something you are comfortable with. If I had could only have one of these qualities, it would be making adjustments on the fly.
@joSCobbs90 asks: What is the team that no one I talking about, but could come out swinging from nowhere and knock somebody on their ass.
Duke: I am going to cheat here and give you two options that I couldn't really decide between. These are two teams that could beat you if you aren't careful or just flat out pull off an upset. The fist team is Baylor. They return QB Charlie Brewer and have some veteran guys returning up front (Although they need some work as well). However, they need WR Denzel Mims and Tyquan Thornton to step up as well as some other options at receiver. Defensively, LB Clay Johnston is a monster but their secondary play needs some work. But make no mistake about this team, they play their ass of for head coach Matt Rhule. Their non-conference is laughable (SFA, Rice and UTSA at home) but they have a tough conference opener against Iowa State at home that is intriguing. I wouldn't be surprised if Baylor got out to a 5-1 start before their schedule picks up.
The other team is Texas Tech and in the most typical Tech way it's because their offense. If Alan Bowman is healthy, this team has a chance to play with anyone at least from an offensive standpoint. Now the defense needs improvement but offensively, this unit will be good if Bowman remains healthy. Outside of receiver (Which Tech seems to grow on trees), the line comes back as well as their backfield.
Dave Beal asks: If Jalen Hurts and other Qbs have similar success at OU as Mayfield and Murray have had (insane numbers and efficiency), Heisman hype etc., do you think the "system guy" stigma will get applied to people in Riley's system? Similar to what happened with Mike Leach's quarterbacks? Or will Mayfield's and probably Murray's ability to perform at the NFL level (Unlike Leach's Qbs) keep that at bay?
Duke: I think it depends on how you are looking at quarterbacks from a college standpoint or an NFL GM standpoint? From just pure production for the college football fan, who cares what guys are labeled as? If they produce numbers and win ball games that's all any college football fan truly cares about is winning. Now from an NFL GM standpoint, you have a case here maybe. There was a long period of time where nobody wanted Big 12 quarterbacks and if they did draft them, they didn't turn out well. I think that Sam Bradford had a chance to break that mold back in 2010 as well as RGIII back in the 2012 NFL draft but injuries plagued both of their careers where they never are the same player they once were. Then go back to the 2017 draft where the Chiefs moved up to get Patrick Mahomes from Texas Tech and just last season he was the NFL MVP. And you mentioned Baker Mayfield who went #1 last year and was a rookie of the year candidate for the Browns. Now once again, another Oklahoma QB in Kyler Murray will likely go #1 to Arizona. By the way, did I mention that both Baker and Kyler won the Heisman? Jalen Hurts is likely to have a good year but I wouldn't say he is a first round draft pick next year by any means. NFL offenses are changing in favor of the spread college quarterbacks but these guys still have to have the right tools (Accuracy, quick decision making etc.) to be good NFL quarterbacks. Some guys have and other don't, it's as simple as that to me.
**We now have FREE Big 12 Forums here at Heartland College Sports. Go sign up here and join our conversation! **