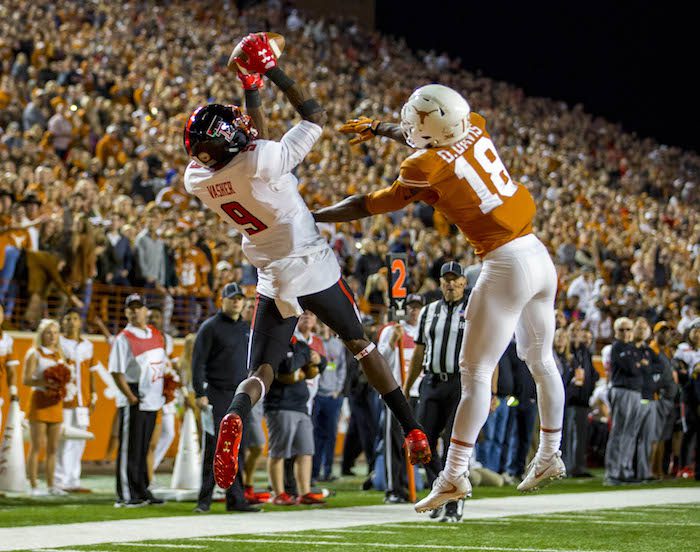 Here is part two of this week's Big 12 football mailbag. Enjoy!
@ia11stat asks: Give me a surprise breakout star for each team.
Duke: Here would be my list of candidates poised for breakout roles this season. I excluded the quarterbacks to make it more interesting.
Texas: OLB Joseph Ossai
Baylor: WR Tyquan Thornton
Texas Tech: WR T.J. Vasher
TCU: DE Adam Plant
Oklahoma: Any of the freshman WRs (Theo Wease, Jadon Haselwood or Trejan Bridges)
Oklahoma State: RB Chuba Hubbard
Kansas: WR Andrew Parchment
Kansas State: RB James Gilbert
Iowa State: WR Tarique Milton
WVU: CB Keith Washington Jr. or WR Marcus Simms
@SethLDow asks: Biggest surprise and biggest disappointment in the upcoming football season?
Duke: I have plenty of takes but my surprise of the year is Oklahoma State quarterback Spencer Sanders. While he is an unknown that nobody is really talking about, I think he has the skill set to be a very good quarterback in this conference. While I may not see him as a top five quarterback in the conference right now, I think he could be someone who gets into that conversation. He has a rocket arm and can run to add to his loaded arsenal. He was the Gatorade Texas HS player of the year back in 2017 which is quite an accomplishment and I really liked this kid coming out of high school. If given the opportunity to start for the Pokes, he will take advantage of it.
My biggest disappointment isn't shocking one bit. While Les Miles has brought plenty of hype and laughs to Lawrence, when the season gets underway, I think some of those smiles will go away. I see another 2-10 or at best 3-9 this season for Kansas. Drink up Jayhawk fans.
@Doc_Texas asks: How many defenses do you predict to crack the top 50? Will the conference still dominate the top 20 in offense?
Duke: To answer you second question first (I know it's weird) but this is still an offense first conference with good quarterback play that will continue to get better (Watch out in 2020). Now, as for the defenses I think there are two that will for sure be in the top 50 and one that could be in there as well. Iowa State and TCU will be in the top 50 without a doubt in my mind. TCU is well TCU and they live in the top 50 year in and year out, especially when you have a guy like Gary Patterson running the show. Last season Iowa State was very good as well with Jon Heacock. I don't really have to explain TCU, but I will say this about Iowa State. I think they will have the best defense in the Big 12 and they have a chance to crack the top 20. They have the best defensive line in the conference and a solid linebacker group with Mike Rose leading the charge. I have some questions at corner, but I trust Jon Heacock to find answers there. The team that I think has a shot to crack the top 50 in 2019 is Texas. The depth and the talent are there top to bottom on the defensive side of the ball and now it is time for some of that young talent to step up. Although I have some concerns at linebacker, the Longhorns may be solid on defense this year and Todd Orlando is one of the best defensive coordinators out there.
@UT_Mangler asks: Name the best Big 12 QBs in order with an explanation why.
Duke: Oh boy. VERY EARLY and as always, I am sure I can find a way to piss people off and make them think that I hate their team's signal caller. Here goes nothing and pray for my Twitter mentions.
Sam Ehlinger (Texas)- He can run, and he can pass. Sam threw for 25 touchdowns on just 5 picks last season and he completed 64.7% of his passes last season which was a good increase from his freshman season. Oh yeah, he also rushed for 16 touchdowns last season as well. He is a great fit at Texas and to me, is the best quarterback in the conference right now.
Brock "Pump fake" Purdy (ISU)- Even though he started last season as the third string, Brock came out of left field and burst out onto the spotlight last season. Purdy threw for 16 scores to 7 picks as well as completing 66.4% of his passes as a true freshman last season. Not to mention his ability to escape pressure and that deadly pump fake that has help make him famous. I really like this kid and I expect him to have a huge year this upcoming season.
Jalen Hurts (Oklahoma)- The jury is still out on his passing abilities and I totally get that but look at his head coach. I know you can say "You shouldn't factor that in" but all Lincoln Riley does is produce quarterbacks who put up numbers and I don't think that will change this season. He will put Jalen in the best possible situations to succeed and I believe that Jalen will take advantage of that whether it's with his arm or his legs.
Charlie Brewer (Baylor)- I was a bit disappointed last season in Charlie early in the year but he got better as the year went on. Charlie doesn't put up crazy stats, but this man has been running for his life since taking over the starting job back in the 2017 season. I really wish I could see how good he can be without decent protection up front. Charlie is sneaky athletic and can make some beautiful throws that not many other guys can make. I may have underrated him here at four.
Alan Bowman (Texas Tech)- If you follow me on Twitter (@DerekDuke25) or just read my work on Heartland College Sports, you will know that I am very high on Alan Bowman. He put up insane numbers last season when he was healthy but that's the problem. HE WASN'T HEALTHY. Whether it was a collapsed lung or rib issues, he just couldn't stay on the field, which is sad because if he had been healthy, he would without a doubt be higher up on my list.
Spencer Sanders (OSU)- We are at the point where I am starting to take shots in the dark now with these unknown quarterbacks. First up is Spencer Sanders who has the complete tool set to be a good quarterback in the Big 12. He can run and he has a rocket arm. I liked him going back to his high school days and to me he has a very high ceiling but now it is time to see what he can do.
Austin Kendall (WVU)- Again, another shot in the dark here. I have no idea what Austin Kendall can do in a game situation. I saw him in the Oklahoma spring game last year and there were a few flaws that stuck out to me, but I think he can be a very serviceable quarterback for the Mountaineers this season. I just need to see what this kid can do come fall before I can put him any higher right now.
Justin Rodgers (TCU)- Much like Spencer Sanders, Justin has a very high ceiling and I remember when he committed to TCU. It was huge and I thought he would be a guy who could elevate the program like Trevone Boykin did back in 2014-2015. Unfortunately, he suffered a serious injury back in high school and I am not sure he has been the same player since that injury. I need to see if he can get healthy and start unleashing some of that potential that I saw back in his high school days.
Skylar Thompson (KSU)- I am not going to sugar coat it but Skylar Thompson needs to be more consistent. He accuracy dropped from the 2017 to the 2018 season (61.4 in 2017 to 58.7 in 2018) and he only threw for 9 touchdowns and 5 interceptions last year. There were way too many games where he couldn't do much and the offense really struggled last season because of it. Will he be better this season? For K-State fans, I hope so.
Carter Stanley (KU)- I feel like I don't really have to explain this one. Carter has some mobility but there is plenty of room for improvement here.

**We now have FREE Big 12 Forums here at Heartland College Sports. Go sign up here and join our conversation! **