Big 12 News
Kyler Murray Selected By Arizona Cardinals with No. 1 Pick in 2019 NFL Draft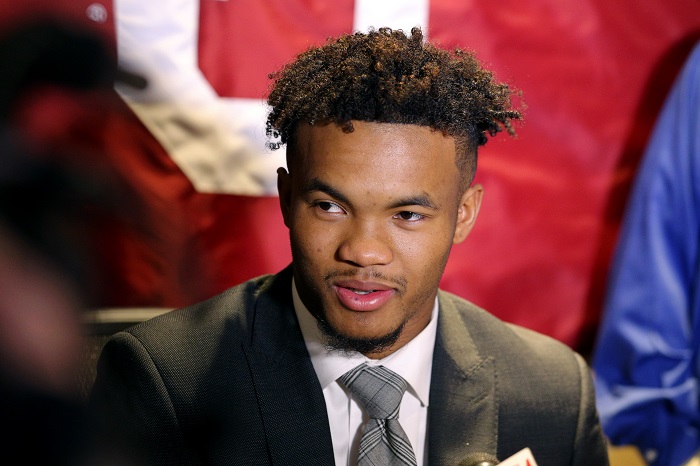 It was meant to be, wasn't it? Oklahoma Sooners quarterback Kyler Murray has been taken by the Arizona Cardinals with the No. 1 pick in the 2019 NFL Draft.
From the moment Kliff Kingsbury was hired by the Cardinals to be their next head coach, the match between Kingsbury and Murray became an obvious one. Kingsbury has had a relationship with Murray since the quarterback at Allen, Texas high school.
Back in October, Kingsbury, who was then still the head coach of the Texas Tech Red Raiders, said, "I've watched him since he was a sophomore [in high school]… I'd take him with the first pick of the draft if I could."
Who knew how prophetic that would turn out to be? At that time, Murray was expected to still be heading to go play baseball for the Oakland A's and Kingsbury was just trying to keep his job in Lubbock. Typically, athletes don't turn down millions of guaranteed dollars that are already on the table. Also, coaches don't typically get fired from middle-of-the-pack college programs and end up with an NFL job. Alas, that's how this process has gone.
Despite his struggles as a head coach with Texas Tech, Kingsbury has proven to be a great quarterbacks coach, leading guys like Case Keenum, Johnny Manziel, Baker Mayfield and Patrick Mahomes while at Houston, Texas A&M and Texas Tech.
This is a huge deal for the Oklahoma Sooners, who now have back-to-back Heisman Trophy winners and No. 1 NFL picks with Murray and Baker Mayfield last season.
Last season, Murray threw for 4,361 yards, with 42 touchdowns to seven interceptions, while completing 69% of his passes. He rushed for 1,001 yards and 12 touchdowns, helping the Sooners reach the College Football Playoff, where they lost to the Alabama Crimson Tide.
**We now have FREE Big 12 Forums here at Heartland College Sports. Go sign up here and join our conversation! **