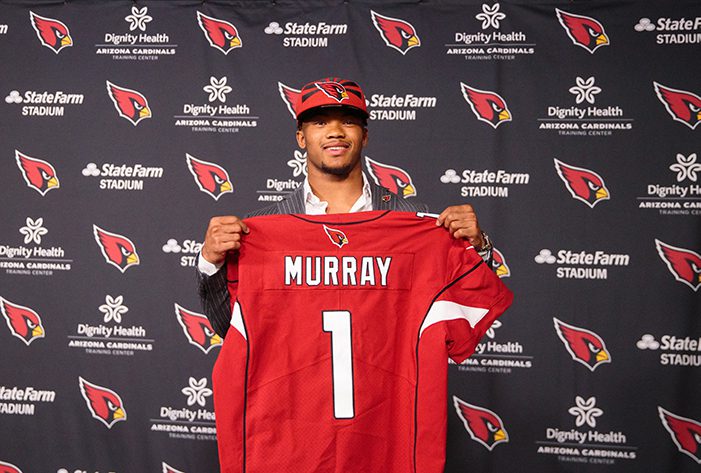 When it comes to the Big 12 Conference, the NFL Draft was dominated by the Oklahoma Sooners. The Sooners had the third-most players selected (eight), trailing only Alabama and Ohio State who had 10 and nine respectively.
On the other hand, if you play offense and Lincoln Riley calls you and offers you, how can you say no? Two straight number one overall picks at quarterback, a plethora of wide receivers, including a first rounder this year in Marquise Brown, and last year it was the best tight end in Mark Andrews and best tackle in Orlando Brown. Oh, speaking of offensive linemen, Oklahoma sent four to this year's draft and guess what? All four were taken before the end of the fourth round. Also note, none of them were the best offensive lineman Oklahoma had on the 2018 team. The Sooners lost all but their best offensive lineman (Creed Humphrey) and they all were off the board before you got done with your Saturday morning cardio. This is a testament to the coaching of both Lincoln Riley and his assistants, most notably Bill Bedenbaugh.
The other major thing to note is in this era with players leaving early for the NFL draft, half of the Sooners that were drafted had eligibility remaining, and only one, who was not gone by the end of Day 2 was, the oft-injured Rodney Anderson . Riley's connection with Gil Bradt is something you simply something you cannot undersell. The Sooners staff will give you great insight on whether you should leave early or stay. In this day and age where so many underclassmen are leaving for the NFL early, the Sooners will be able to get you the best advice for your selection, benefiting your future.
The scary part? The Sooners' roster is only continuing to get more talented. Could this year's number of eight players drafted look low in coming years? It's definitely possible. And this is all taking place without any help from the defensive side of the ball. If Riley and new defensive coordinator Alex Grinch can get that side of the ball on track, the future is bright for both the Sooners football program, and those who are privileged enough to play for them.
**We now have FREE Big 12 Forums here at Heartland College Sports. Go sign up here and join our conversation! **