Baylor Bears
Where is the Challenge Coming from to Oklahoma, Texas in 2019?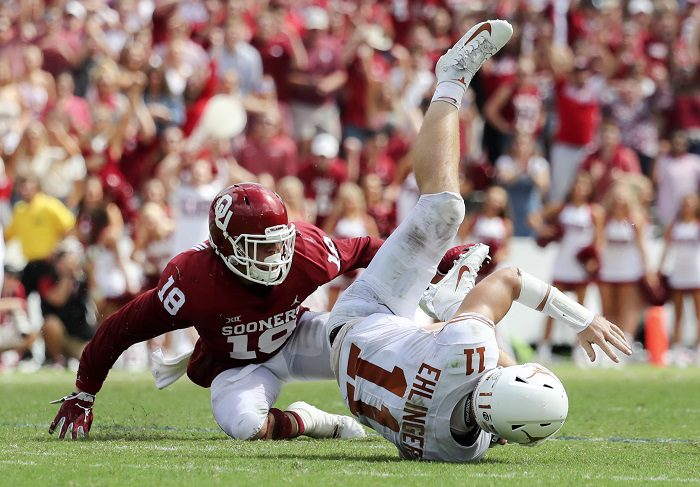 It's a Saturday morning in May. The kind of day that makes us all long for college football in September and October. I'm putting off doing yard work in my new home and was spending this morning entertaining my five-month old and thinking about a few different angles of what might be to come in the Big 12 Conference this fall.
With the Oklahoma Sooners the clear-cut class of the conference right now and Texas seemingly on the rise entering Year 3 of Tom Herman, the question now becomes, who is most likely to crash the Red River Party?
It was also a question that Miller and Condon asked me about on Friday when I joined their radio show in Des Moines. It was more along the lines of who I thought could be that team following spring practice.
Miller and Condon on @1460kxno Podcast Hour 2:

Big 12 football talks with @PeteMundo, @HawkeyeReport talks Isaiah Moss, Ken's Kentucky Derby picks
https://t.co/AChueoMHcY

— Trent Condon (@trentcondon) May 3, 2019
Now spring practice is rarely a time to learn too much about each team, but that question got me thinking that as we look at teams around the conference, "transition" seems to be a key word for many programs, and I'm struggling to find that competitor to crash the party. But I do have a couple thoughts on who it might be.
First for the transition, with nearly half the Big 12 coaches turning over at Kansas, Kansas State, Texas Tech and West Virginia, there is a lot to sort out in Lawrence, Manhattan, Lubbock and Morgantown. Plus, three of the four were not contenders last season, and West Virginia lost a ton of its high-end talent to the NFL.
Oklahoma State feels like its in a weird transition year as well. There is a new coordinator, still an unknown at quarterback, but a lot of talent to work with. Coming off a mediocre season, I'm not sure how the expectations can be too much higher in Stillwater. I talked to The Oklahoman's Berry Tramel about that this week in our podcast.
TCU lost some great defensive talent to the NFL, but might return the most explosive player in the Big 12 in Jalen Reagor. However, who is going to get him the ball? Gary Patterson, per usual, played spring practice very close to the vest, and we did not learn much.
That leaves two teams left, and they're probably the two teams with the best chance to crash the Red River Party: Baylor and Iowa State. The Bears are right along the lines of what you'd look for in a team to try and take that next step.
They went from one win in 2017 to seven wins, including a bowl victory, in 2018. They bring back a ton of starters, many of whom were underclassmen last season, including at quarterback in Charlie Brewer. He enters his third year of action, making him one of the most experienced quarterbacks in the conference, this side of Sam Ehlinger and Jalen Hurts. Baylor also returns its top three rushers, seven of their top eight receivers, plus eight of its top ten tacklers from 2018. How much more can you ask for if you're Matt Rhule?
Then, there's the Iowa State Cyclones heading into Year 4 under Matt Campbell. Yes, two stars are gone in Hakeem Butler and David Montgomery. But the Cyclones may have the quarterback with the highest ceiling in the league in Brock Purdy.
In the backfield, Montgomery is gone, but the remaining four top rushers return, plus there is highly-touted prospect Breece Hall in the fold. Also, top receiver Butler leaves, and now more pressure falls on DeShaunte Jones and Tarique Milton. From a receiving standpoint, the tight end duo of Chase Allen and Charlie Kolar could be as unique and effective (they're 6'7" and 6'6", respectively) as any duo in the Big 12. I'm fascinated to see how Campbell uses them.
Defensively, key players like LB Willie Harvey and DBs Brian Peavy and D'Andre Payne are gone, but the rest of the defense is largely in tact, a year older, more mature and savvy. Imagine what's next for this unit led by defensive mastermind Jon Heacock? I can't wait.
So while it is admittedly looking more and more like a two-horse race in the Big 12 in 2019, don't sleep on what's happening in Waco and Ames. That's where I'm seeing the potential for a surprise to come from in the Big 12 this fall… at least as I sit here avoiding yard work on May 4th.
**We now have FREE Big 12 Forums here at Heartland College Sports. Go sign up here and join our conversation! **