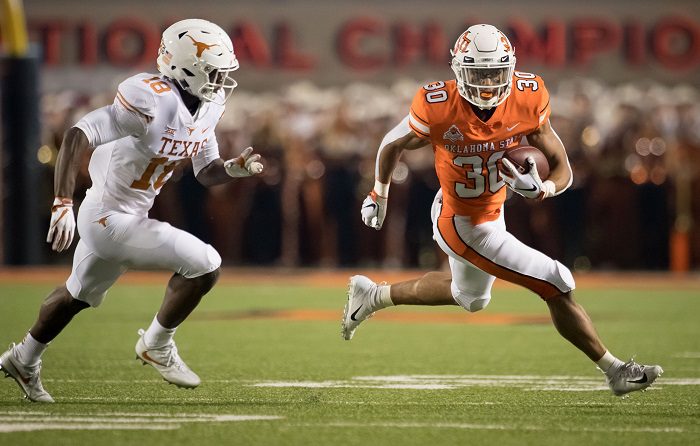 @JackKivley asks: Who do you think will be the surprise breakout player in the Big 12 this season?
Duke: About two weeks ago (I think) I gave a breakout player for each Big 12 team this upcoming season. I am all in on Oklahoma State running back Chuba Hubbard. He was behind Justice Hill last season but when he got the ball in his hands, he made plays. Now with Justice gone to the NFL, Chuba will be the go-to back for the Cowboys this upcoming season. In the 2018 season, Chuba carried the ball 124 times for 740 yards and 7 touchdowns. I would be willing to bet he goes over the 1,000-yard mark and will have a double-digit touchdown season. This guy is lighting fast and can take it the distance anytime he touches the football. Know the name Big 12.
@gdgjr78 asks Skylar Thompson (K-State QB) seems thrilled with the new staff at KSU and obviously was irritated with the old staff. What kind of season do you expect from him this upcoming year?
Duke: When I ranked the Big 12 quarterbacks in a previous mailbag, I had Skylar Thompson at number nine only ahead of Kansas quarterback Carter Stanley. To me, Skylar really struggles with his accuracy and his completion percentage was at 58.7% which was worse than his 2017 season. He isn't a guy you can rely on to go win you a game with his passing abilities, but I will say this. Skylar is a gamer. He is gritty and he is tough as he isn't afraid to run the football and to be honest, he is more athletic than what people give him credit for. But like I said, his accuracy is a very big problem in my mind, and I will be curious to see how the new staff will handle him. Meaning, how much will they ask him to do? If they ask for a lot, then things could go south but if they have a strong run game and have him mange the game with some easy reads, then he will be better off. My bottom line, he will likely have a better season in 2019 but he isn't anywhere close to being a top five quarterback in the Big 12 right now.
@jonkev50 asks: Who are the top 3 running backs in the Big 12 and why?
Duke: If Pooka Williams comes back to Kansas (His status is still up in the air right now), then my order will look like this.
Pooka Williams (Kansas): Pooka was an absolute playmaker as a true freshman and would be the leading returning rusher in the conference. Coming from a school like Kansas, that is damn amazing. Last season he averaged over 100 yards on the ground as a TRUE FRESHMAN as well as an absurd 7 yards per carry. Pooka is the clear-cut number one back in the conference if he can return to Lawrence.
Chuba Hubbard (Oklahoma State): Here is more of a prediction because Chuba is my breakout player in the Big 12 this upcoming season. Ok, maybe he already broke out last year but make no mistake, Chuba will rush for over 1,100 yards and will be in the double digits for touchdowns. He is the real deal and is extremely explosive. In the open field or not, this guy is dangerous with the football in his hands.
Kennedy Brooks (Oklahoma): I have been on the Kennedy Brooks train for awhile now. He is the best back for the Sooners and someone I feel like people around the league sleep on a little bit. He can break tackles and do just about anything the Sooners ask him to do. He isn't as explosive as the top two guys, but Kennedy is a damn good back.
@skrisu70 asks: Can Iowa State legitimately challenge Oklahoma and Texas for a Big 12 title?
Duke: You mentioned some returning starters on both sides of the ball and I am with you. Iowa State was nearly in the Big 12 title game last season and could be right back in the mix this year. Defensively, this team is fine. In fact, I believe Iowa State will have the best defense in the Big 12 and with DC Jon Heacock calling the defense, I have confidence there. Now the secondary may have some question marks but still, this is the best defense in the conference in my mind. Now, you also mentioned the offensive line and I agree, with over 100 combined starts returning, that group will be better from tackle to tackle (Good-Jones, Olson, Newell, Knipfel and Meeker). True Freshman RB Breece Hall is a stud like I have been preaching the past couple months and oh yeah, that Brock Purdy guy at quarterback is damn good as well. My biggest question is wide receiver. However, Iowa State did add Arkansas grad transfer La'Michael Pettaway who is probably the most experienced receiver when he steps on campus. That is a bit of a concern to me. Maybe it is more of a collective effort this season with the wide outs, but they need some guys to step up there but overall, this is a solid team. Right now, I have Iowa State finishing third in the Big 12 but I wouldn't be shocked at all to seem them possibly playing in Jerry World come December.
@Chrissboom_ asks: Who is the Big 12 team on the rise and who is a team that will fall over the next couple of years?
Duke: Iowa State is the cop out answer here but I feel like they have already risen. So, I am going Baylor. What Matt Rhule is doing in Waco is incredible. From 1-11 in 2017 to finishing 2018 at 7-6 with a bowl win over an SEC team. I fully expect that win number to go up this season and if Matt Rhule stays in Waco and doesn't go to the NFL, Baylor will be that program that is in the upper echelon of the conference. Not necessarily winning the Big 12 but a top five team in the conference year in and year out. Now, as for the program on the fall I'll go Texas Tech instead of Kansas because I feel like Kansas would also be a cop out answer. I am not sold on head coach Matt Wells and I thought he was way too up and down during his tenure at Utah State. To me, he was very inconsistent there and I am not sure how moving up to a power five program will change that. I like Tech to surprise some people this season but again, I am not sold on Wells right now.
**We now have FREE Big 12 Forums here at Heartland College Sports. Go sign up here and join our conversation! **