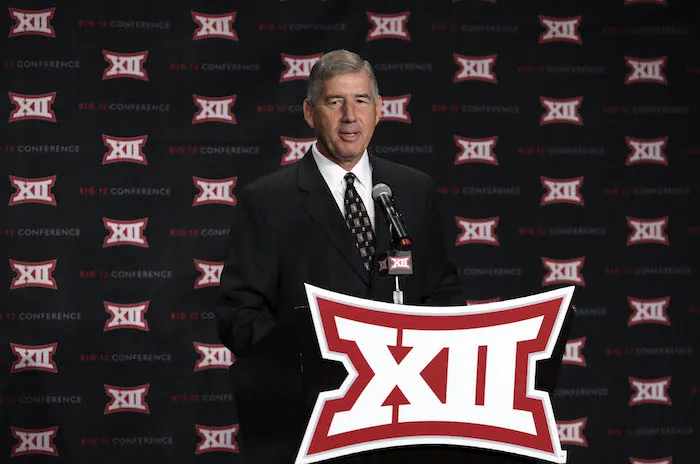 Welcome to the HCS Big 12 mailbag. This mailbag is for all you football junkies out there who root for a Big 12 school who not only have questions about your team, but other teams in the conference as well. So, join me, grab a cold brew or your favorite drink and relax as I answer all your Big 12 questions in my mailbag. For those interested, I will send out a tweet (@Derekduke25) every Monday at noon until last call (No, not 2 AM) at 8 PM CT for you to send in your questions to be answered every Tuesday right here at Heartland College Sports.
I will pick the best question for each mailbag and label it as my question of the week. The winner gets a free HCS Koozie to keep your beer cold (Unless you like it warm, but that's just plain wrong). It was busy question day which tells me that this mailbag is working harder than me at my day job. Unlike the "Big 12 blog" over at ESPN (I say that loosely because one story a month is a tragedy), we here at HCS are determined to give you the best Big 12 coverage on the planet. I want to thank each one of you who submitted a question this week and for those reading, I am glad you could join me. This week's mailbag was so full, I had to break it up into two parts. So, if you don't see your question in this mailbag, look for it on tomorrow's part two. Also, tonight's drink of choice? Sweet Tea. Yeah, I know it's disappointing, but I ran out of booze on Sunday and need to make another liquor store run.
@CalebCannon4 asks: Will Oklahoma win a national championship soon (Let alone a playoff game) or have they let their best chance pass them by? Who will be the next Big 12 team to win the natty?
Duke: Great question here Caleb. It's tough to say that Oklahoma's best chance of winning a natty is behind them because quite frankly, we have no idea what lies ahead. Ok, with Lincoln Riley at the helm, I am pretty sure good things are ahead but let me focus here. I really believe that 2017 Oklahoma team had the best shot of winning a title. They fell short to Georgia in the Rose Bowl in OT, but I think Lincoln got a little too cute at times with his play calling down the stretch of that game. Plus, Georgia took Bama to OT and fell short. To me, the 2017 OU team had the best shot in recent memory because there was no way in hell the Sooners would have stood a chance in hell against Clemson this past season. Even Satan (I mean Nick Saban), couldn't even touch the Tigers in the title game. However, both the 2017 and 2018 Oklahoma teams lacked defense. In fact, defense seemed optional those years and it most likely cost them at least one ring in my mind. Now, has the best chance past the Sooners by? I am not sure if Oklahoma will have another quarterback like Baker or Kyler but again with Lincoln Riley, DO NOT DOUBT THE MAN when it comes to quarterbacks. Until the defense gets fixed, Oklahoma won't have to worry about national championships. As for who has the best shot to win one next? It's Oklahoma or maybe even Texas but Oklahoma is the clear-cut number one.
@SethLDow asks: Who's the best punter in the league and who is the best place kicker?
Duke: Finally! We get to talk about the one thing everybody is here for. KICKERS BABY! If you haven't left by now to watch some kicker highlights, hopefully I can answer this question for you. Someone also mentioned long snappers, but I am not going to even touch that subject. No disrespect to long snappers out there but YAWN. As for the best kicker in the Big 12 right now I would probably say Blake Lynch from Kansas State. Last season he connected on 14 out of 16 field goals and led the conference with an 87.5% make rate. We will stay in the Sunflower State for the best punter because that will go to Kansas punter Kyle Thompson. Kyle averaged a conference high 43.3 yards per attempt and knocked 26 punts inside the 20-yard line. I will say that being a punter at Kansas is a lot harder than being a punter anywhere else in the Big 12 because you have to punt so many times. Although maybe all that practice helps from the offense being so bad.
@KBehr68 asks: How about ranking the returning front seven in the Big 12 from first to worst?
Duke: You guys know how I will answer just about any question whether it's win totals, rankings etc. but I am going to have to keep this question in my back pocket until the preseason when we rank all the position groups in the conference. I understand that some people will be upset at this but with literally nothing going on right now content is thin but I don't want to just throw everything out there just yet because come August (When we do our rankings) we will know a lot more about these teams from camps and who is starting where. However, I know you are an Iowa State fan and just to give you a little teaser, Iowa State is without a doubt in my mind a top team in that category. In fact, right now I would have them at number one. Sorry to be a party pooper. Blame Pete because I always find that it makes me feel better when I do that.
@CurrierLouie asks: What do you think should happen when it comes to the Big 12 adding new/current teams leaving/or both?
Duke: For those who religiously read this mailbag know how much I don't care for expansion talk. In fact, I would rather watch an SEC football game with a final score of 6 to 3. Ok, maybe that is pushing it, but you get the picture here. I am a firm believer in the Big 12 staying as is. I like the round robin schedule that no other conference has, and this is the only conference that guarantees their two best teams in the conference championship game. In fact, other conferences have been toying with the same idea. IF and ONLY IF, Bob Bowlsby has a sudden urge to add teams (Dammit Bob), then the Big 12 needs to peek out west and see what the Arizona or perhaps the California schools want to do. By that I mean USC and UCLA.
**We now have FREE Big 12 Forums here at Heartland College Sports. Go sign up here and join our conversation! **