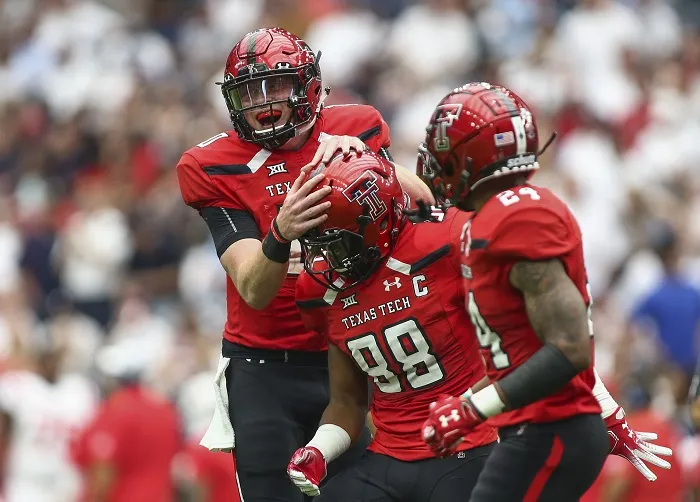 It's that time of year again when we're all sitting around excited for summer, but also trying to peek ahead to get closer to the college football season. There are only 106 days until the first full Saturday of college football, but who's counting, right? Definitely not me.
So, let's get to our best-case and worst-case scenario for each team in the Big 12 Conference. It's the time of year when fans want to look at the schedule and see everything that can go right, but let's be honest, there will be a team that will have the kind of season where everything goes wrong. So, let's go to Lubbock, Texas and take a look at the Texas Tech Red Raiders.
Best-Case Scenario: 9-3
The Red Raiders open up the season with a couple of lay up non-conference games in Montana State and UTEP. Then it's on the road for Arizona, which won't be easy to try and beat Khalil Tate on the road. But in our best-case scenario, Texas Tech is 3-0 and the name Kliff Kingsbury becomes a distant memory (however, Tech fans are used to fast starts). Then it's a road match at OU to start Big 12 play. 3-1. October features vs. Oklahoma State, at Baylor, vs. Iowa State and at Kansas. If the Red Raiders can go 3-1 this month, which includes games against Baylor and Iowa State, two teams that are capable of breaking into the top tier of the Big 12 this fall, then they would be in very good shape at 6-2. A well-deserved bye week takes place, then it's West Virginia in Morgantown and TCU at home, followed by vs. Kansas State and at Texas. Absolute best case, Texas Tech goes 3-1, finishing 9-3 and Matt Wells is gearing up for a statue getting built of him in Lubbock as the Red Raiders reach the nine-win mark for the first time since the Mike Leach era.
Worst-Case Scenario: 4-8
I still can't see the Red Raiders losing to Montana State or UTEP in the first two games, so I'll give 'em a 2-0 start and then the loss to Arizona to go 2-1 in non-conference play. That's followed by a thrashing by the Sooners to open Big 12 play and the Red Raiders would be sitting at 2-2 on the season. October's slate of Oklahoma State at home, Baylor in Waco, home vs. Iowa State and at Kansas could turn south quickly into a 1-3 month. The first three games could be sneaky tough. Oklahoma State had won nine in a row over Tech until last season, while Baylor and Iowa State will have their eyes set on Jerry World in early December. At this point, Texas Tech would be 3-5 and scrambling to try and become bowl eligible. However, after a bye week, playing on the road in Morgantown late in the season is never an easy task, and suddenly, Tech is 3-6 and needing to win out to reach a bowl game. The final stretch includes two home games against TCU and Kansas State, which the Red Raiders split, and then lose in Austin to wrap up the season, unable to capture that magic from the end of the 2017 season. Tech finishes 4-8 in Year 1 under Matt Wells and the rebuild continues into 2020. And the cherry on top to this worst-case scenario? Kliff Kingsbury has Kyler Murray and the Arizona Cardinals humming atop the NFC West. However, that seems like salt in the wound and a massive longshot anyway :-).

**We now have FREE Big 12 Forums here at Heartland College Sports. Go sign up here and join our conversation! **