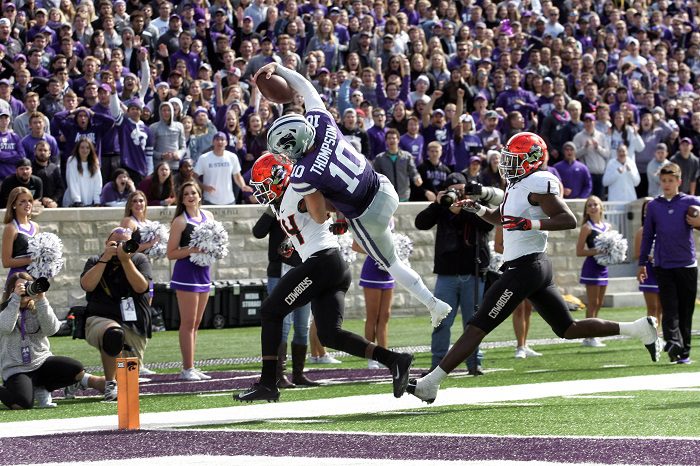 It's that time of year again when we're all sitting around excited for summer, but also trying to peek ahead to get closer to the college football season. There are only 100 days until the first full Saturday of college football, but who's counting, right? Definitely not me.
Kansas State Best-Case Scenario: 8-4
The Wildcats open up the season with a couple of games that are no-brainer victories against Nicholls and Bowling Green. That's a 2-0 start and then it's a road trip to Starkville in Week 3. K-State gets some revenge under a rejuvenated coaching staff and a confident quarterback in Skylar Thompson.
At 3-0, Big 12 play starts for the Wildcats with a road game against Oklahoma State, followed by Baylor, bye week, TCU and Oklahoma. At this point, 2-2 is something many Kansas State fans for sign up for right away, moving them to 5-2 on the season. November is jam-packed with no bye weeks. At Kansas is followed by a road match up against Texas and then a home game vs. West Virginia. A 2-1 run to start the month would move the Wildcats to 7-3. Then their final two games of the season take place at Texas Tech and vs. Iowa State. The Wildcats split this game and finish Chris Klieman's first season with an 8-4 record and a nice jumping point to build the program from moving forward.
Kansas State Worst-Case Scenario: 4-8
The Wildcats still have two lay up games to start the season against Nicholls and Bowling Green, which gets the season off to a 2-0 start. That's followed by a road trip to Starkville where the end result is the same as last season, but worse, as K-State gets crushed by Mississippi State and is 2-1 after non-conference play. Then Big 12 play kicks off with a road game against Oklahoma State and then three home games against Baylor, TCU and Oklahoma. The Wildcats go 1-3 over these four games and are 3-4 as they turn the calendar to November. A five-game stretch in November starts off with a win at Kansas and then a road loss to Texas. At 4-5, the Wildcats need to win two of three to become bowl eligible. But it won't be easy with a home game against West Virginia, a road trip to Lubbock and then Farmmagedon in Manhattan. The Wildcats end the season on a three-game losing streak and close out Chris Klieman's first season with a 4-8 record.
**We now have FREE Big 12 Forums here at Heartland College Sports. Go sign up here and join our conversation! **