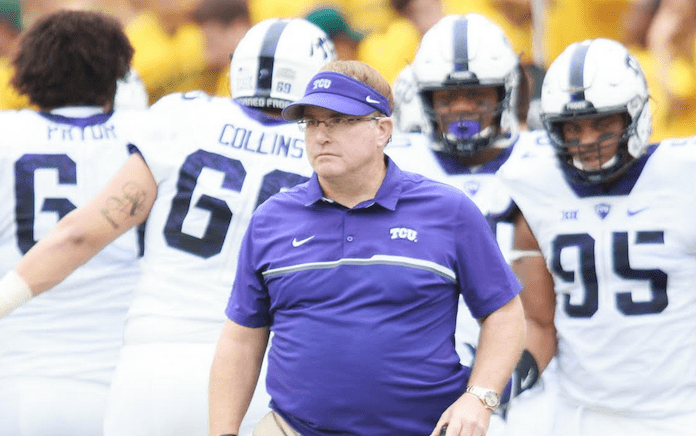 It's that time of year again when we're all sitting around excited for summer, but also trying to peek ahead to get closer to the college football season. There are only 103 days until the first full Saturday of college football, but who's counting, right? Definitely not me.
So, let's get to our best-case and worst-case scenario for each team in the Big 12 Conference. It's the time of year when fans want to look at the schedule and see everything that can go right, but let's be honest, there will be a team that will have the kind of season where everything goes wrong. So, let's go to Fort Worth, Texas and take a look at the TCU Horned Frogs.
TCU Horned Frogs Best-Case Scenario: 9-3
The Horned Frogs open the season with a road win against Arkansas-Pine Bluff and then it's a bye week before a rough road trip to Purdue. But with Justin Rogers' knee healthy and feeling good, he leads TCU to a big victory and puts TCU back onto radars across the Big 12. A 3-0 non-conference schedule is wrapped up by winning the Iron Skillet against SMU. Then the month wraps up with the Big 12 home opener against Kansas and the Horned Frogs are off to a 4-0 start to the season.
The schedule toughens up in October with games at Iowa State, at Kansas State and home against Texas. A 2-1 stretch over the month would be a TCU fan's dream, moving the team to 6-1 on the season and seriously thinking about a return to Jerry World for the second time in three years. With two bye weeks already complete, the month of November is a gauntlet with five games in five weeks, including one short week, and three of five road games. The month begins with Oklahoma State in Stillwater, Baylor at home and at Texas Tech. 2-1 over those three games would be impressive considering two are away from Fort Worth. Then a two-game finish at Oklahoma and home to West Virginia on Friday is a 1-1 stretch, putting TCU at 9-3 on the season.
TCU Horned Frogs Worst-Case Scenario: 5-7
The Horned Frogs get off to a slow start against Arkansas-Pine Bluff, but are able to pull away as they work in a new quarterback and pick up a win. Even with the week off to prepare for Purdue, the quarterback situation is shaky and there are new pieces working in on defense and it's the Boilermakers who steamroll the Horned Frogs. TCU is able to bounce back with a gritty home win vs. SMU and despite plenty of issues, TCU beats Kansas to close out the month 3-1.
But then things on the schedule really pick up and TCU loses two of three at Iowa State, at Kansas State and vs. Texas to fall to 4-3 on the season. As the calendar turns to November, the Horned Frogs face Oklahoma State in Stillwater, Baylor at home, Texas Tech on the road, followed by Oklahoma in Norman and then vs. West Virginia on a Friday. Despite the strong start to the season, the three road games in five weeks, along with a short week, and a quarterback situation that remains uncertain for a second-straight season, TCU finishes 1-4 down the stretch and misses a bowl game with a 5-7 record.
**We now have FREE Big 12 Forums here at Heartland College Sports. Go sign up here and join our conversation! **