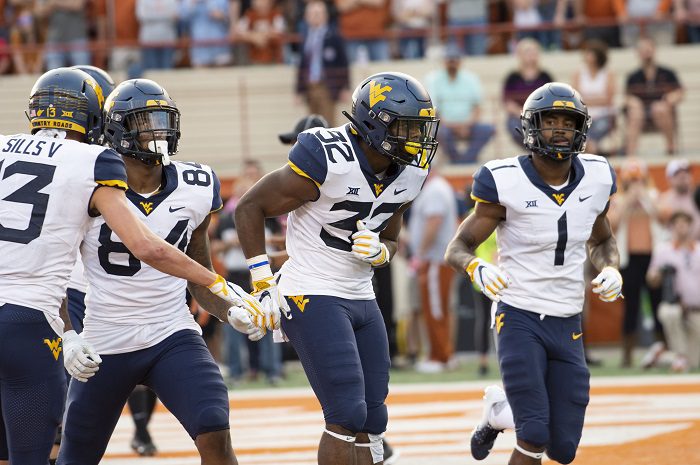 It's that time of year again when we're all sitting around excited for summer, but also trying to peek ahead to get closer to the college football season. There are only 97 days until the first full Saturday of college football, but who's counting, right? Definitely not me.
So, let's get to our best-case and worst-case scenario for each team in the Big 12 Conference. It's the time of year when fans want to look at the schedule and see everything that can go right, but let's be honest, there will be a team that will have the kind of season where everything goes wrong. So, let's go to Morgantown, West Virginia and take a look at the West Virginia Mountaineers.
WVU Football Best-Case Scenario: 8-4
It's the start of the Neal Brown era and the Mountaineers have a tough test against a very good FCS opponent in James Madison, but WVU is able to pick up the win at home as quarterback Austin Kendall gains some much-needed confidence in his first college start since transferring from Oklahoma. Then, WVU has a pair of tough non-conference games at Missouri and vs. NC State. The Mountaineers, still working out some kinks with so many news faces on both sides, split those games before closing out the month with a win on the road against Kansas and they're off to a 3-1 start to the season.
After a bye week, the Mountaineers have a brutal three-game stretch against Texas and Iowa State at home, followed by a trip to Norman to take on Oklahoma. Right now, I think any WVU fan should sign up for a 1-2 record over that stretch considering it's still relatively early in the season with so many new faces in the mix, while going up against arguably the three best teams in the Big 12. At this point, WVU would be 4-3 heading into their second bye week. They return refreshed and pick up a big win over Baylor in Waco to improve to 5-3. A mini-bye week follows with a home game against Texas Tech to kick off the month of November, which is then followed by games at Kansas State, vs Oklahoma State and at TCU. Closing the season 3-1 would be outstanding for the Mountaineers which would give them a record of 8-4 in Neal Brown's first season on the job.
WVU Football Worst-Case Scenario: 3-9
The Mountaineers have the toughest non-conference in the Big 12 playing two Power 5 teams in Missouri on the road and NC State at home, and then even their FCS opponent is one of the best at their level in James Madison. WVU has so many new faces in the mix they start off with a 1-2 record heading into Big 12 play. Luckily for the Mountaineers, they get a confidence-boosting win to open Big 12 action at Kansas to improve to 2-2 heading into their first bye week.
But then, the schedule gets brutal with home games against Texas and Iowa State before traveling to Norman. New quarterback Austin Kendall looks completely overwhelmed against the Texas and Iowa State defenses and then OU's offense rolls over the WVU defense for an 0-3 stretch and a 2-5 record heading into the second bye week for the Mountaineers.
After that, it's a road trip to Waco and the Bears find themselves chasing OU and Texas trying to be the team to crash the Big 12 Championship. Baylor gets revenge on their embarrassing 58-14 loss in Morgantown last season and WVU falls to a disappointing 2-6 on the season. Then the season wraps up with rotating home and away games against Texas Tech, Kansas State, Oklahoma State and TCU. If things really spiral with Austin Kendall proving he's not the Power 5 quarterback Brown and company thought he was and the defense doesn't have the horses up front and is desperately missing David Long, then a 1-3 stretch is not out of the question and WVU would be wrapping up a disappointing 3-9 season.
**We now have FREE Big 12 Forums here at Heartland College Sports. Go sign up here and join our conversation! **