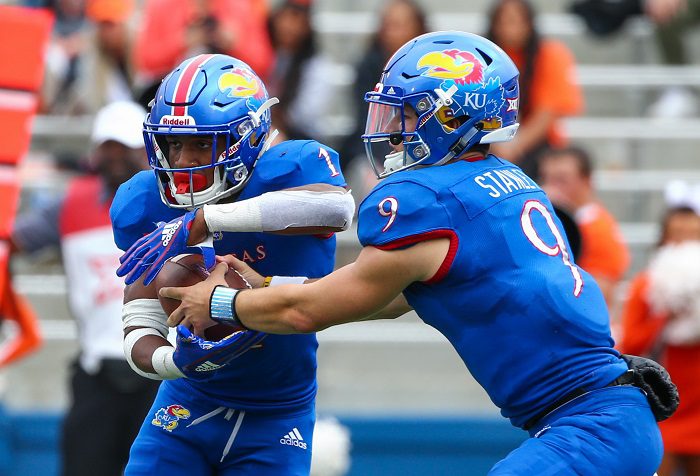 It's that time of year again when we're all sitting around excited for summer, but also trying to peek ahead to get closer to the college football season. There are only 96 days until the first full Saturday of college football, but who's counting, right? Definitely not me.
So, let's get to our best-case and worst-case scenario for each team in the Big 12 Conference. It's the time of year when fans want to look at the schedule and see everything that can go right, but let's be honest, there will be a team that will have the kind of season where everything goes wrong. So, let's go to Lawrence, Kansas and look at the Kansas Jayhawks.
Kansas Jayhawks Best-Case Scenario: 4-8
Welcome to the Les Miles era Kansas fans. In this scenario, Kansas will exceed expectations that are relatively as low as 10-foot hole in the ground but no matter what, Kansas could have their best season in what feels like forever in this dream season. To kick off the 2019 season, the Jayhawks welcome in the Indiana State Sycamores where the legendary NBA Hall of famer Larry Bird played his college ball. But this is football and no matter how many people would like to just skip over Kansas football, we won't do that here. I'll chalk that first game up as a win. Next comes a real nail biter when Coastal Carolina travels to Lawrence but just like the first game, Kansas should not have any true issues here. Maybe the scores are close, but the Jayhawks should start off 2-0 to begin 2019. Then comes by far the toughest test in non-conference play as they take on Boston College on the road. My advice? Go to a Red Sox game instead because Boston College should take care of business there. Now, I could go down game by game but that would be a waste of not only my time, but your time as well.
In Big 12 play, Kansas has only two winnable games no matter what scenario you throw at me. That's when they take on West Virginia at home on September 21st and Kansas State on November 2nd. Both of those programs are in a rebuild mode and both schools have brand new head coaches. Also, Kansas will host both of those schools which should help a little depending on if the stands don't look like a local high school game. But here, Kansas will win both of those games as they finish 4-8. By the way, the last time Kansas finished with four wins or more in a season? Go back all the way to 2009 when they finished 5-7 under Mark Mangino.
Kansas Jayhawks Worst-Case Scenario: 2-10
I know what you are thinking, worst case is two wins? Unless something tragic happens or if Les Miles forgot how to coach (which I suppose is possible), the Jayhawks should have no excuse not to be anything but 2-0 after their first two games against FCS opponents. As for the rest of the games? You already know. There would be no chance in hell they win any other game on the schedule. Again, this is worst case scenario here, but it wouldn't shock me or anybody reading this if the Jayhawks went 2-10.
**We now have FREE Big 12 Forums here at Heartland College Sports. Go sign up here and join our conversation! **