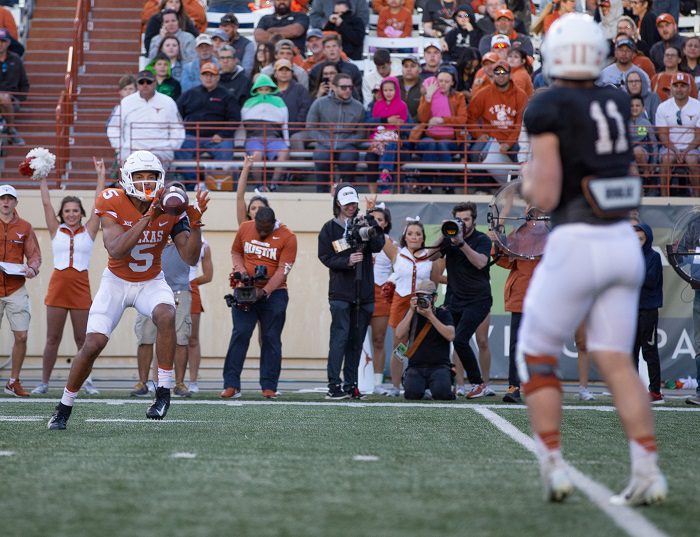 With little to no news in the college football world, fans, media and just about anyone who follows the sport are watching the player transfer portal like a hawk. Seriously, I think there are some people who never stop checking it, and to be honest, I have no idea where the hell this magical portal is. Is it a twenty-foot hole in someone's back yard? Is it like a portal where you can travel back in time? Or possibly even a waterslide at your local water park where people just disappear when they slide down? Who knows? But what I do know is that the so-called portal has found its next victim: The Texas Longhorns. But before you think this is just your average player transferring from one school to another, this is much more than that. This is one of those things that will not only make you scratch your head but the person's sitting next to you as well.
Bru McCoy was ranked as the number one athlete for the 2019 class, according to 247 sports. As the number one ranked athlete, McCoy was obviously a five-star prospect coming out of Mater Dei high school out in Santa Ana, California. Leading up to signing day 2019, he still hadn't quite decided what school he was going to attend, but everyone knew it was going to be either USC or Texas. Before his announcement at the All-American Bowl back in January, the Longhorns seemed to be getting the most buzz around his table when I was talking with other folks in the media. But then came the bombshell for Texas fans. He put on the USC hat and committed to the Trojans. The Longhorns were left at the altar.
When Bru arrived on campus at USC all seemed well, but of course in today's world, coaches come and go at the push of a button. That button just so happened to push when USC Offensive Coordinator Kliff Kingsbury decided to throw out his USC gear and trade it in for some Arizona Cardinals gear. By the way, it is crazy to think that he went from coaching a Texas Tech team that went 5-7 last season to coach an NFL team? But that's neither here nor there right now. After Kliff bolted to the land of many cactus, Bru (who was already on USC's campus) had a change of heart and decided that he wanted to be a Longhorn. I get it, not many people are thrilled about playing for Clay Helton at USC because in all likelihood he is a goner after this season. Anyways, Bru then arrived in Austin and went through all of spring ball with his new team. In fact, there was plenty of buzz surrounding him throughout spring practice, but now, that feels like a lifetime ago.
Why you ask? Because early Monday morning, it was thrown out in the Twittersphere that Bru was thinking about transferring back to USC. Just to cover my own behind here that was first reported by Orange Bloods own Anwar Richardson who says that their Rivals USC site (whatever the hell that site is called) says that "Bru has informed Clay Helton (USC HC) that he intends to leave Texas and return to USC after being assured that there was a scholarship available to him."
Bombshell, mic drop or whatever the hell you want to call it, that was a bit of a gut punch to Texas and once more, they were left at the altar. Now I will say that Texas was waiting on the NCAA to decide on whether or not McCoy would be eligible for the 2019 season, but we all know how great the NCAA is at making foolish decisions. They were probably too busy granting waivers for former five-star quarterbacks.
Now, if you're a guy, imagine marrying a woman and then telling her that you want a divorce and marry someone else. Then you marry that someone else and realize that you made a mistake for breaking up with the first wife to begin with and decide to break up with your current wife (wife number two) and go back to your original wife. That sounds like a true Alabama love story to me, but focus because this is about a potential superstar football player not some crazy redneck love story.
In the end, a kid made his decision that he thinks is best for him. After all, USC was the school close to home for Bru McCoy. Maybe he didn't like Whataburger and all the beef consumption here in Texas and preferred a world where In-N-Out exists on every corner or where there is a vegan option at every restaurant. Who knows? But what I do know is that this young man hasn't played a single down of college football and has now entered the transfer portal twice. At what point does this portal start taking souls and trapping players in the transfer portal for all of eternity? No matter how you feel about Bru's decision, everyone should wish this young man the best no matter where he winds up. In the end though, we need to start looking at the NCAA to begin setting some ground rules for these transfers. If not, just have a free agent frenzy every year. Either way, the NCAA needs to get it together. Also, I wonder what will happen with Bru when Clay Helton gets fired at USC? At least we know he's now an expert on how the transfer portal process works.
**We now have FREE Big 12 Forums here at Heartland College Sports. Go sign up here and join our conversation! **