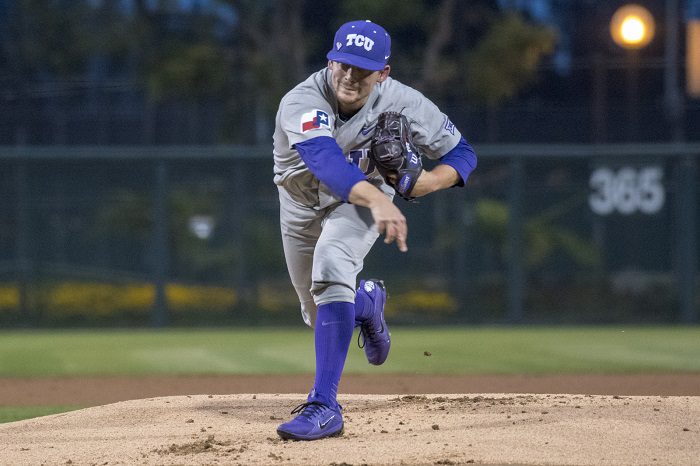 The field has been cut down from 299 to 64. Five of the nine Big 12 teams are in the field of 64. After this weekend, only 16 teams will remain. The winners of each regional, which utilizes a double elimination format, will move on to the Super Regionals. Each of the past five seasons, the Big 12 has been represented in the College World Series. Will the streak continue? Who will advance? The Road to Omaha continues this weekend with the NCAA Regionals.

Fayetteville Regional
*All games will be played at Baum-Walker Stadium
All Times Central
Game 1: (4) Central Connecticut State at (1) Arkansas , 1 p.m. Friday
Game 2: (2) California vs. (3) TCU, 6 p.m. Friday
Game 3: Loser Game 1 vs. Loser Game 2, Noon Saturday
Game 4: Winner Game 1 vs. Winner Game 2, 6 p.m. Saturday
Game 5: Winner Game 3 vs. Loser Game 4, 2 p.m. Sunday
Game 6: Winner Game 4 vs. Winner Game 5, 8 p.m. Sunday
Game 7: If Necessary, Game 6 rematch, 6 p.m. Monday
All games will be streamed on ESPN3
Head Coaches
Arkansas: Dave Van Horn, 17th season (684-381)
California: Mike Neu, 2nd season (65-44)
TCU: Jim Schlossnagle, 15th season (680-321)
Central Connecticut State: Charlie Hickey, 20th season (548-483-5)
This one is up for grabs. Unlike the other four regionals, top seed Arkansas isn't really a heavy favorite. Sure, the Razorbacks are coming off a National Championship appearance where they fell short and remember the pain this year. However, look at the rotation. Two of their pitchers have over a 3.70 ERA. While the Razorbacks lead most of the statistical categories in this regional, they barely edge out Cal and TCU. The Friday night matchup will be a doozy. Nick Lodolo and Jared Horn are primed to become high round draft picks next week. It should be an excellent dual against two teams who can produce plenty of offense. After that, it gets interesting. First off, if TCU wins, does Schlossnagle send Jared Janczak to the mound against Arkansas? Janczak has battle through injuries throughout his career and is having, by far, his worst season. Despite this, he racked up 12 strikeouts in six innings during his most recent outing. During those six innings, he surrenedered two earned runs on four hits and two walks. Sure, that's still not the Janczak will know, love and miss. However, that's an excellent sign that he could provide quality innings during this NCAA Regional and maybe further down the road.
Offensively, Arkansas, Cal and TCU are all in the top 30 nationally for batting average. Not one of them is in the top 20 though. If Cal and TCU pitchers can keep the ball in the park against Arkansas, the Razorbacks likely do not win this regional. If Arkansas can turn this into a slugfest, they win in three games easily. The hogs are No.12 nationally with 78 home runs. The next team in this regional is TCU at No.42 with just 60. Take away the long ball and Arkansas is done for.
It's really a three-team race in this regional. Janczak could be the x-factor. If given the chance after a victory over Cal, I think TCU wins this regional under two conditions: Janczak provides a quality 6-inning start and leaves with the lead.
This regional likely spills into Monday. As for Central Connecticut State, they're 0-10 all-time in regionals and haven't really been competitive in any of them. They aren't a major concern.

Arkansas Players to watch: Heston Kjerstad (.329 avg., 14 home runs, 10 doubles, 5 of 7 stolen base attempts), Casey Martin (.298 avg., 15 home runs, 3 triples, 19 doubles, 10 of 12 stolen base attempts), Jack Kenley (.311 avg., 12 home runs, 4 triples, 8 doubles, 8 of 11 stolen base attempts)
Arkansas Probable Rotation: RHP Connor Noland (2-4, 3.71 ERA, 16 starts), RHP Isaiah Campbell (10-1, 2.37 ERA, 15 starts), LHP Patrick Wicklander (5-2, 4.65 ERA, 13 starts)
California Players to Watch: Andrew Vaughn (.387 avg., 15 home runs, 14 doubles, 49 RBIs, 49 runs), Cameron Eden (.365 avg., 8 home runs, 3 triples, 8 doubles, 19 of 23 stolen base attempts), Korey Lee (.340 avg., 14 home runs, 12 doubles, 56 RBIs, 33 runs)
California Probable Rotation: RHP Jared Horn (6-1, 1.82 ERA, 11 starts), LHP Arman Sabouri (2-2, 2.80 ERA, 16 starts),RHP Sam Stoutenborough (7-4, 4.23 ERA, 4 starts), RHP Grant Holman (3-3, 4.82 ERA, 9 starts)
TCU Players to Watch: Jake Guenther (.346 avg., 9 home runs, 13 doubles, 11 of 11 stolen base attempts), Josh Watson (.335 avg., 10 home runs, 20 doubles, 9 of 13 stolen base attempts), Johnny Rizer (.308 avg., 10 home runs, 2 triples, 16 doubles, 8 of 13 stolen base attempts)
TCU Probable Rotation: LHP Brandon Williamson (4-5, 4.30 ERA, 15 starts), LHP Nick Lodolo (6-5, 2.48 ERA, 15 starts), RHP Charles King (5-3, 3.42 ERA, 8 starts), RHP Jared Janczak (0-3, 5.71 ERA, 9 starts)
CCSU Players to Watch: TT Bowens (.386 avg., 4 home runs, 3 triples, 12 doubles in 29 games since returning from injury), Dave Matthews (.297 avg., 6 home runs, 17 doubles, 38 RBIs, 37 runs), Chandler Debrosse (.282 avg., 2 home runs, 8 doubles)
CCSU Probable Rotation: RHP Tom Curtin (5-3, 3.96 ERA, 14 starts), RHP Brandon Fox (3-5, 3.95, 14 starts), RHP Patrick Mitchell (6-3, 4.56 ERA, 11 starts).
**We now have FREE Big 12 Forums here at Heartland College Sports. Go sign up here and join our conversation! **