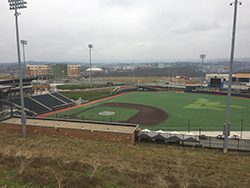 The field has been cut down from 299 to 64. Five of the nine Big 12 teams are in the field of 64. After this weekend, only 16 teams will remain. The winners of each regional, which utilizes a double elimination format, will move on to the Super Regionals. Each of the past five seasons, the Big 12 has been represented in the College World Series. Will the streak continue? Who will advance? The Road to Omaha continues this weekend with the NCAA Regionals.
Morgantown Regional
*All games will be played at Monongalia County Ballpark
Game 1: (2) Texas A&M vs. (3) Duke , 4 p.m. ET Friday
Game 2: (1) Oklahoma State vs. (4) Harvard, 8 p.m. ET Friday
Game 3: Loser Game 1 vs. Loser Game 2, 2 p.m. ET Saturday
Game 4: Winner Game 1 vs. Winner Game 2, 7 p.m. ET Saturday
Game 5: Winner Game 3 vs. Loser Game 4, Noon p.m. ET Sunday
Game 6: Winner Game 4 vs. Winner Game 5, 8 p.m. ET Sunday
Game 7: If Necessary, Game 6 rematch, 4 p.m. ET Monday
All games will be streamed on ESPN3
Head Coaches
West Virginia: Randy Mazey, 7th season (226-174)
Texas A&M: Rob Childress, 14th season (576-304-2)
Duke: Chris Pollard, 7th season (229-171)
Fordham: Kevin Leighton, 8th season (219-223-1)
A program that was on the brink of being dropped altogether is now hosting a regional, thanks to XFL Commissioner Oliver Luck. There is an excellent story about his decision here. It's similar to a fairytale. West Virginia, a program that entered the Big 12 with rags, is now hosting its first regional in the modern day era of college baseball. Of course, the story isn't over yet. There also just so happens to be an antagonist. Every Big 12 fan will be rooting for the Mountaineers if they end up playing former Big 12 member Texas A&M. The Aggies are the ultimate villain, and the selection committee couldn't have placed the villain in a better spot for a fairytale story.
Before West Virginia receives that opportunity, they'll want to take care of business against Fordham first. The alma mater of broadcasting legend Vin Scully hasn't sniffed a regional since 1998. The Rams had to win the Atlantic 10 Championship as a No.4 seed to gain the automatic bid. Now that they're here, their best shot is probably against the Mountaineers. You can bet that John Stankiewicz, a Collegiate Baseball All-American Third Team selection, is going to be the starter Friday night. It is also expected West Virginia will bypass Big 12 Pitcher of the Year Alek Menoah in favor of Jackson Wolf. If Wolf scores the victory against Fordham Friday and Menoah scores a Saturday victory, West Virginia will be in the "catbird's seat". This means they will have two chances to win one game for a spot in the Super Regionals. Even if Kade Strowd doesn't pick up the victory in the first Sunday game, they can still throw a talented Nick Snyder. If Menoah goes Friday, then he'll be considered an insurance policy for a potential Saturday loss. Assuming Menoah would stifle Fordham, a loss Saturday means West Virginia would have to win three games in two days to advance to the Super Regionals.
The Mountaineers definitely have the best offense in this regional. Don't be fooled by Fordham's No.4 national ranking in ERA. They only true test on their schedule was a three-game set at Texas A&M opening weekend. The Rams were outscored 26-7. Although the Aggies have the No.3 spot in ERA, West Virginia's right in the mix at No.23 of 299 teams. Duke has, by far, the worst team ERA with a 4.17 and a No.67 ranking. It shows in their rotation numbers. While the pitching favors the Aggies, the rankings are completely flip-flopped on batting average. Duke is, by far, the best team with a .271 team average and a top-130 ranking. Texas A&M has the second worst average in the regionals at .249. The only team in the field of 64 worse than the Aggies is Sacramento State, who garnered the automatic bid out of the WAC. It might take until extra innings, but the Mountaineers know they have several experienced players who can put the ball in play. When everyone can pitch well, offense is the name of the game. When everyone has quality pitching, it comes down to the best defense and who can score the most. Duke's weakness is pitching and defense. They'll likely be out in three games if they beat Fordham. Texas A&M's weakness is hitting. West Virginia has the best fielding percentage, the second best offense and home-field advantage. Look for an amped up Mountaineers crowd to be celebrating the program's first ever Super Regionals berth.

West Virginia Players to watch: Tyler Doanes (.318 avg., 5 home runs, 3 triples, 20 doubles, 18 of 24 stolen base attempts), Darius Hill (.304 avg., 6 home runs, 3 triples, 23 doubles, 3 of 3 stolen base attempts), Ivan Gonzalez (.286 avg., 3 home runs, 12 doubles, 5 of 10 stolen base attempts)
West Virginia Probable Rotation: LHP Jackson Wolf (2-4, 5.17 ERA, 13 starts), RHP Alek Menoah (9-3, 1.85 ERA, 15 starts), RHP Kade Strowd (5-6, 4.97 ERA, 15 starts)
Texas A&M Players to Watch: Braden Shewmake (.315 avg., 6 home runs, 4 triples, 14 doubles, 7 of 9 stolen base attempts), Bryce Blaum (.275 avg., 7 home runs, 2 triples, 5 doubles, 14 of 16 stolen base attempts), Logan Foster (.263 avg., 4 home runs, 1 triple, 9 doubles, 3 of 3 stolen bases)
Texas A&M Probable Rotation: LHP John Doxakis (7-3, 1.84 ERA, 15 starts), LHP Asa Lacy (7-4, 2.20 ERA, 14 starts), LHP Chris Weber (4-1, 2.95 ERA, 8 starts)
Duke Players to Watch: Kennie Taylor (.333 avg., 6 home runs, 5 triples, 18 doubles, 10 of 11 stolen base attempts), Chase Cheek (.293 avg., 3 triples, 11 doubles, 20 of 23 stolen base attempts), Michael Rothenberg (.260 avg., 10 home runs, 8 doubles, 49 RBIs)
Duke Probable Rotation: RHP Ben Gross (6-4, 4.41 ERA, 11 starts), LHP Bill Chillari (2-3, 4.96 ERA, 14 starts), RHP Bryce Jarvis (4-1, 4.60 ERA, 9 starts)
Fordham Players to Watch: Jake MacKenzie (.313 avg., 3 home runs, 6 triples, 15 doubles, 43 of 50 stolen base attempts), Alvin Melendez (.275 avg., 5 home runs, 2 triples, 10 doubles, 35 of 41 stolen base attempts), Jason Coules (.281 avg., 2 home runs, 10 doubles, 15 of 22 stolen base attempts)
Fordham Probable Rotation: LHP Matt Mikulski (6-6, 4.00 ERA, 14 starts), RHP John Stankiewicz (8-3, 1.21 ERA, 12 starts), RHP Anthony DiMeglio (6-3, 2.61 ERA, 12 starts).
**We now have FREE Big 12 Forums here at Heartland College Sports. Go sign up here and join our conversation! **