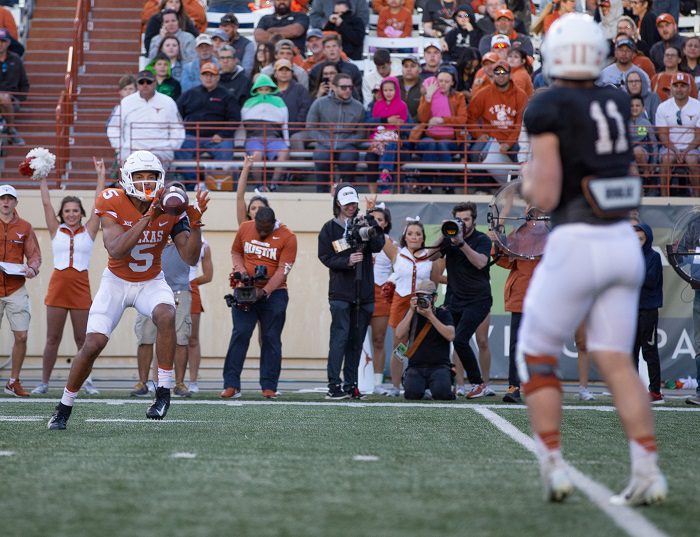 A few days ago, I wrote about the whole Bru McCoy situation going on between Texas and USC. Just to get you up to speed on the whole thing, go back and read it here. Now that you are all caught up (Trust me I know it is a lot to take in) there apparently have been a few things that have happened between now and then.
On Wednesday night it was reported that Texas head coach Tom Herman, wide receiver coach Drew Mehringer, Kevin Washington (Director of player of player development) and starting quarterback Sam Ehlinger made the trip out to California to meet with Bru and his family. Of course Tom and the rest of the staff wanted Sam to come along to help change his mind (Again) to stay in Austin and with them all making that trip out to the west coast, it is clear just how highly they think of Bru McCoy as a player. It does make me wonder if they used a private jet or flew commercial?
Fast forward to Thursday night and it has been reported by Adam Maya of the USC Rivals site that Bru will enter the transfer portal and return to USC. He claims that the reason why nobody has made it "official" yet it because it takes a little time to be entered in the portal. Again, who knows where this magical portal is and how one enters it. Maybe you call one of the idiots, I mean NCAA employees, to get your name one there or maybe you toss a few coins in a wishing well and hope for the best.
At the end of the day, I think I am just about ready for this whole saga to end. This feels like one of those corny soap operas you see on TV that have been going on for decades. Do people still watch those by the way? Anyways, this whole situation has been a mess and I am sure there are plenty of people (including Bru) that are ready for this story to be put to bed. Then again McCoy could transfer again when USC head coach Clay Helton gets fired but at that point, he won't be a headline on this website.
As this soap opera continues to unfold, there have been some current Texas players who have come out and had some choice words about what is currently going on. Texas safety Caden Sterns said, "This program ain't for everybody" which is putting it nicely compared to what Texas defensive tackle Keondre Coburn had to say which was "We don't kiss nobody's ass." Seriously, who can blame for some of the Texas players for coming out and saying things like this? At the end of the day, while McCoy may be the next superstar, transfer portal expert, whatever, this kid hasn't played a single down of college football. This seems like a lot of work to get someone to buy back into what you are selling after they already bought it and decided to return it after a couple months.
Whether the report or not is 100% accurate, let's face it there is no chance in hell that Bru McCoy is coming back to Texas after this. No way, no how. At the end of the day, I wish the best for him, but if Texas must try and change his mind to comeback, then maybe it is best for him to go elsewhere or somewhere you have already transferred out of. Also, how crazy would it be for him to transfer back to Texas after 2019 season? The internet would explode, and I would be here for it. But I truly doubt that would happen, although I wouldn't be surprised one bit if I saw Bru in the transfer portal once again before his college career is over. Maybe I am wrong, but we have no clue what teenagers are going to do. One minute they like something and the next moment they hate it. We have all been there.
**We now have FREE Big 12 Forums here at Heartland College Sports. Go sign up here and join our conversation! **