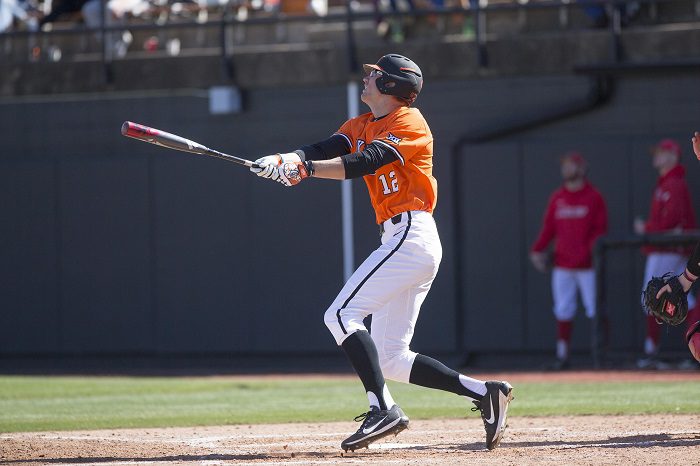 Saturday did not treat the Big 12 Conference well. Despite finishing 3-2 overall and keeping all five Big 12 teams alive, two key losses took place. What may have been a TCU victory was taken away with one costly error. You can read more about, perhaps the biggest error in the regionals so far, more below.
West Virginia dominated Duke in a few key statistics, but could not score a run to save its life. Thus, three Big 12 teams are facing elimination today. That includes one of the hosts.
Baylor walloped Omaha with a 24-6 beatdown. Shea Langeliers blasted three home runs over a Mavericks team that was completely outmatched. Congratulations, Baylor! You now play the No.1 team in the nation to avoid elimination.
On a positive note, Texas Tech and Oklahoma State are on a collision course to meet in the Super Regionals. Both teams are in the catbird's seat after starting their regionals 2-0. They have two chances to win one game. Their opponent will have already played one game on Sunday. This is why those first two games are so crucial. At least 16 teams are packing their bags today. It's possible that up to 31 teams can see their season come to an end today. Plenty of baseball will be on tap during a bloody Sunday.

Baylor 24 Omaha 6
The Baylor offense came out of hibernation Saturday and woke up like a pack of angry bears. Shea Langeliers finished 5-for-6 with three home runs and a double. He was a triple away from the cycle. He also produced a school-record 11 RBIs in the game. Up 14-4, Baylor's offense erupted for seven runs in the seventh inning. Baylor starter Paul Dickens allowed six earned runs, but he left the game with a 21-6 lead after 6.2 innings. Hayden Kettler finished out the game with 2.1 shutout innings. Omaha is now eliminated. Baylor needs three more consecutive victories to advance to the Super Regionals, including two Sunday.
Next up: at No.1 UCLA 2 p.m. Central
At Stake: The loser is eliminated. The winner plays Loyola Marymount in the Regional Finals
A Loyola Marymount win: The Lions advance to the Super Regionals
A UCLA/Baylor win: Winner take all Game 7 scheduled Monday

No.8 Texas Tech 3 Dallas Baptist 2
Josh Jung singled to start off the top of the second inning. Cameron Warren walked up to the plate and blasted a two-run shot to left field. After that, Tech managed to draw two walks. Braxton Fulford came to the plate with one out and produced an RBI single to bring in Cole Stilwell. The Red Raiders failed to score the rest of the game, but those three runs in the second inning were enough to capture the victory. The Patriots outhit the Red Raiders 7-6. Tech also committed two errors compared to DBU's one. Taylor Floyd tossed 4.1 innings of relief, picking up the win. He struck out five while surrendering just one walk and two hit batters. Tech is now in the catbird's seat. They will have two chances to win one game.
Next up: vs. Dallas Baptist/Florida winner 8 p.m. Central
A Texas Tech win: The Red Raiders advance to the Super Regionals
A Dallas Baptist/Florida win: Winner take all Game 7 scheduled Monday

No.9 Oklahoma State 6 Nebraska 5
It's the type of stuff every little boy dreams about. With two outs in the top of the ninth, Trevor Boone blasted a three-run shot over the wall to give Oklahoma State the lead. The Cowboys trailed Nebraska all game long, starting a 5-0 deficit after three innings. Now Oklahoma State has two chances to win one game, thanks to Boone's clutch performance.
He wouldn't have been in that position without Jake Lyons though. Lyons took over on the mound after two innings. After a shaky start to Lyons' time on the mound, he settled right in. Lyons tossed six innings of relief, racking up six strikeouts. After allowing two earned runs on two hits and a walk, Lyons surrendered just one hit the rest of game. After Boone's three-run jack, Ben Leeper shut the door on Nebraska with a perfect inning.
Next up: vs. Nebraska/UConn winner 7 p.m. Central
An Oklahoma State win: The Cowboys advance to the Super Regionals
A Nebraska/UConn win: Wnner take all Game 7 scheduled for Monday

Duke 4 No. 15 West Virginia 0
The Mountaineers outhit Duke 6-4 and Alek Menoah struck out nine Blue Devils in six innings. Those statistics typically reflect a victory, but that was not the case Saturday. All six Mountaineers runners were stranded on the base paths. Darius Hill finished the night 3-for-3, but could not reach home plate. In the first inning, he was stranded on third base. Duke came up and scored two runs on a double and triple with one out. Hill would reach third base again in the sixth inning after a double and a passed ball. There was just one out, but Duke starter Bryce Jarvis struck out the next two batters, retiring the side. Jarvis finished with 11 strikeouts over eight shutout innings. He surrendered just one walk, and it was provided to Darius Hill. Thomas Girard came in and struck out two West Virginia batters to seal the victory for Duke. West Virginia must now win three consecutive games. The first will have to come against Texas A&M. If the Mountaineers beat the Aggies, they will have to beat Duke twice to win the regional.
Next up: vs. Texas A&M Noon Eastern
At Stake: The loser is eliminated. The winner plays Duke in the Regional Finals
A Duke win: The Blue Devils advance to the Super Regionals
A Texas A&M/West Virginia win:  Winner take all Game 7 scheduled Monday
No.5 Arkansas 3 TCU 1
In the top of the sixth, Arkansas slugger Heston Kjerstad started off the inning with a single. With Nick Lodolo up to 93 pitches through five innings, TCU manager Jim Schlossnagle replaced him with Haylen Green. On a 2-2 count, Green fielded the ball. He tossed it to second base and recorded the out. After further review, it was determined that Adam Oviedo did not control the baseball and was given an error. Arkansas would produce three more hits in the inning to score three runs. What could have been two outs with the bases empty turned into two runners on with no one out.
The Razorbacks outhit TCU 9-3. Arkansas starter Isaiah Campbell tossed a gem. He struck out eight Horned Frogs in eight innings, allowing one earned run on one walk and four hits.
TCU's only run came in the seventh on a Zach Humphreys sacrifice fly to score Austin Henry. TCU must now win three consecutive games, including two against Arkansas to advance.
Next up: vs. Central Connecticut State 2 p.m. Central
At Stake: The loser is eliminated. The winner plays Arkansas in the Regional Finals
An Arkansas win: The Razorbacks advance to the Super Regionals
A TCU/CCSU win: Winner take all Game 7 scheduled Monday
Conference Records
Mountain West: 2-0
West Coast: 2-0
Big South: 1-0
MAAC: 1-0
SEC: 16-4 (.800)
Big 12: 7-3 (.700)
ACC: 10-5 (.667)
Missouri Valley: 4-2 (.667)
Big Ten: 5-5
Conference USA: 2-2
Atlantic Sun: 1-1
Big East: 1-1
Mid-American: 1-1
Northeast: 1-1
Ohio Valley: 1-1
Sun Belt: 1-1
WAC: 1-1
American: 2-3 (.400)
Pac 12: 3-7 (.300)
America East: 0-2
Atlantic 10: 0-2
Big West: 0-2
CAA: 0-2
Horizon League: 0-2
Ivy League: 0-2
MEAC: 0-2
Patriot League: 0-2
Southern: 0-2
Southland: 0-2
Summit League: 0-2
SWAC: 0-2
**We now have FREE Big 12 Forums here at Heartland College Sports. Go sign up here and join our conversation! **