Big 12 Previews
2019 Super Regionals Game 2 Preview: Oklahoma State at Texas Tech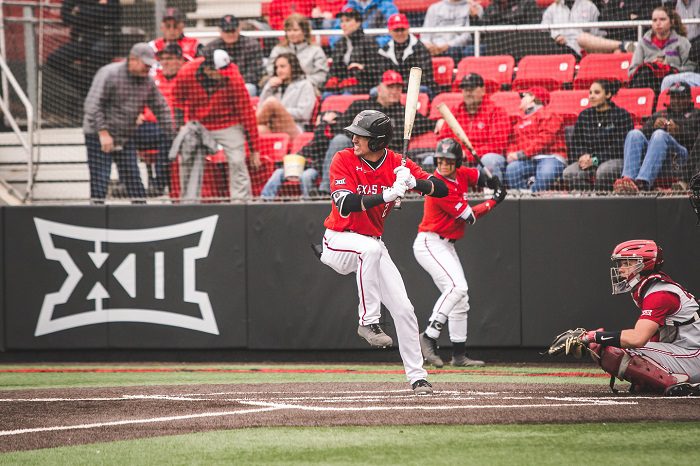 No.9 Oklahoma State (39-20) at No.8 Texas Tech (43-17)
Super Regionals Game 2, 5 p.m.
Rip Griffin Park at Dan Law Field, Lubbock, Texas
Television: ESPNU
Oklahoma State Radio: KSPI 93.7 FM in Stillwater (Found on TuneIn Radio app)
Texas Tech Radio: Texas Tech Sports Network (Found on TuneIn Radio app and 97.3 FM in Lubbock)
Head Coaches
Oklahoma State: Josh Holliday (245-139-1 in 6 seasons)
Texas Tech: Tim Tadlock (282-149 in 7 seasons)
Probables
Oklahoma State: So. LHP Parker Scott: 3-1, 2.06 ERA, 39.1 IP, 46 K, 12 BB
Texas Tech: Jr. RHP Caleb Killian: 8-3, 3.89 ERA, 83.1 IP, 72 K, 18 BB
Texas Tech took advantage of mistakes early, but not often. This almost cost the Red Raiders a game one victory, but Tech prevailed 8-6 Friday afternoon to take the first game of the Super Regionals. The situation is real simple now. If Tech wins, they go to Omaha. If Oklahoma State wins, the rubber match is Sunday.
Oklahoma State starting pitcher Jensen Elliott got into trouble early. With two outs and a runner on second during the second inning, he walked two Tech batters to load the bases. Dylan Neuse made Elliott pay, bringing in two runs on a single. After a walk to Brian Klein, Elliott faced Josh Jung, a junior picked eighth overall in this week's MLB First-Year Player Draft. Elliott played with fire, but he was able to force Jung to pop out. The next inning, Cody Masters belted one out of the park. By the fourth inning, Elliott's defense collapsed and Tech had taken advantage of a 6-2 lead. It was only 6-2 because the Tech defense committed their own error.
A lot of the scoring that took place Saturday was through mistakes. Defense was at a premium as the two teams combined for three errors and the offense produced 20 total hits. The difference in the game was simply command. Elliott gave up more walks than all four Tech pitchers combined. The Oklahoma State bullpen did not surrender a walk and allowed the Cowboys to climb back into the game.
The pokes scratched their way backstarting with an Alix Garcia home run in the fifth. Four singles and a walk in the seventh placed the Cowboys within one run.
Tech would add two more runs while Oklahoma State added another before John McMillon recorded the save.
With the loss, Oklahoma State has its back against the wall. They must win Saturday to force a game three Sunday. The pokes haven't been to the College World Series since 2016. Meanwhile, Tech has never been eliminated from the Super Regionals and are now one victory away from their fourth Omaha trip in program history, all coming since 2014.
**We now have FREE Big 12 Forums here at Heartland College Sports. Go sign up here and join our conversation! **