Uncategorized
Ranking 2019 Big 12 Non-Conference Games, No. 8: Texas Tech at Arizona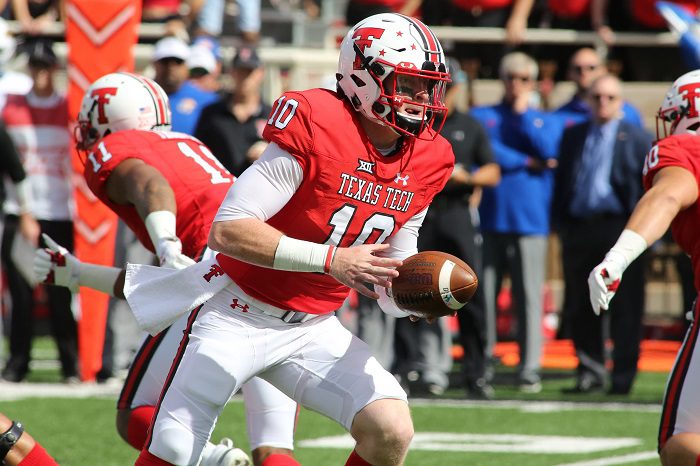 Over the coming days, we will have some fun ranking the top 10 non-conference games in the 2019 Big 12 football season. Of course, there was plenty of debate, but this list was compiled by HCS writers Pete Mundo and Derek Duke. Some we agreed on, others we didn't, and we simply averaged out our differences to find the top 10 games in September that Big 12 fans will have a chance to start anticipating as the college football season (finally!) approaches.
Previously ranked

No. 10: Kansas at Boston College
No. 9: Oklahoma at UCLA
No. 8: Texas Tech Red Raiders at Arizona Wildcats
This game almost made the No. 7 spot, but it was edged out for the simple reason that it's a road game for the Big 12. Anyway, this one could be a shootout where the over/under should probably be in the triple digits.
This game will be the first challenge for new head coach Matt Wells. His team is expected to be 2-0 heading into this road match up as the Red Raiders open the season against Montana State and UTEP, with both at home. However, before kicking off conference play in Norman, they take on Kevin Sumlin and the Wildcats, who will be led by QB Khalil Tate. Tate had himself an outstanding 2017 campaign, but he did not live up to the hype in 2018, largely hampered by an ankle injury. There is some uncertainty at wide out for the Wildcats, but you know in this offense, Sumlin will have them putting up points.
For Matt Wells, we will get a closer look at what he has planned defensively, in terms of scheme, and talent, in this game. Studs such as Tate, WR Cedric Peterson and RB J.J. Taylor are the kind of playmakers Tech will be seeing every weekend in the Big 12, so how they stack up early in the season will give us some insight into the Red Raiders defense and whether or not they'll have to outscore opponents to win every week.
Offensively, Alan Bowman gets his first test under a new staff against legitimate competition. Arizona's defensive strength is at linebacker, while there is also good experience in the secondary. Is Bowman comfortable in his new system? We'll get a glimpse into that and much more in mid-September in the desert.
**We now have FREE Big 12 Forums here at Heartland College Sports. Go sign up here and join our conversation! **