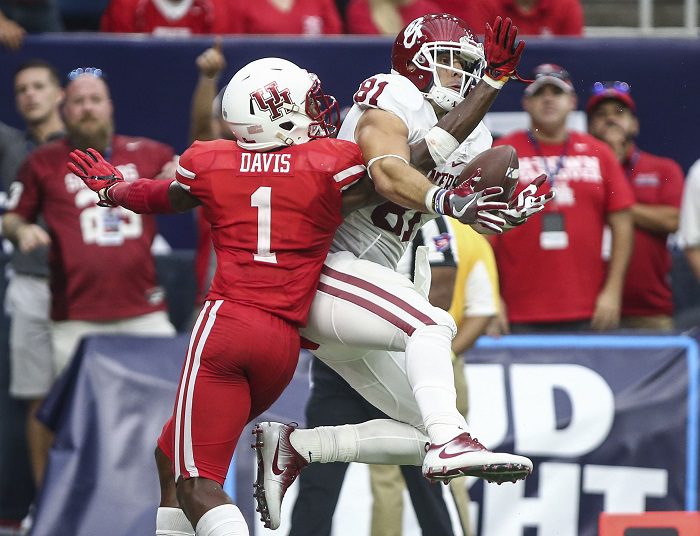 Over the coming days, we will have some fun ranking the top 10 non-conference games in the 2019 Big 12 football season. Of course, there was plenty of debate, but this list was compiled by HCS writers Pete Mundo and Derek Duke. Some we agreed on, others we didn't, and we simply averaged out our differences to find the top 10 games in September that Big 12 fans will have a chance to start anticipating as the college football season (finally!) approaches.
Previously ranked
No. 10: Kansas at Boston College
No. 9: Oklahoma at UCLA
No. 8: Texas Tech at Arizona
No. 7: West Virginia vs. NC State
No. 6: Oklahoma Sooners vs. Houston Cougars
This game was probably already set to be in the Top 10, but it jumped up a couple spots when former West Virginia head coach Dana Holgorsen skipped town to join the Cougars as their next head coach. Holgorsen said he enjoyed his time in Morgantown, but admitted Houston felt a little bit more like home to him after spending years as an assistant there and recruiting the area heavily while in the Big 12. Plus, there were some insinuations that he didn't think WVU could compete for Big 12 titles. Well it doesn't help that Holgorsen went 0-7 against Oklahoma during his WVU tenure, with double-digit losses in four of those seven games. So what a coincidence that Holgorsen's first game with his new AAC team is against a Big 12 foe?
Of course there's the storyline from 2016 that feels like a lifetime ago, when Houston, who was led by now-Texas coach Tom Herman, upset OU 33-23. By the way, Bob Stoops was still the coach of the Oklahoma Sooners, which also makes this game feel like it was much longer ago than it really was.
Also adding intrigue to this game is that it's a Sunday night (Labor Day Weekend) match up in prime time and it'll be our first look at Jalen Hurts (most likely) running the OU offense under Lincoln Riley. Can he start off the season with a Heisman-like performance? The pressure is on after Baker Mayfield and Kyler Murray. For Houston, the offense is expected to be electric, led by quarterback D'Eriq King, but as good as that side of the ball will be, the defense could be that bad. Lots of points on Labor Day Weekend, Dana Holgorsen vs. the Big 12, prime time… there's plenty to like about this game.
**We now have FREE Big 12 Forums here at Heartland College Sports. Go sign up here and join our conversation! **