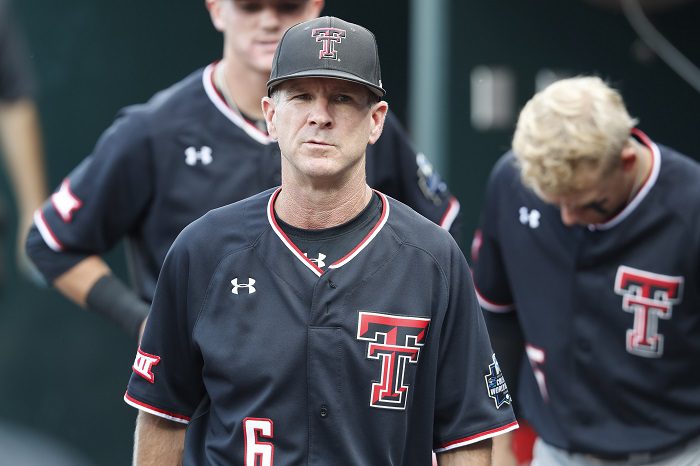 No.8 Texas Tech (45-19) vs. Michigan (48-20)
College World Series
Bracket 1 Final Game 1, 1 p.m. CT
Elimination Game for Texas Tech
TD Ameritrade Park, Omaha, Nebraska
Television: ESPN
Texas Tech Radio: Texas Tech Sports Network
Head Coaches
Michigan: Erik Bekich (257-160-1 in 7 seasons)
Texas Tech: Tim Tadlock (284-151 in 7 seasons)
Pitcher Usage
Michigan
*Denotes pitched in most recent game
**Denotes pitched in two games
***Denotes pitched in all three games
*Tommy Henry: 1 complete game shutout, 9.0 IP, 3 H, 0 R, 0 ER, 0 BB, 10 K, 30 AB, 32 BF, 100 pitches
Karl Kauffman: 7.0 IP, 8 H, 3 R, 3 ER, 0 BB, 3 K, 29 AB, 29 BF, 101 pitches
Jeff Criswell: 2.0 IP, 1 H, 0 R, 0 ER, 2 BB, 4 K, 7 AB, 9 BF, 37 pitches

Texas Tech
Caleb Killian: 7.0 IP, 6 H, 3 R, 3 ER, 1 BB, 9 K, 28 AB, 29 BF, 105 pitches
***Taylor Floyd: 6.0 IP, 3 H, 0 R, 0 ER, 4 BB, 9 K, 19 AB, 23 BF, 98 pitches
*Bryce Bonnin: 5.0 IP, 2 H, 1 R, 0 ER, 4 BB, 7 K, 16 AB, 22 BF, 97 pitches
Micah Dallas: 3.0 IP, 6 H, 4 R, 3 ER, 1 BB, 2 K, 13 AB, 15 BF, 61 pitches
**John McMillon: 2.0 IP, 0 H, 1 R, 0 ER, 1 BB, 1 K, 7 AB, 9 BF, 34 pitches
**Dane Haveman: 2.0 IP, 1 H, 1 R, 1 ER, 1 BB, 1 K, 6 AB, 8 BF, 34 pitches
Connor Queen: 2.0 IP, 1 H, 0 R, 0 ER, 2 BB, 3 K, 7 AB, 10 BF, 41 pitches

MLB Draft Picks
Josh Jung, 3B, Texas Tech, 1st round, 8th overall pick, Texas Rangers
Tommy Henry, LHP, Michigan, Compensatory Pick Round B, 74th overall pick, Arizona Diamondbacks
Karl Kauffman, RHP, Michigan, Compensatory Pick Round B, 77th overall pick, Colorado Rockies
Jordan Brewer, CF, Michigan, 3rd round, 106th overall pick, Houston Astros
Gabe Holt, CF, Texas Tech, 7th round, 223rd overall pick, Milwaukee Brewers
Caleb Killian, P, Texas Tech, 8th round, 236th overall pick, San Francisco Giants
Taylor Floyd, P, Texas Tech, 10th round, 313th overall pick, Milwaukee Brewers
John McMillon, OF, Texas Tech, 11th round, 322nd overall pick, Detroit Tigers
Caleb Freeman, P, Texas Tech, 15th round, 440th overall pick, Chicago White Sox
Jack Wetsenburger, RHP, Michigan, 20th round, 614th overall pick, Oakland Athletics
Cameron Warren, 1B, Texas Tech, 22nd round, 654th overall pick, Cincinnati Reds
Preview
We're down to four teams. Either Texas Tech or Michigan will advance to the National Championship Series starting Monday. For Michigan, their ticket could be punched Friday. The Wolverines are in the "catbird's seat". They started the College World Series 2-0 and have earned the right to be in a spot where they can drop a game. Texas Tech must win Friday just to force a decisive game Saturday. The Red Raiders will have to claim two victories in a row against a team who defeated them in the first game at Omaha.
Michigan claimed their first ever victory over Texas Tech in a complete shocker Saturday. Karl Kauffman gained revenge for his previous outing against the Red Raiders. After being blasted for five runs in a single inning during a March start in Lubbock, Kauffman tossed seven innings to lead Michigan past Tech 5-3 in Omaha. Still, the Red Raiders showed a vulnerable Kauffman side. Tech managed to tag Kauffman for three earned runs on eight hits. Kauffman managed just three strikeouts. Jeff Criswell struck out four Tech hitters in his two innings for the save.
What really hurt Tech was the subpar start by Micah Dallas. The freshman lasted just three innings after giving up four runs on six hits and a walk. Tim Tadlock went deep into his bullpen pulling four relief pitchers on the mound.
Another major blow to Tech during the first game was the absence of leadoff hitter Gabe Holt, who returned for the 4-1 victory over Florida State. Despite going just 1-for-5 against the Seminoles, Holt's presence in the lineup provides Tech a boost.
Tech has scored at least three runs in every game. Brian Klein is the hottest hitter on the roster, producing hits in all three games at Omaha and belting two home runs. One of those was a two-run shot off Kauffman.
For Michigan, pay close attention to Jesse Franklin. He's 3-for-16 against Tech pitching, but has hit two home runs against the Red Raiders. Blake Nelson is hitting .357 against the Tech staff.
Texas Tech has not named a starter for this game. According to Michigan's game notes, Karl Kauffman will take the mound Friday night.
**We now have FREE Big 12 Forums here at Heartland College Sports. Go sign up here and join our conversation! **