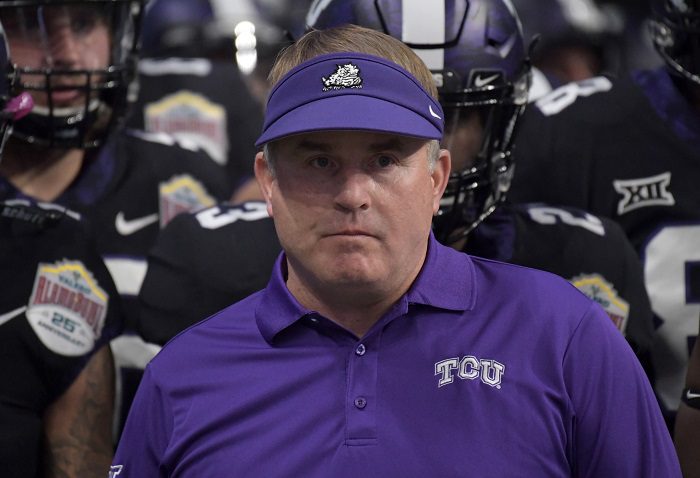 Over the coming days, we will have some fun ranking the top 10 non-conference games in the 2019 Big 12 football season. Of course, there was plenty of debate, but this list was compiled by HCS writers Pete Mundo and Derek Duke. Some we agreed on, others we didn't, and we simply averaged out our differences to find the top 10 games in September that Big 12 fans will have a chance to start anticipating as the college football season (finally!) approaches.
Previously Ranked
No. 10: Kansas at Boston College
No. 9: Oklahoma at UCLA
No. 8: Texas Tech at Arizona
No. 7: West Virginia vs. NC State
No. 6: Oklahoma vs. Houston
No. 5: West Virginia at Missouri
No. 4: Kansas State at Mississippi State
No. 3: TCU Horned Frogs at Purdue Boilermakers
Purdue football is no longer the joke it used to be. The program has begun to turn things around under Jeff Brohm, who has become a target for bigger programs across the country. They're only 13-13 the past two years, but last season included three wins over ranked opponents, including the 49-20 thrashing of the Ohio State Buckeyes. Brohm earned himself a massive seven-year contract worth almost $37 million. That makes Brohm the third-highest paid coach in the Big 10, which is unheard of at a place like Purdue.
Meantime, TCU has competed for Big 12 Championships as recently as 2017, and is trying to get back to that level after being decimated in 2018 by the injury bug, but still getting to, and winning, a bowl game in the process.
The Horned Frogs have a cake walk opener against Arkansas Pine-Bluff before an off week and then the trip to Purdue. Who's the quarterback at this point? Alex Delton? Justin Rogers? Other? Regardless, it'll be the first look at whoever the TCU QB is against a solid Power 5 opponent.
Also, with Gary Patterson being a defensive guru, he'll have a great test against the Purdue offense who will be led by a new face in Elijah Sindelar, but who comes in with a ton of hype, along with stud playmaker Rondale Moore, who was a consensus All-American last year as a true freshman.
There are tons of storylines for both teams heading into this game. Purdue is trying to be the surprise team in the Big Ten West, while TCU is trying to get back to the top of the standings in the Big 12. One fan base will find their goals more believable and achievable than the other after this one wraps up.
**We now have FREE Big 12 Forums here at Heartland College Sports. Go sign up here and join our conversation! **