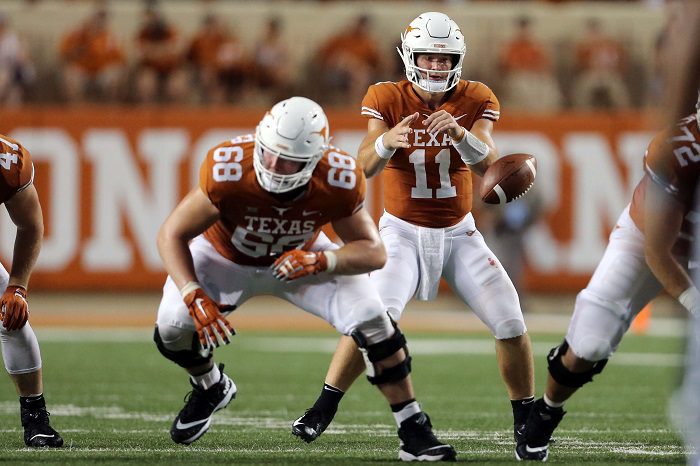 Over the coming days, we will have some fun ranking the top 10 non-conference games in the 2019 Big 12 football season. Of course, there was plenty of debate, but this list was compiled by HCS writers Pete Mundo and Derek Duke. Some we agreed on, others we didn't, and we simply averaged out our differences to find the top 10 games in September that Big 12 fans will have a chance to start anticipating as the college football season (finally!) approaches.
Previously Ranked
No. 10: Kansas at Boston College
No. 9: Oklahoma at UCLA
No. 8: Texas Tech at Arizona
No. 7: West Virginia vs. NC State
No. 6: Oklahoma vs. Houston
No. 5: West Virginia at Missouri
No. 4: Kansas State at Mississippi State
No. 3: TCU at Purdue
No. 2: Iowa State vs. Iowa
No. 1: Texas Longhorns vs. LSU Tigers
This is going to be an awesome scene for folks in Austin, Texas. Two of the blueblood programs in the sport, both likely highly ranked, and trying to win a conference championship.
This game will feature two upperclassmen at quarterback in Texas' Sam Ehlinger and LSU's Joe Burrow. It will be everyone's first real look at LSU's new offense under Joe Brady, who was hired from the New Orleans Saints to be the program's passing game coordinator and usher in the run-pass option offense. LSU also returns seven starters on offense, but the team's new running back, John Emery Jr., the nation's No. 2-ranked running back prospect, will get his first real test.
For Texas, Ehlinger is in the early mix in Las Vegas for Heisman contention, and if he has a big showing in primetime against a likely top 10 opponent, the hype train will pick up. But there are concerns here as Ehlinger has to learn behind a brand new offensive line, who will have its hands full facing what is traditionally one of the best defensive lines in the country. Also, the Longhorns need to work in nine new starters on defense and coordinator Todd Orlando won't have much film to go off of with how the Tigers are revamping their offense.
Regardless, this is the type of early-season win that can propel any team to major success and can crush the dreams and spirits of another. It could also end up as the best non-conference game in the country in 2019.
**We now have FREE Big 12 Forums here at Heartland College Sports. Go sign up here and join our conversation! **