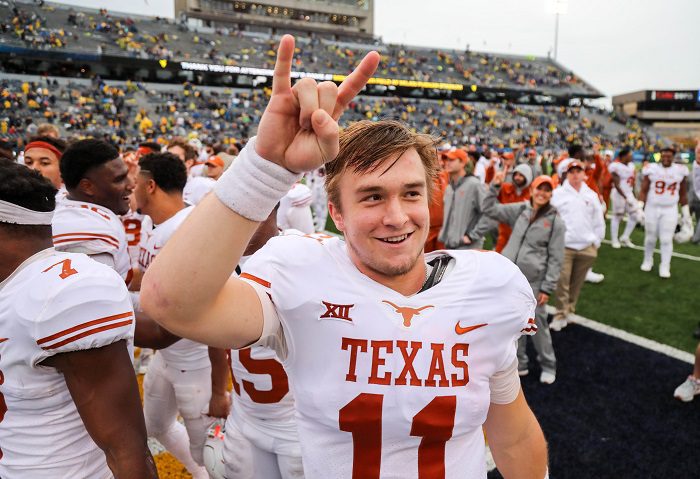 Hopefully by now you have seen the video on Twitter, Facebook or any social media for that matter. Now, I think most of us would agree that Terry Bradshaw was a solid quarterback for the Pittsburgh Steelers as he won four Super Bowls and even won an MVP award back in 1978. Now this was all before I was even born, but still, Terry Bradshaw is someone you hear about when people talk about those great Steeler teams back in the seventies. Well, unfortunately we aren't going to talk about any of that. Instead we are going to talk about a seventy-year-old Terry Bradshaw ripping current Texas quarterback Sam Ehlinger for apparently no reason whatsoever. I don't know who took the video but CBS sports director in Austin, Bob Ballou posted it and that is where I saw. I am not sure if a question was asked but Terry Bradshaw was doing a press conference, I assume back at his alma matter, Louisiana Tech. Well, it just so happens that his Louisiana Tech Bulldogs open the season with the Texas Longhorns on August 31st.
Terry Bradshaw, shots fired.

On Texas QB Sam Ehlinger:

"He ain't that good."

(*By 5-A he means 5-star) pic.twitter.com/ZNkU8fU7dA

— Bob Ballou (@BobBallouSports) June 27, 2019
Boy oh boy, I don't even know where to start with all this. First thing, what in the hell is Terry wearing in that video? He has a huge button-down shirt with suspenders, and I am going to assume that he is in a barrel because after listening to him talk, he sounded like a rodeo clown to me. I truly think that he is doing his best "Boss Hogg" impression but maybe that's just me. As for his actual "Pep talk", I have no idea what he is trying to say here besides that "He can't throw the football", when talking about Texas quarterbacks. He mentions that Texas signs "Three Five-A quarterbacks" and that "Two are now gone." But the cherry on top (which Bradshaw has probably eaten) was when he said "He ain't that good." Now my first impression was that he was talking about Texas A&M back when they had Trevor Knight, Kyler Murray and Kyle Allen. All three transferred out back in late 2015, early 2016. But clearly, Bradshaw is talking about Texas as he starts off saying "I never understand why players want to go and stack up at Texas?" Well, Terry that's because players are trying to win conference championships and national championships.
To me, something that nobody is talking about is Terry Bradshaw's college career at Louisiana Tech from the 1966-1969 seasons. You want to rip quarterbacks in college? He should be ripping himself because during his time at Louisiana Tech, Terry threw 42 interceptions compared to 39 touchdown passes. He had a completion percentage of just 52.5% and had an overall record of 21-20. You want to talk about college quarterbacks who can't throw the football? Look in the mirror. By no means was Terry Bradshaw a great college quarterback. You want to talk about his NFL career, fine but ripping college quarterbacks? C'mon Terry, you are better than that.
Before I let you go, I want to throw out Sam Ehlinger's stats here last season. Sam threw for 25 touchdowns and just 5 interceptions last season along with completing 64.7% of his passes. He also rushed for 482 yards and 16 touchdowns as well. Regardless of what color jersey he is wearing, he is a good quarterback and without a doubt is a top ten quarterback in the country heading into 2019. Look at the improvement he has made from the 2017 season to the 2018 season. The numbers speak for themselves. I feel like in today's world of media, there are way too many fan boys focused on the color of the jersey because their school colors blind them to the point where they don't realize a good player when they see one. There's a difference between a good media person and a fan boy with a credential. Hopefully you know that difference too. 
**We now have FREE Big 12 Forums here at Heartland College Sports. Go sign up here and join our conversation! **