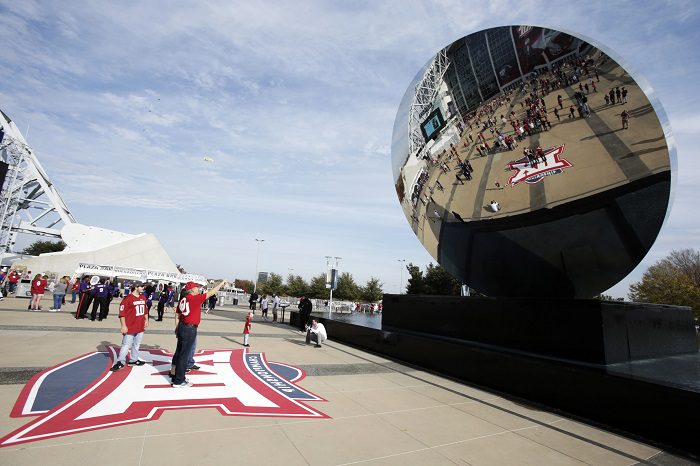 It's the time of year when we're all dreaming about college football games. Media Days hasn't started yet, some preview magazines are starting to roll into our mail boxes and we're longing for tailgating, beers and music. Something I've enjoyed doing each and every year is putting together a "dream" road trip for Big 12 fans. But to make this even more interesting, it's not just about going to the "best" game every week, you have to strategically put the road trip together knowing you must attend every Big 12 campus at least once. So let's get to it!
Week 1: Oklahoma vs. Houston
Let's start the season in Norman where the Sooners will take on the Cougars. It feels like a lifetime ago that these two teams met in 2016 when then-head coach Tom Herman beat then-head coach Bob Stoops. Lots has changed, including Dana Holgorsen, who ran away from the Big 12, having to face a Big 12 opponent in his first game on the job with his new team, the Houston Cougars. It will have a Big 12-feel to this game and why not start off the season with a combined 100 points being scored?! Sounds fun!
Week 2: Texas vs. LSU
There were certainly several options in Week 2, but, when all is said and done, this could be the best non-conference game in the country in 2019. It should be a Top 10 match up and if Texas is going to take that next step, this win at home in front of a (hopefully) electric crowd would be thrilling for Tom Herman's program.
Week 3: Iowa State vs. Iowa
I've said this could be our first stop for a Heartland College Sports tailgate in 2019, so I have to add this one to the calendar. Can Matt Campbell get over that Iowa hump? He's had enormous success, but has yet to beat Iowa. This would be a sweet one to get in Ames.
Week 4: Texas vs. Oklahoma State
The last two years these teams have played each other, it's been exciting. There was the 13-10 overtime game in 2017 and then last year it was Oklahoma State upsetting Texas, who at the time was a Top 5 team, on Homecoming Weekend in Stillwater. Let's make it three fun ones in a row.
Week 5: Baylor vs. Iowa State
Both of these teams have a chance to be the one who will surprise the Big 12 Conference this fall. So here they are meeting in the Big 12 opener for both. Who proves it's up to the task of maybe knocking off an Oklahoma or Texas atop the conference standings?
Week 6: Iowa State vs. TCU
Last time these two teams met in Ames, it was a program-defining win for Iowa State. Now, TCU is looking for a bounce back season, while Iowa State also wants to make a run near the top of the standings. It'll be early, but this game will tell us a lot about how the Big 12 could shape up in 2019.
Week 7: Oklahoma vs. Texas
The Red River Rivalry. It's usually a no brainer to get this one on the schedule and this year more so than ever. This game could be a preview of the Big 12 Championship game and the winner will have a leg up in the Big 12 race, along with a possible leg up in the College Football Playoff race.
Week 8: Kansas State vs. TCU
It's time to get to Manhattan and there is no better month for that than October. Plus, you've got Gary Patterson back in his home state and it's possible his starting quarterback could be Alex Delton, who of course shared time in that role at K-State last year with Skylar Thompson. You have a great storyline there, plus we'll see how new K-State head coach Chris Klieman handles going up against the best coach in the conference.
Week 9: TCU vs. Texas
Considering the slate, this is the chance to get to Fort Worth. Tom Herman vs. Gary Patterson is always compelling and TCU players, along with any other college players in Texas, always have a chip on their shoulders playing against the Longhorns. And you can bet the TCU fan base will be in full force for this one.
Week 10: Kansas vs. Kansas State
Hey, we've got to get to Lawrence at some point and it makes sense to go with the Sunflower Showdown. It might be one of the games KU actually has a chance in this fall. Plus, there's two new head coaches involved to try and spark a new and interesting storyline. Worst case, we'll watch Les Miles eat some grass.
Week 11: Oklahoma vs. Iowa State
We know what happened last time these two teams met in Norman. It changed the future for Kyle Kempt, Matt Campbell and Iowa State football. But that game was early in the season, this one takes place late in the season and could be a match up between two teams trying to get themselves into the Big 12 Championship Game. A can't-miss!
Week 12: Texas Tech vs. TCU
We haven't been to Lubbock yet and this seems like the game to do it. I'm not sure where either of these teams will be at this point in the season, but Texas Tech's home schedule is frankly better in even years because they get to play Oklahoma and Texas at home. So this is the best we can set up, considering the rest of the schedule in Lubbock and around the rest of the conference.
Week 13: West Virginia vs. Oklahoma State
Oklahoma State could be a surprise team at this point in the season and if they are then a road trip to Morgantown will be a real test. It's a tough place to get to and a harder place to play as a road team, especially in late November.
Week 14: Oklahoma State vs. Oklahoma
And last, but not least… Stillwater, for Bedlam. A great rivalry game in the last week of the season. Does it get any better? Oklahoma State may not be contending for anything at this time, but could Mike Gundy finally get a win in this game and maybe knock OU out of the Big 12 Championship game and College Football Playoff conversation? There are plenty of possibilities.
**We now have FREE Big 12 Forums here at Heartland College Sports. Go sign up here and join our conversation! **